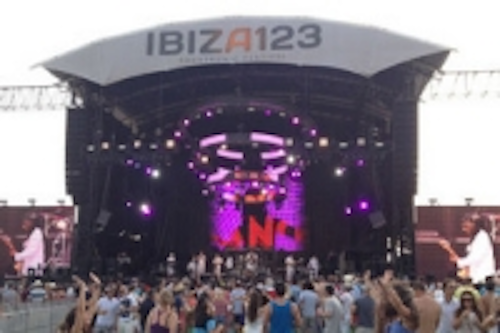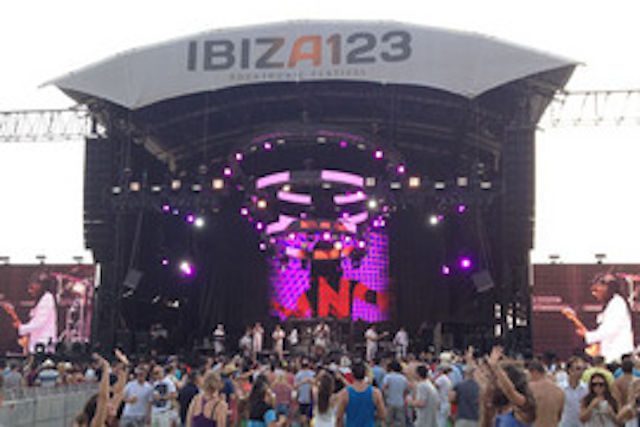 Date Announced: 08 Aug 2012
XL Video, working with Live Nation Spain, supplied LED lighting, cameras and PPU for the inaugural Ibiza 123 festival.
Ibiza 123 is the first music festival to be held on the island, and played host to a diverse line-up of artists featuring global superstars Sting, Elton John and Lenny Kravitz; live performances from chart stars Labrinth and Tinie Tempah; plus sets from some of the hottest DJs on the planet including Tiesto, Fatboy Slim, Chase & Status, Luciano, and David Guetta!
For the three day festival, held on the San Antonio coast, XL Video was asked to provide an LED package which would highlight not only the first 123 Festival but also herald the first ever full music festival in Ibiza.
To achieve this XL Video specified an LED backdrop measuring 16m wide by 9m high, made from PIXLED's F-30. F-30 was selected due to its suitability for outdoor use.
Three circular LED displays of decreasing size were flown above the centre of the stage to create a spiral effect. These were formed from PIXLED's lightweight, outdoor FX-11 LED.
For the DJs, the booth was clad in XL Video's new PIXLED F-10 product, giving each DJ a completely custom look for their set, with DJ booths constantly changing size and format.
XL Video supplied two 6 x 6 metre Mitsubishi DV8 screens either side of the stage which displayed live footage of the artists performing plus additional video throughout the event. IMAG came from XL Video's cameras situated at the front of the stage, with additional video content fed on from a broadcast truck on site.
The screens allowed the public to enjoy the live shows as well as a very memorable Euro Champions football match coinciding with the first day of the festival.
The final effect – a stage set covered with LED, coupled with a superstar lineup - ensured that the first Ibiza 123 festival will be remembered as a shining highlight of the 2012 season.
Contact
For more press info on XL Video UK, please contact Louise Stickland on +44 (0)1865 202679 or +44 (0)7831 329888 or Email 'louise@loosplat.com'. To contact XL Video UK direct, please call +44 (0)1442 849400 or check www.xlvideo.tv
E-mail:louise@loosplat.com
Web Site:www.xlvideo.tv