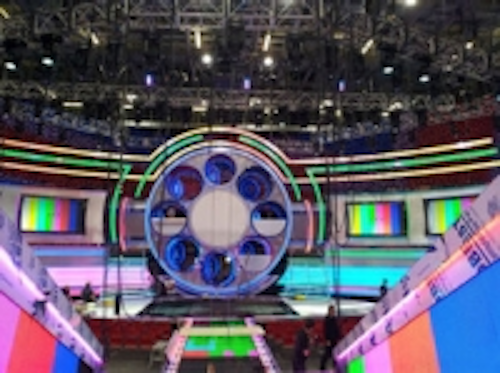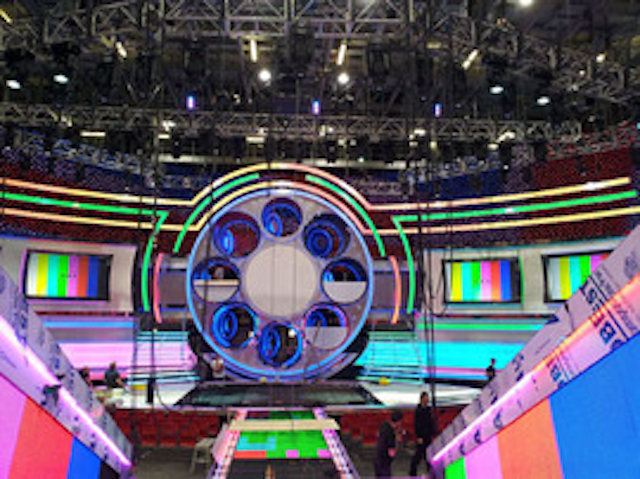 Date Announced: 30 Aug 2012
Devon, UK, based drapes, starcloth, LED and visual effects specialists S+H Technical Support has supplied 8000 square metres of its ShowLED Animation curtain to the new series of Sky's popular dating games show, Love Machine, currently being recorded at Pinewood Studios.
The Animation curtain was specified by set designer Patrick Doherty, for whom S+H have supplied many other projects, including the inaugural series of Love Machine last year.
It is being used to wrap around the entire back of the set and create spectacular patterns, texturing and other ambient effects – for which is it a highly cost effective solution.
S + H is also supplying a substantial quantity of its ShowLED Chameleon RGB Starcloth to the series, which is being utilised to mask around the back of the live audience.
The package is completed with a selection of black drapes.
In combination, all these very flexible elements help to provide a dynamic and interesting visual environment for the show, which is presented by Chris Moyles and Stacey Soloman.
ShowLED Animation features 31 high quality RGB LEDs per square metre of cloth and can be fed with content from any media server. On Love Machine, the video sources are stored and played back through a Green Hippo Hippotizer.
It is unique from other LED/fabric options, with the 31 LEDs randomly positioned and controlled as individual pixels, so ideal for the display of low-to-medium resolution video sources, still images or flash animations.
S+H has one of the largest stocks in the UK of this and also of the Chameleon RGB Starcloth as featured on the show.
The Chameleon is a full colour LED starcloth system that can be run via DMX or its own stand-alone controller which has 10 inbuilt pre-set chases for a good range of starcloth effects. On Love machine, it is being programmed and run via DMX from the lighting console.
Five S+H crew are on site at Pinewood looking after all the cloths while the series is being recorded.
Account handler Terry Murtha from S+H comments, "It's great to work with Patrick again – he always comes up with good looking shows that use LED in new and inventive ways. The ShowLED Animation and Chameleon products both represent great value for effect and look fabulous on camera as well as live in the studio".
Love Machine is one of a steady string of television productions for which S+H is supplying specialist drapes and soft goods.
Other recents include the celebrity edition of ITV's "Mr & Mrs" recorded at London Weekend TV Studios, where S + H's client was production designer Dominic Tolfts.
Contact
Louise Stickland +44 7831 329888 (cell) +44 1865 202679 (office)
E-mail:louise@loosplat.com