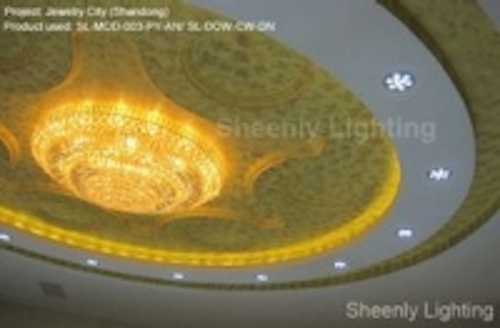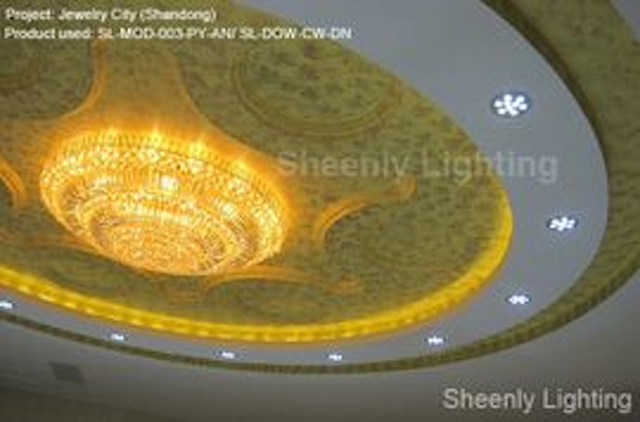 Date Announced: 16 Aug 2012
SHEENLY LED Module is recently installed in the well-known Shandong Jewelry City.
The chief engineer, Mr. Zhang, said they demand the luminaries with high brightness, no radiation, low heat emission, and low maintenance frequency.
SHEENLY LED Module comes with excellent performance, which makes them ideal for the project.
Sheenly LED Module use high quality LED as the light source and unique circuit control design so that luminous efficiency is significantly higher than that of similar products.
Compared with conventional neon lights, Sheenly LED module can save up to 80% energy. Moreover, its average life span is over 30,000 hours.
Sheenly LED Module Features:
1.Replace traditional decorative light bar
2.Save up to 80% electricity compared with traditional lights which means 80% CO2 reduction
3.Conforming to International Standards
4.Environmentally friendly – fully recyclable, no mercury or other hazardous materials
5.Durable with life span over 30,000 hours
6.IP65, Water-proof protection
7.Easy installation (two options: screw fixed, or 3M double side adhesive tape)
Due to jewelry city's special status, illumination play's a significant role in order to create a luxurious and elegant atmosphere. "Beyond my expectation, Sheenly LED Module performs gorgeous. The luminouseffect meets our design well" said Mr. Zhang.
Sheenly also gave professional design advices, some of which are adopted.
Contact
Jim Wang
E-mail:sales@sheenly.com
Web Site:www.sheenly.com