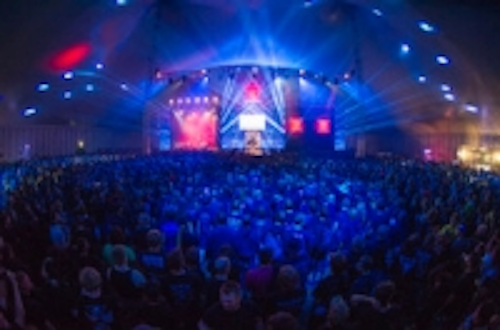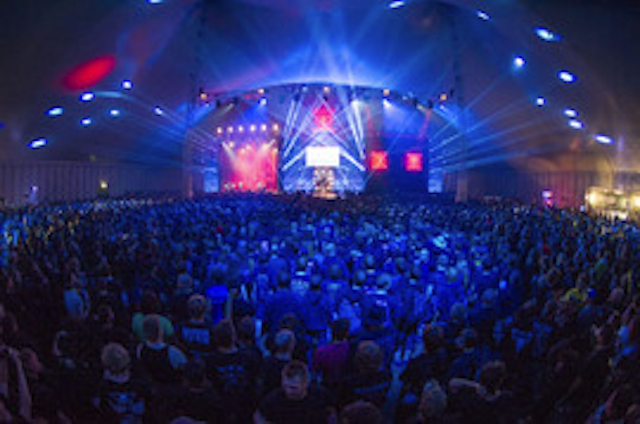 Date Announced: 27 Aug 2012
Robe moving lights helped create great dynamics for the two stages in the Bullhead Circus tented arena at the 2012 Wacken Open Air (W:O:A) Festival in Germany.
Among the biggest, best known and most popular metal fests in the world, over 80,000 rockers gathered over three days to enjoy a wide selection of metal genre artists which included headliners The Scorpions, Machine Head, Sepultura and many others.
Lighting for the double-staged Bullhead Arena was supplied by Crystal Sound based in Karlsruhe.
An impressive cityscape set was designed by Thomas Bartz from Konzeptsache Berlin.
The two stages were positioned side-by-side with a mesh-clad Layher scaffolding structure in the middle, complete with a boxing ring coming out into the audience. Artists used this to tease the crowd and strut their stuff!
The stages were operated in 'flip-flop' style to ensure that there was a constant onslaught of music to delight even the most die-hard of metal-heads!
Lighting the audience was a fundamental element of the brief, so fixtures had to be positioned where they could easily be used to do this.
The Robe fixtures used included 40 x MMX Spots, 46 x ROBIN 600 Beams and 30 LEDWash 600s.
The MMX Spots were used as eye-catching upstage effects on the two stages.
The 600 Beams were used to produce various spectacular looks on the Layher structure, including for numerous 'Hand of God' scenes! They were also used to illuminate and compliment various aspects of the cityscape set.
The LEDWash 600s were used to throw huge powerful beams out into the audience and to envelop them in the atmosphere via a blanket of saturated colour.
The equipment was specified by Crystal Sound's André Ballweg, the company's lighting project manager for the event.
He chose Robes – among other moving lights –because they could produce the right aesthetics needed for the environment. All these Robe luminaires are truly multi-purpose fixtures and can be used for many different functions.
Robes were also chosen because of their lower power consumption, which meant more lights could be squeezed onto the actual rig – always a consideration for metal designs where impressive lightshows are fundamental to the whole presentation.
Lighting for the Bullhead Circus was operated by David Schweiger, Urs Schretzmeier, Martin Holl und Christian Friedel using two grandMA2 full size consoles plus a grandMA2 lite at FOH.
The weekend's performances were recorded for a future DVD, with IMAG images fed to a large screen outside the tent, allowing those who could not get in there – it was packed full to capacity for most bands – to still be embroiled in the action!
Contact
Louise Stickland +44 (0)1865 202679 +44 (0)7831 329888
E-mail:louise@loosplat.com
Web Site:www.robe.cz