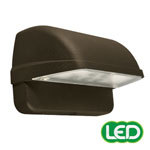 Date Announced: 13 Mar 2012
Popular Laredo® LNC LED Wallpack offering is expanded with addition of two powerful lumen options.
GREENVILLE, S.C. – Hubbell Lighting Inc. is proud to announce the expansion of the Laredo® Southwest Series with two new powerful lumen packages to their recently launched Laredo® LNC Compact LED Wallpack offering.
Designed for perimeter illumination, the Laredo LNC Architectural LED Wallpack is now available in three versatile lumens packages of 850, 1147 and 1460 lm. Originally introduced with a 12.6W Type III distribution that features 5 LEDs that deliver 820 lumens, this compact LED Wallpack is now available in both a 16.4W and 20.6W version. The Laredo LNC 7L produces 1147 lumens at only 16W and the Laredo LNC 9L produces higher performance at 1460 lumens while consuming only 20W of energy. Both new lumen packages are available with a 5000K/70 CRI Type III and Type IV distribution to provide a wide lateral spread.
Featuring a 4 to 1 spacing to mounting height ratio, the Laredo LNC requires fewer fixtures to deliver a low energy, long life ambient lighting solution for safety and security to any facility. 5000K high CRI LEDs with a 60,000 hr L90 rated life are precisely aligned for optimal photometric performance providing excellent uniformity and spacing up to 40ft, with mounting heights now up to 12ft. The neighbor friendly full cut-off fixture is also available with a 120 volt photocontrol for energy-saving dusk-to-dawn applications and measures only 8.22" W x 5.25" H and a weight of 4 lbs.
Ideal for entry or perimeter security lighting applications for commercial buildings, shopping centers, schools, and apartment complexes, the Laredo LNC Wallpack is wet location listed and is easy to install and maintain. Designed for either recessed box or surface conduit wiring, the quick mount adapter provides easy installation and the vandal resistant design and vandal proof hardware makes it perfect for non-supervised applications and security illumination. This compact fixture also includes a frosted acrylic diffuser accessory that softens output and protects LED lenses for use near pedestrian entry applications to deliver powerful security performance in a compact, lightweight fixture.
Laredo® LNC LED Wallpack 5L, 7L & 9L
Key Features:
• Available in 3 Lumen Packages:
o 5L / 12.6w - 750 lumens
o 7L / 16.4w – 1147 lumens
o 9L / 20.6w – 1460 lumens
• Type III and IV Distributions
• 5000K high CRI LEDs provide optimal color recognition
• Full cut-off neighbor friendly
• Long life – 60,000 hours L90 rating
• Universal voltage – 120-277V
• Quick mount adapter provides easy installation
• Designed for both recessed box or surface conduit wiring
• Acrylic diffuser accessory included
• Listed to UL1598 for use in wet locations
• Photocontrol option (120V only)
• Five year limited warranty
For additional information on the Hubbell Laredo® LNC WallPack, visit www.hubbelloutdoor.com.
Contact
About Hubbell Lighting: From its inception in 1963, Hubbell Lighting established its position in the lighting industry by producing outdoor lighting of the highest quality. Through an in-depth knowledge of the electrical distributor and contractor markets, Hubbell Lighting has been consistently able to combine innovative technology with practical lighting brand solutions and service oriented performance. Hubbell Lighting provides a full range of indoor and outdoor lighting products for commercial, industrial, institutional, sports lighting, landscape and residential markets, including green initiatives for vacancy sensors and daylight harvesting controls.
E-mail:cindy@cfwevents.com
Web Site:www.hubbelloutdoor.com.