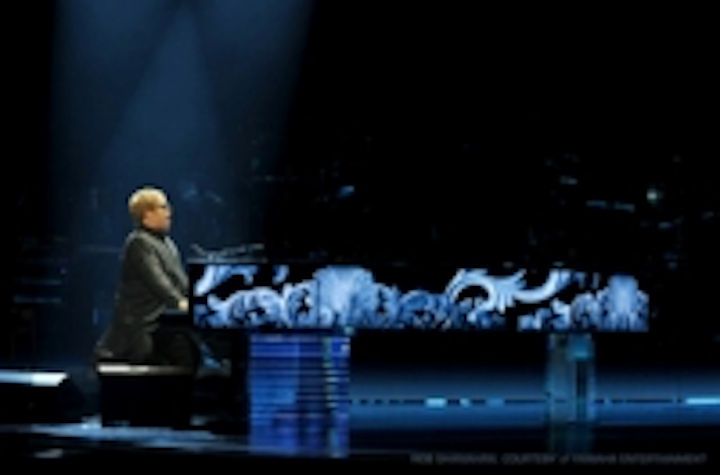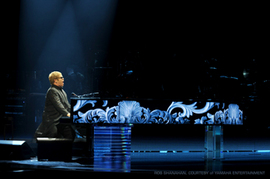 Date Announced: 23 Mar 2012
Cincinnati, Ohio – After four years in the making, Elton John's "Million Dollar Piano" show took center stage at Caesars Palace in Las Vegas in late September. Key to this exciting new show is the first ever visual/audio interactive musical instrument – the million dollar piano. This spectacular instrument arose from a special collaboration of Yamaha Entertainment Group of America, Elton John Production and LSI Industries – the piano being developed by Yamaha and the LED technology by LSI Saco (LSI Industries' technology arm in Montreal, Canada). LSI Saco's experience in designing innovative, exciting LED systems for the Touring market and Signature art pieces made LSI a natural partner in this project.
The concept was to have the piano express itself not only by sound but also by images; images that can be changed easily to suit the inspiration of Mr. John. Using a high definition LED canvas designed and manufactured by LSI Saco, they were able to create the medium to do this. The piano skin is transparent, with a 3mm high density, high resolution LED video screen canvas custom designed for this project. The materials that comprise the actual skin were carefully selected and tested with the LED canvas so that when the LED screen is off or displaying "black", the skin appears to be the rich Yamaha wood which is synonymous with Yamaha quality. The piano LED canvas has the ability to generate interactive content, directly interfacing with the Yamaha midi components within the piano, so imagery changes in real time to visually express the music. In addition, the piano legs are transparent custom shaped acrylic prisms so the piano can appear to "float" when desired or deflect light in other instances and polygons are used to express the piano's silhouette. All together, these electrifying elements make the show spectacular.
Jonathan Labbee, a representative with LSI International notes, "This project has been over 4 years in the making, and a great collaboration between the YAMAHA team and the LSI team to truly create the first ever Audio Visual interactive musical instrument. Normally there is a clear separation between Touring and Art based project, however in this case, I truly believe that were given the opportunity by Elton's Production to create a Signature Art Instrument that truly is a masterpiece, and who better than for Sir Elton John."
LSI is a vertically integrated manufacturer who combines integrated technology, design and manufacturing to produce the most efficient, high quality products possible. Everything we build is done right here in one of our US plants. We are committed to advancing solid-state technology to produce affordable, high performance, energy efficient lighting and custom graphic products that bring value to our customers. We have a vast offering of innovative solutions for virtually any lighting or graphics application. Further, we can provide design support, engineering, installation and project management for custom graphics rollout programs for today's retail environment.
LSI is a U.S. manufacturer with marketing / sales efforts throughout the world with concentration currently on North America, Latin America, Australia, New Zealand, Asia, Europe and the Middle East. Our major markets include the commercial / industrial lighting, petroleum / convenience store, multi-site retail (including automobile dealerships, restaurants and national retail accounts), sports and entertainment markets. Headquartered in Cincinnati, Ohio, LSI has facilities in Ohio, New York, North Carolina, Kansas, Kentucky, Rhode Island, Texas and Montreal, Canada. The Company's common shares are traded on the NASDAQ Global Select Market under the symbol LYTS.
Contact
Minda Matthews-Smith
E-mail:info@lsi-industries.com
Web Site:www.lsi-industries.com