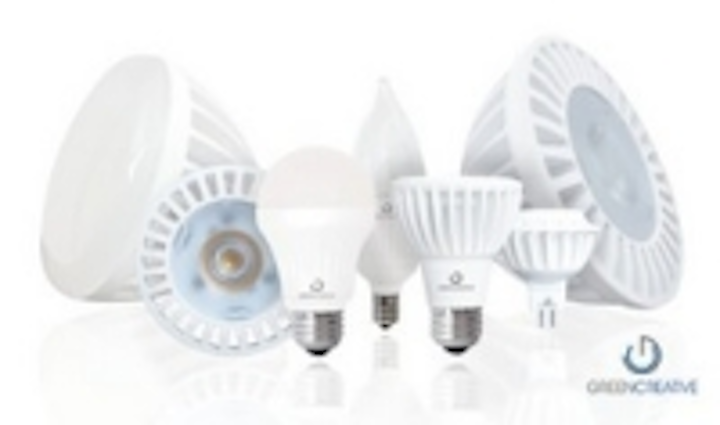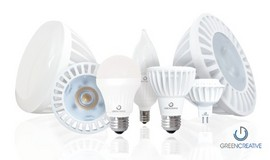 Date Announced: 02 Mar 2012
SAN FRANCISCO, CA -- GREEN CREATIVE LLC, the specification grade LED lighting manufacturer announces the availability of its new TITANIUM 2.0 LED retrofit range. All new generation TITANIUM 2.0 products are more powerful and efficient than the previous generation and each is available in several beam angles and color temperatures. TITANIUM 2.0 offers a complete product range of LED retrofit products providing a highly efficient solution to the most common halogen and incandescent lamps on the market.
The LED PAR series includes a PAR38 20W equivalent to 120W halogen with a lighting output above 1,280 lumens, a PAR30 15W equivalent to a 75W halogen and a PAR20 equivalent to a 50W halogen. With the addition of these new products, all existing indoor PARs lamps can now be replaced. Each of these item is fully dimmable with existing dimmers, features a high CRI of 85 and exceptional efficacy up to 60 LPW. The products are available in Narrow Flood and Flood beam angle and the color temperatures available are 2,700k, 3,000k, and 4,000k. With great performance and 40,000 hours lifetime, all the products exceed ENERGY STAR requirements and are currently in the qualification process.
The LED dimmable MR16 7W is setting new industry standards with an exceptional dimmer and transformer compatibility and lighting output equivalent to a 35W halogen with 350 lumens. The smooth dimming performance works exceptionally well in both commercial and residential applications and the compatibility with existing dimmer and transformers sets the benchmark in the industry. With a 30,000 hours lifetime, the product exceeds all ENERGY STAR performance requirements and is available in 2,700k, 3,000k, and 4,000k.
The last addition to the TITANIUM 2.0 family is a 15 W dimmable BR30 LED lamp equivalent to an 85W incandescent lamp thanks to its very high 850 lumens lighting output. Its smooth dimmability on existing dimmers, Warm White color temperature and comfortable diffused light will make it the perfect replacement to inefficient incandescent or disappointing CFLs in all residential and commercial recessed cans. With great performance and 40,000 hours lifetime, the BR30 exceeds ENERGY STAR requirements and is currently in the qualification process.
All GREEN CREATIVE products are UL listed, FCC compliant, and backed by a three year warranty, making it the best choice for all retrofit projects. The products are available through GREEN CREATIVE distributors. For more information on where to purchase the products near you or how to become a distributor, please contact us at: mailto:info@gc-lighting.com or (866) 774-5433.
Datasheet and detailed information about these new products available at: http://www.gc-lighting.com/categories/titanium/
About GREEN CREATIVE LLC
GREEN CREATIVE is a major solid state lighting development; sourcing and manufacturing company specialized in providing high quality LED lighting products. The company is committed to provide only relevant high performance products that have been rigorously engineered, manufactured and tested for the demanding commercial market. More information about GREEN CREATIVE is available at http://www.gc-lighting.com
Contact
Sales & Customer service Dpt. Tel/Fax: (866) 774-5433
E-mail:info@gc-lighting.com
Web Site:www.gc-lighting.com/