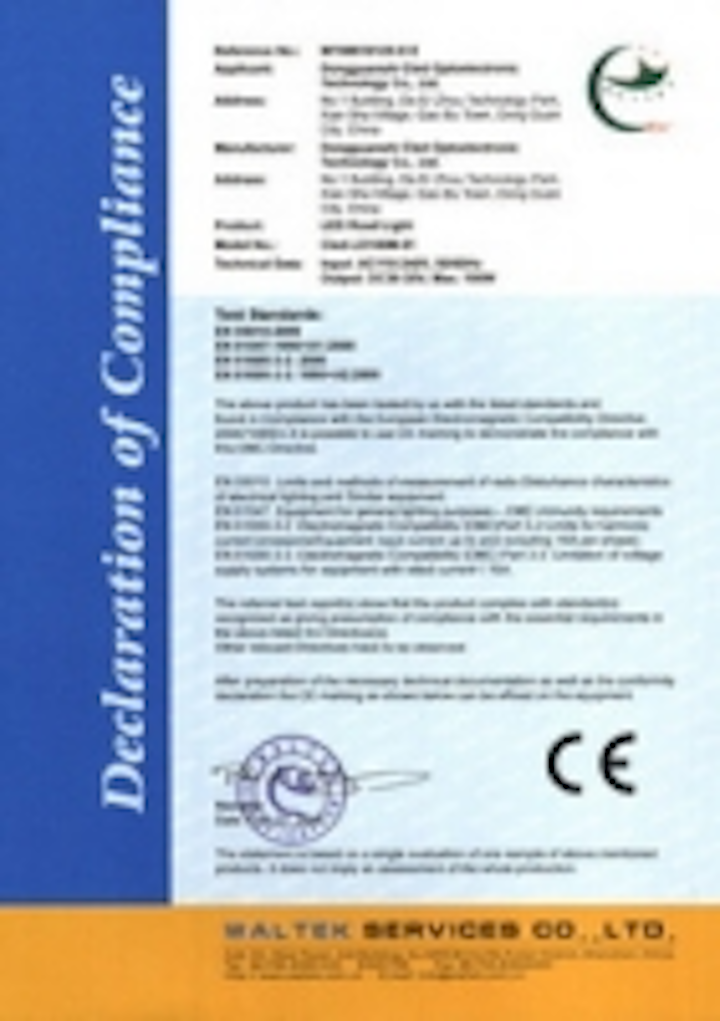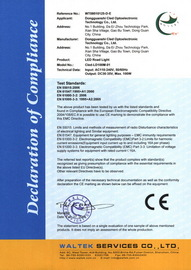 Date Announced: 14 Mar 2012
Dongguan City Cled Optoelectronic Co.,Ltd. has the LED street lights of 100W passed CE strict test and got CE Approval(No. ATE20102095). Now our LED street lights of 100W are with the approval of exporting and mounting in the European Countries.
As it is well know that all electron devices must get CE approval before exported to Europe. And for our LED light we choose 100W which can be replaced 250W high pressure sodium lights with at least 60% energy saving which would be suitable for resident road, collector road and main road as well. After passing the strict CE test of electrical, safety and EMC test, we finally got CE approval for our 100W LED street lights permitted to export to Europe.
We adopt high level America BRIDGELUX chips, worldwide famous brand with high efficiency LED drivers (passed CE), our patented designed heat dissipator and professional Non-image optics system in our lights for different street lighting application with good uniformity as below specification.
Code CLED-LLD100-J-B
Model CLED-LLD100-AC/220-G-J-Ⅲ-C-B02
Input voltage AC 110V~240V
Frequency range 50/60HZ
Power factor (PF) ≥0.95
Power efficiency >90%
LED power consumption 100W
Console power consumption 108W
LED luminous efficiency ≥100lm/w
LED luminous flux ≥8210LM
Iuminare efficiency(%) ≥90%
Color-rendering index(CRI) Ra>70
Junction temperture(Tj) <80°C
IP grade IP65
Working condition Temperature:-30°C ~50°C ;
Humidity:10%~90%RH
Storage temperature 10°C ~60°C
Life-span >30000Hrs
Material Aluminum alloy
Package size(unit:cm) 79 (L) × 38 (W) × 24 (H)
Net weight 13.3Kg
Pole installing diameter ∮45mm~∮65mm
More information for our company and LED street lights please refer to website: http://www.chinahong.org/led-street-lights/b-100w/.
Contact
Tel: +86-769-23076886 Fax: +86-769-23076156 Cell:+86-13416966485
E-mail:jim@chinahong.org
Web Site:www.chinahong.org