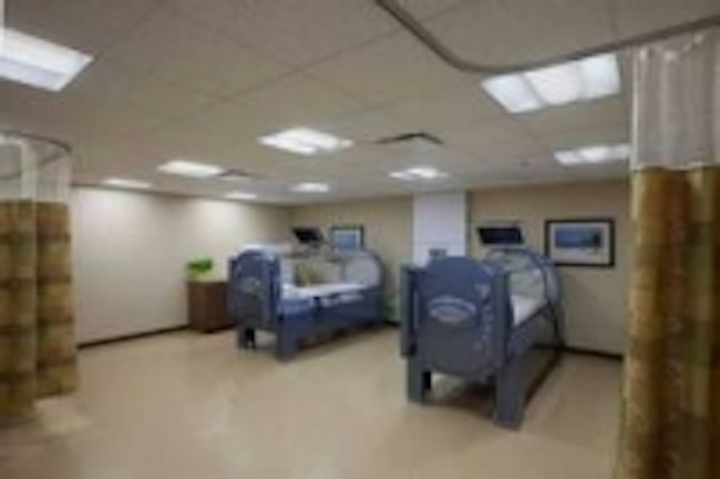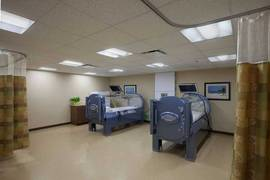 Date Announced: 20 Mar 2012
Henry County Hospital in Indiana services patients from a four county region that is focused on providing advanced healthcare services for its community. The hospital was experiencing a growing need for expanded wound care services because of the diabetes epidemic as well as the aging population.
In 2011 the Hospital relocated and expanded its Advanced Wound Center to meet the community's need. The Center offers excellent care for difficult wounds that are not healing, and also provides hyperbaric oxygen therapy. The new state-of-the-art center features extended hours and an expanded level of treatment.
Hospital Electrician Paul Wallace says that lighting was a key consideration when renovating the Advanced Wound Center. "We had three priority objectives when specifying the ambient and hyperbaric chamber lighting in the new Advanced Wound Center. First, we needed to find another light source besides fluorescent for the hyperbaric chamber. Second, we needed lighting that was dimmable; it was absolutely necessary to install dimmable lighting in the hyperbaric chamber to keep patients comfortable when receiving therapy. Third, we wanted to reduce energy use, reduce maintenance and be more environmentally conscious."
The Advanced Wound Center Director, Stephanie Taylor, was also involved in selecting lighting systems. "There are health risks associated with fluorescent lighting in hyperbaric chambers," said Taylor. "For some patients, fluorescent lighting can cause seizures, making it necessary for us to find an alternative.
"Also, patients spend about 2 hours per day in the hyperbaric chamber, sometimes receiving treatment for up to 60 days. With our patients spending so much time in the chamber, it was important to have dimmable lighting as a convenience for patients wanting to sleep or watch television," said Taylor.
Because LEDs respond well to dimming and offer tremendous energy efficiencies, the Hospital began researching options for digital lighting. This was the second time the hospital seriously researched LED lighting on a broad scale.
"We researched LED lighting about three years ago," said Wallace, "but we didn't find any LED fixtures that met our needs, mostly because the color of the LEDs was harsh and we didn't like the look of the fixtures. However, the technology and fixture aesthetics have advanced immensely over the past few years."
Steve Vorhees from Kirby Risk Electrical Supply (Muncie, IN) and John Edwards from LightSOURCE (Indianapolis, IN) presented Henry County Hospital with an LED lighting solution that met all of its goals. "The VTLED by Lithonia LightingÒ, an Acuity Brands company, was the perfect option to present to the hospital," said Edwards. "It delivers high quality volumetric lighting and full-range dimming (0-10V) as standard features. Additionally, it provides a plug and play dimming functionality that allows end users to easily connect fixtures together, reducing installation time and expenses."
Wallace agreed with the recommendation from LightSOURCE. "We wanted an LED fixture that was both dimmable and looked similar to our current fixtures so there wasn't a dramatic difference aesthetically. When we saw the VTLED by Lithonia Lighting we were sold. It features advanced control capabilities and looks very similar to our current Lithonia Lighting fixtures installed throughout the hospital.
"Another benefit for the Hospital is the reduced maintenance required because LED lighting and controls last longer and require less service. This allows our facility staff to focus on more important aspects of running the hospital," said Wallace.
Henry County Hospital installed VTLED fixtures throughout the Advanced Wound Center, including exam rooms, dressing rooms, nurse station and the hyperbaric oxygen suite. Sensor Switch(R) controls were installed in the hyperbaric chamber.
"Installation was simple because we used Cat 5 cabling and we didn't have to run any other electrical wires," said Wallace. "We simply connected each fixture with the Cat 5 cabling, and connected the Cat 5 cabling to the Sensor Switch(R) controls."
The new lighting and controls were also well received by the Advanced Wound Center staff and patients. "The LED lighting and controls have worked extremely well in our department because it gives us more control of the lighting intensity," said Taylor. "The hyperbaric chamber suite has the lighting split into two sections – one for each chamber. The lighting system allows us to dim the lights on one side and leave them up on the other side according to the patient's preference. This gives us a lot of control and flexibility. We love the lighting system and so do our patients."
Contact
Jennifer Manocchio Sweeney Phone: (910) 772-1688
E-mail:jennifer@sweeneypr.com