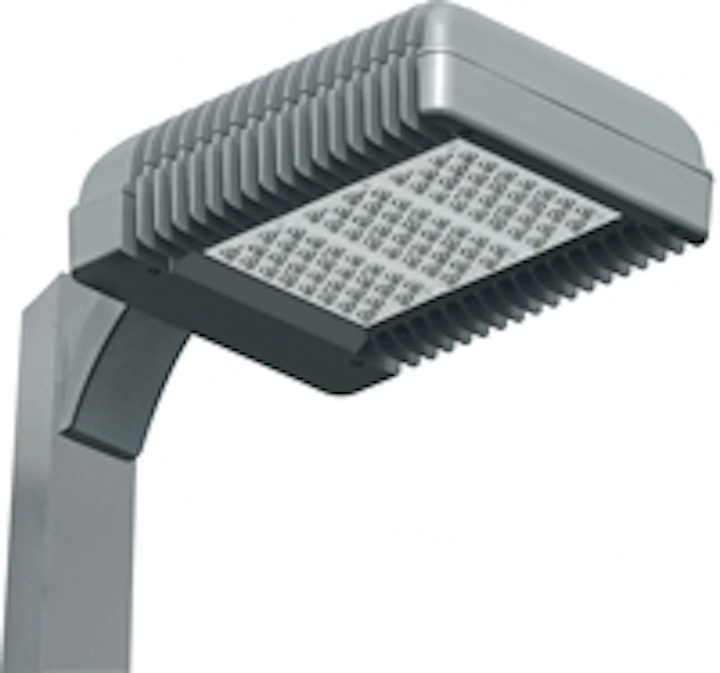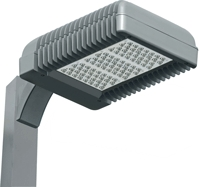 Date Announced: 07 Mar 2012
-- Popular Area Site Series now available in four powerful lumen packages.
GREENVILLE, S.C. -– Spaulding Lighting, a Hubbell Lighting Inc. brand, is proud to announce that the high performance Cimarron LED outdoor luminaire is now available with a 20,000 lumen package. As Spaulding's most popular area site lighting fixture, the Cimarron LED area site light now offers a choice of four powerful lumen packages from 5K to over 20K lm.
The Cimarron LED Series was designed with the most advanced LED lighting technology to deliver energy efficiency, safety and security. The addition of the new lumen package features 90 high brightness LEDS at 310w, producing a powerful lumen output of over 22,000 lumens for those applications where maximum performance and superior value are essential. The Cimarron LED produces Type II, III, IV and V distributions in four high brightness LED configurations for a perfect balance of design, form, function and efficiency.
The Cimarron LED features a solid die-cast housing assembly with a sleek architectural profile. The versatile mounting options of the popular fixture include mounting on straight or upswept arms, a wall mount, a 30 degree tilt arm for additional forward light throw and an optional mast arm fitter to easily mount to poles or arms for new or retrofitted existing Cimarron installations. The Cimarron LED housing features unique vertical fins along the side walls to dissipate heat, as well as channel rain water away from the top housing, keeping the fixture cool and clean for years. Further options of this versatile area fixture include a vandal shield for additional protection, bi-level or continuous dimming and the latest in wiHUBB wireless controls.
CIMARRON LED SERIES FEATURES:
• Four lumen packages of 5K, 10K, 15K and over 22K lm
• Vertically-finned die-cast housing optimizes heat transfer to keep the fixture cool and maximize component life
• DesignLights Consortium (DLC) approved (5000K)
• High brightness LED technology optimized with 24 LED light engine configurations in IES type II, III, IV and V distributions
• Maintenance free housing designed to IP65 and 60,000 hours life
• Vandal Shield Guard option
• Energy control option uses less than 50% of the energy of an equivalent HID at full brightness
• Internal self-monitoring sensor detects above-tolerance temperatures and automatically reduces heat load to preserve LED life
• Mounting versatility with choice of traditional straight or architectural upswept die-cast aluminum arm designs or new mast arm fitter
• UL , CSA, IP65
For additional information on the Cimarron LED Series, visit www.spauldinglighting.com.
About Hubbell Lighting:
From its inception in 1963, Hubbell Lighting established its position in the lighting industry by producing outdoor lighting of the highest quality. Through an in-depth knowledge of the electrical distributor and contractor markets, Hubbell Lighting has been consistently able to combine innovative technology with practical lighting brand solutions and service oriented performance. Hubbell Lighting provides a full range of indoor and outdoor lighting products for commercial, industrial, institutional, sports lighting, landscape and residential markets, including green initiatives for vacancy sensors and daylight harvesting controls.
Contact
Spaulding Lighting, a Hubbell Lighting Inc. brand Greenville, SC
E-mail:kwelke@hubbell-ltg.com
Web Site:www.spauldinglighting.com