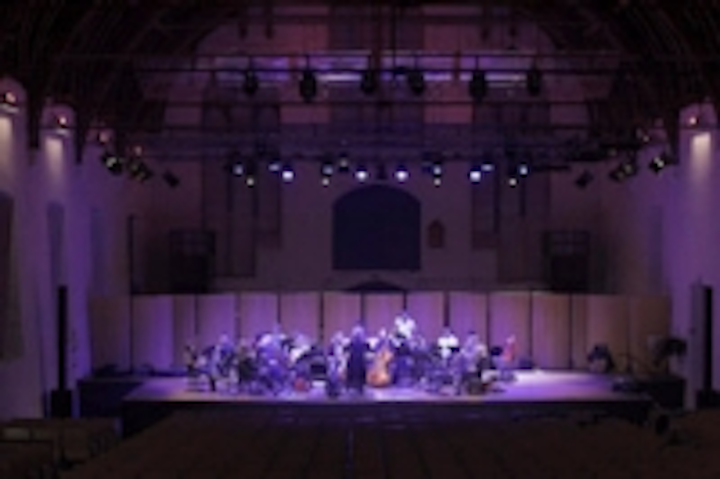 Date Announced: 01 Mar 2012
Robe's latest ROBIN moving lights have been installed into the two main performance spaces at the prestigious De Bijloke Muziekcentrum (Music Centre) in Ghent, Belgium.
De Bijloke offers a diverse programme of high quality music, presented both in pure concert form and in new and unique combinations and conceptual formats. This covers a wide range of genres including classical and ancient music, jazz, and also incorporates other art forms. The venue produces over 100 concerts, recitals and performances a year and stages or receives another 80 plus shows and collaborative works. It attracts over 100,000 visitors and classical music lovers and aficionados annually.
The unique venue includes two renovated former civil hospitals, one dating back to the 13th century (the Concert Hall) and one to the 16th century (the Kraakhuis) – both converted into fabulously atmospheric performance spaces. Another very attractive 19th century building (keeping on the medical theme, formally an Institute of Anatomy) is utilised for offices, staff facilities and administration.
The Concert Hall and Kraakhuis (with capacities of 1000 and 240 respectively) have now been joined together - literally under one roof space that brings them indoors - by an elegant contemporary foyer. The steel pillars and vast glass spans of the new construction are an ideal juxtaposition to the original brick and arched window architecture of the hospitals. This bold structural addition unites the entire 'Centre' in a perfect fusion of historical and modern aesthetic harmony, which is now locally referred to in Ghent as 'The Art Campus'.
With the shows and programmes run at Bijloke constantly increasing in profile, Chief Electrician Bart de Dobbeleer had been wanting to introduce moving light systems ever since he arrived there 18 months ago. At that point, the original lighting dating back to the 1990s was still in place, from when the Muziekcentrum started being developed as an on-going arts / performance project.
He discussed the idea of a new lighting system with Bijloke's general manager and director, Daan Bauwens, who agreed that the venue would benefit from some new cutting edge moving light technology.
The 22 ROBIN 600 LEDWashes and six ROBIN 600 Spots were delivered by the Belgian office of Robe's very proactive Benelux distributor, Controllux, to locally based Ghent rental company, City Sounds.
Due to the classical nature of many of De Bijloke's shows, silent running fixtures were essential and so that was a major requirement.
Another was that the lights didn't produce an excessive amount of heat – as neither classical performers nor their instruments appreciate this!
When Bauwens agreed to the budget for the new lights, his instructions also included finding a fixture that had an amount of 'future–proofing' that would last them some years to come.
The new lights also had to be very flexible, and match the eclectic mix of music and performance and the high production values and standards of excellence practiced by the venue.
In the smaller Kraakhuis venue, there is only a 16 Amp supply available for all lighting, so the six LEDWashes in there provide a perfect solution.
De Dobbeleer and stage technician Kristof de Dycker were both well aware of Robe's reputation in the market and, "As pioneers in the rock 'n' roll sector, I was especially keen to bring all the quality and style of Robe into a classical environment," says de Dobbeleer.
He also really likes the tungsten saturation of the LEDWash 600s which works well with any of the conventionals that might also be utilised for a show.
Above all, a "Huge reduction" in the lighting electricity bill has already been noticed since the installation went live!
In the highly charismatic medieval setting of the Concert Hall, with the LEDWash 600s and Spot 600s in place, the grid can stay up in the ceiling most of the time as, the rig needs substantially less maintenance than the previous one! Lights can also be tweaked while musicians are onstage without disturbing them, and things can be changed right up to the last minute if required …. All with no fuss.
In both venues, the Robes are controlled by Chamsys MagicQ consoles.
The actual installation work was completed by City Sounds working with De Dobbeleer and de Dycker.
Controllux's Bram de Clerck who co-ordinated the sale says, "It is a real achievement to have a classical and 'other' music venue of this stature investing in Robe, and a great reference for our products in this slightly different and specialised sector".
This is one of a number of recent installations in theatre and arts venues throughout Benelux, as Controllux continues to experience record sales of Robe.
Contact
Louise Stickland +44 (0)1865 202679 +44 (0)7831 329888
E-mail:louise@loosplat.com
Web Site:www.robe,cz