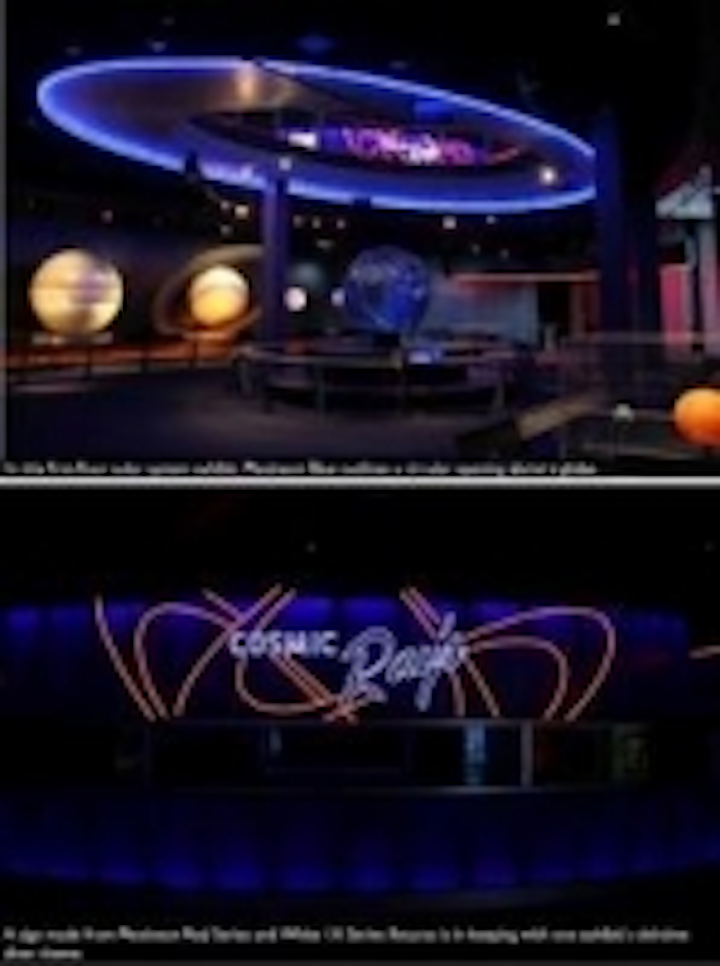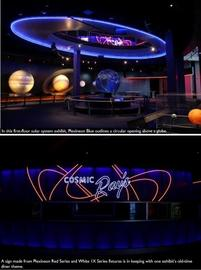 Date Announced: 30 Mar 2012
When a popular children's museum in Nashville commissioned Tuck-Hinton Architects to design a 38,000-square-foot addition and replacement planetarium, the goal was to create an otherworldly experience for youngsters learning about Planet Earth and the solar system.
To replicate deep space, the resulting two-level exhibit hall at the Adventure Science Center is bathed in darkness, while iLight Plexineon Blue Series, Red Series and White 1X Series fixtures dramatically suggest celestial shapes and forms.
The Design Challenge
In creating the lighting scheme, SBLD Studio sought to introduce "neon-like" general illumination that would enhance — not distract from — the new exhibits, which were designed by Ralph Applebaum Associates. Neon would have been expensive and rigid, so Susan Brady, Principal at SBLD Studio, instead specified Plexineon to create the curves she envisioned.
"It came in a variety of colors and is very flexible," she says, "plus we could shape the fixtures on site, which made for a much simpler and more cost-effective installation."
At the same time, Mark Skiba, Project Manager at EEI Global, specified Plexineon to create a sign for a new exhibit with a nostalgic diner theme. Working from graphic files that Skiba provided, iLight used Plexineon White 1X fixtures to craft wording and Plexineon Red to form cosmic shapes. The resulting panel was then delivered to EEI Global, which mounted it onto a custom substructure.
"In order to get that old-time look, the Plexineon was perfect," Skiba says. "It was as close to neon as we could get, while being strong and safe in a space for children."
The Plexineon Advantage
Overseeing the project was Chuck Miller, Principal at Tuck-Hinton Architects, who says the museum application was his first experience with Plexineon — but certainly not his last.
"The flexibility of this product made it ideal for this application," he says, adding that the saturated colors provide a glow that's visible even from outside.
"The Plexineon is still as bright as the day it was installed," he says. "The quality of light and the color surpasses neon because it has that consistent glow. When you see it throughout the museum space, it's really stunning."
Contact

E-mail:photo@ilight-tech.com
Web Site:www.ilight-tech.com