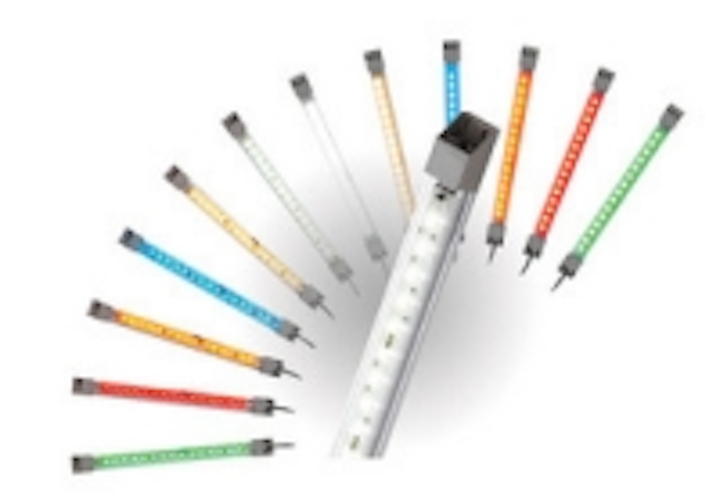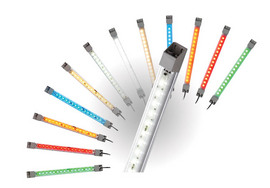 Date Announced: 14 Mar 2012
Sunnyvale, CA – When you want bright, energy-efficient and long-lasting LED machine lighting, IDEC LED light strips outshine the competition! Starting from our beginnings in pilot lights and indicators and leading to our current, next generation of machine lighting, IDEC has been in the industrial LED business for over 30 years. While major lighting companies are still struggling with consistent color quality and reliability for LEDs, IDEC manufactures all our LEDs to provide superior illumination.
LF1B-N LED light strips are the latest addition to the IDEC family of industrial lighting. Offered in six different lengths, ranging from 5.27 to 42.5 inches, these slim light strips are a perfect fit for applications with limited space. Six different colors (cool white, warm white, yellow, red, blue and green) give you a custom style and appearance, while providing lighting bright enough to clearly illuminate any application. Maintenance-free and with a lifespan over 4 times longer than fluorescent lights, these durable light strips are a bright choice now and in the future.
With low temperatures and an IP65 rating, LF1B-N LED light strips are suitable for applications in wet or dusty areas, including applications such as industrial machinery, control panels, semiconductor equipment, machine tools, lab & medical equipment, display case lighting, sign illumination or accent decor lighting. These light strips are also ROHS compliant and mercury free.
"At IDEC, our meticulous attention to detail and fierce dedication to quality produces LED lighting that exceeds customer expectations." says IDEC Marketing Manager, Mike Suzuki.
For complete specifications or additional information on LF1B-N LED light strips, please contact IDEC Corporation at 1-800-262-IDEC (4332) or visit www.idec.com/usa/lumifa.
About IDEC:
Headquartered in Osaka, Japan, IDEC Corporation is a global manufacturer known worldwide for over six decades for its reliable control and automation products. In the United States, IDEC has over thirty local sales offices to assist customers with choosing the right LED lighting, switches, relays, power supplies, PLCs, O/Is, sensors and more. A leader in the industry, IDEC produces only the highest quality products. For additional information, visit www.idec.com/usa.
Contact
IDEC
E-mail:support@idec.com
Web Site:www.idec.com/usa/lumifa