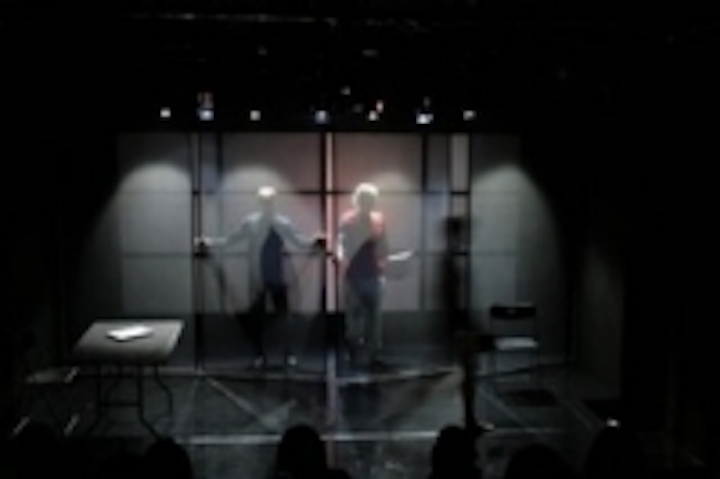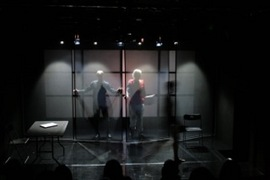 Date Announced: 15 Mar 2012
UK – Respected UK lighting designer Johanna Town used Philips Selecon PL1 LED luminaires to great effect on Wiki play, Man in the Middle by Ron Elisha.
Staged at Theatre 503 in London, the play is a fast paced journey through the key events of Julian Assange's turbulent life. Each Wiki style scene moves dynamically to the next to arrive at a totally different time or place in his life. From boardrooms to bedrooms, offices to torture chambers, and student flats to hotel rooms, no scene is set for very long.
This presents Town with a tough job – to set a convincing environment for each scene, and to ensure they flow seamlessly from one to the next.
A back and front-lit rear projection screen is the key vehicle by which the time, mood and atmosphere of each busy scene was set. Everything else on the stage - the scenery, the props and even the actors – generally had more than one purpose.
"I lit the screen from behind with colour mixing Fluorescents and from the front with the PL1s. I also used the PL1s to provide a strong backlight wash, which continued the backlight colour spill of the screen downstage," explains Town. "Colour matching was very simple and though the PL1s are considerably brighter than the Fluorescents, they worked seamlessly together to give a very even look."
The audience remained gripped throughout as one scene moved into another, smoothed by clever cuing that ran in synchronisation with the momentum of the piece. Set on a relatively small stage there was little room for dramatic scene changes - lighting was key.
"Because we were working in such a small space I used the PL1s on the full 50 flood," explains Town. "I was concerned that I might lose a fair bit of light output but not so, the PL1s punched well over everything else in the rig, fantastic! The extreme zoom capability from 14 - 50 came as a complete surprise and works well at either end of the scale."
There were a number of scenes that demanded very subtle use of colour and Town used lighter grey blues and colour correction tones for some of back light washes: "I found the units were equally as effective using these colours and to my satisfaction there was very little light loss. The units are really easy to rig, they were pretty much plug and play. Having discovered how good the PL1s are, I can't wait to see what the PL3 LEDs might do!"
Amber Tomlin, UK Account Manager for Philips Selecon and Strand Lighting comments: "We are thrilled to be seeing more and more theatre lighting designers employing the features of the PL1 LED luminaire in their work. With a maximum output similar to that of a 70-watt metal halide powered luminaire, the PL1 delivers full control of the beam colour composition regardless of intensity. The fully tuneable high output LED light engine supports colour temperatures from 3000K to 5600K plus full colour mixing, which further extends the creative palette of the lighting designer."
About Philips Entertainment Lighting
Philips Entertainment Lighting accommodates a diverse range of entertainment applications including: stage and set lighting, film and broadcast lighting, and video-based effects and displays. It also supports architectural lighting of performance venues, whether to enhance theatre lobbies or to create a dynamic exterior effect to coincide with performances.
With the acquisitions of Color Kinetics, Genlyte (including its Vari-Lite and Strand Lighting brands) and Selecon, Philips dramatically expanded its entertainment lighting portfolio from specialty lamps to the industry-leading luminaries and control systems that are prevalent in the field today. Collectively, the group provides wide-ranging products from simple lamps to complete solutions designed with the specific needs of the entertainment market in mind.
About Royal Philips Electronics
Royal Philips Electronics of the Netherlands (NYSE: PHG, AEX: PHI) is a diversified health and well-being company, focused on improving people's lives through timely innovations. As a world leader in healthcare, lifestyle and lighting, Philips integrates technologies and design into people-centric solutions, based on fundamental customer insights and the brand promise of "sense and simplicity." Headquartered in the Netherlands, Philips employs over 120,000 employees with sales and services in more than 100 countries worldwide. With sales of EUR 22.3 billion in 2010, the company is a market leader in cardiac care, acute care and home healthcare, energy efficient lighting solutions and new lighting applications, as well as lifestyle products for personal well-being and pleasure with strong leadership positions in male shaving and grooming, portable entertainment and oral healthcare. News from Philips is located at www.philips.com/newscenter.
Contact
Michael Goldberg, Sales Director, Philips Entertainment Lighting Telephone: +44 7974 752646
E-mail:michael.goldberg@philips.com
Web Site:www.philips.com/newscenter