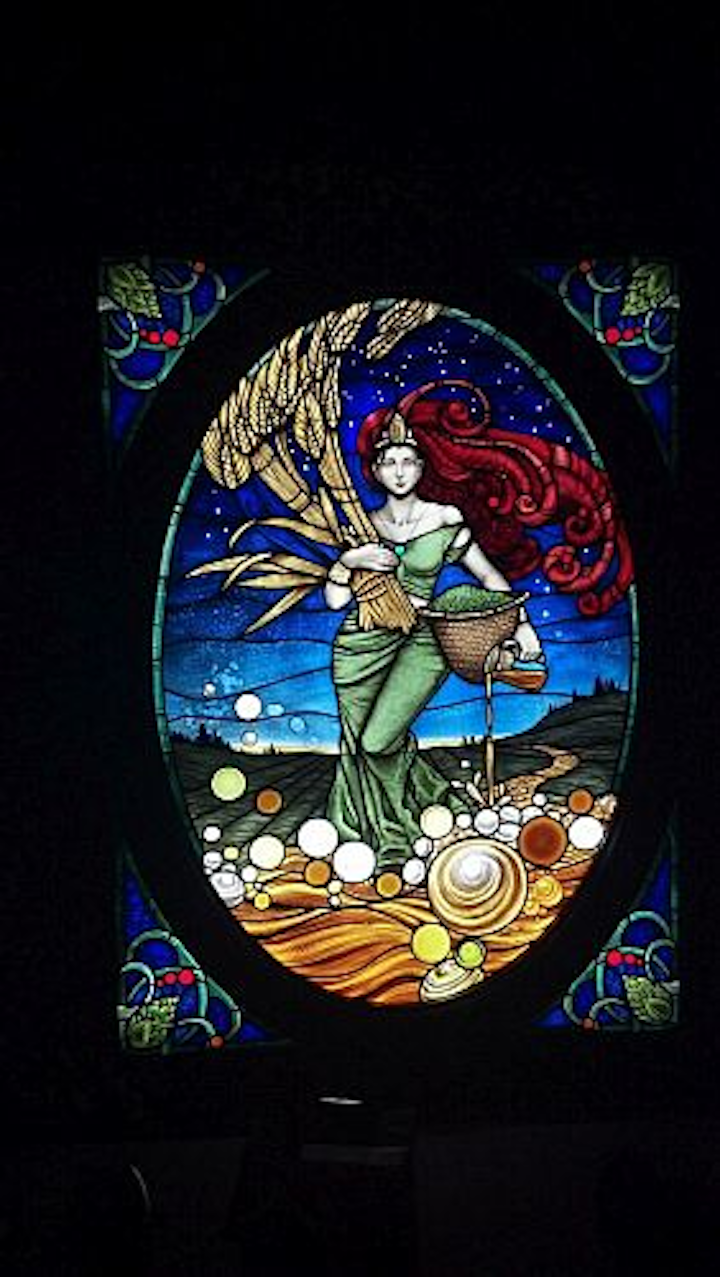 MaxLite LED RKL Strips Backlit Stained Glass Beer Goddess For International Art Competition

"We designed the stained glass in honor of the Michigan harvest and the city's great beers. The stained glass was very well received, and it was among the favorites of most Founders' guests. The backlight provides plenty of light to battle with the competing light in the brewery environment."
-- Matt Kolenda, Owner at Kolenda ArtGlass

Since 2009, Grand Rapids "Beer City USA" Michigan has held its International ArtPrize® contest, an independently organized annual multi-day competition that showcases art throughout three square miles of the city's downtown, that awards $560,000 to winning entries.

For 2013's competition, Matt and Elizabeth Kolenda, owners of Kolenda ArtGlass in Grand Rapids, and artists Adrianne Hollemans and Maria Orr designed the competition's first stained glass entry, a 60- by 80-inch rendering of Ninkasi, the Sumerian patron goddess of beer. The art installation was displayed to the public at Founders Brewing Co., a local microbrewery.

The design team sought easy-to-install lighting to illuminate the art nouveau-style stained glass from behind. To backlight the art installation, the team chose to use six sets of MaxLite's 45- and 55-watt LED RKL Retrofit Kit Strips, three sets of each model, with a white, sandblasted acrylic diffuser.

Chosen for their ease of installation and inventory availability, the LED RKL Strips enabled the designers to maintain a slim box design, while the simple wiring allowed for trial and error of fixture placement. The lighting fixtures provide a long L70-rated 50,000-hour life, which enables the art installation to showcase the immaculate beauty of the raven-haired beer goddess for many years to come.

MaxLite
MaxLite has been committed to providing energy-efficient lighting products for the last 20 years, and was one of the first movers into LED technology in the industry. An ENERGY STAR® Partner of the Year, MaxLite established the MaxLED® brand, an extensive line of state-of-the-art indoor and outdoor lamps and luminaires.

Contact:
MaxLite
+1-800-555-5629
E-mail:
Web site: