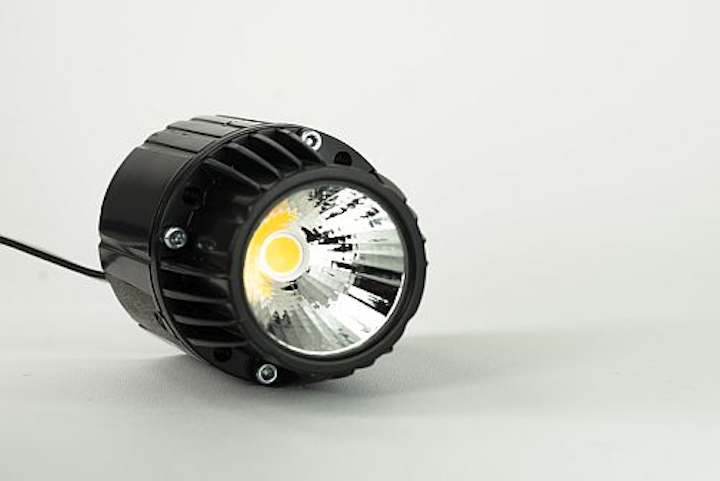 TerraLUX Inc., an industry leader that designs, patents, and manufactures LED-based lighting solutions for illumination, has introduced the TLM-R20 LED Engine, a modular spotlight source for landscape and track lighting.

Designed to replace a 39-watt PAR20 Metal Halide, using only 17-watts, the TerraLUX TLM-R20 LED Engine delivers the same center beam candlepower of traditional light sources.

The TLM-R20 is extremely compact and has the same diameter as a PAR20. The driver is integrated, obviating the need for large ballast or driver boxes. This enables fixture manufacturers more streamlined designs. In landscape fixtures this can eliminate buried ballast boxes.

Line-voltage connected, the TLM-R20 is modular, and is typically equipped with a high performance TerraLUX LED module. Manufacturers will also have the option to drive other LED modules. It offers dimming options including: dimmable to less than 2 percent on reverse-phase dimming systems, and 4-level light output mode set by push button.

The TLM-R20, with TerraLUX LED module is available in 4 CCTs (2700K, 3000K, 3500K, and 4000K) and greater than 90 CRI in 2700K and 3000K. Reflector optics enables a wide range of distribution from spot to flood. Beam angles available are 15°, 23°, 35° and 51°. The TLM-R20 is a UL Recognized Component.

About TerraLUX Inc.
TerraLUX Inc., headquartered in Longmont, CO, invents, designs, patents, manufactures, and distributes innovative high power LED solutions for general illumination, industrial, commercial, medical and portable applications. TerraLUX produces fully integrated LED Light Engines and Modules to replace incandescent bulbs in commercial lighting as well as many popular flashlights and lighting tools. LED lighting is energy efficient and mercury-free, and can provide significant relief from current energy consumption.

Contact:
TerraLUX, Inc.
+1-303-442-4960