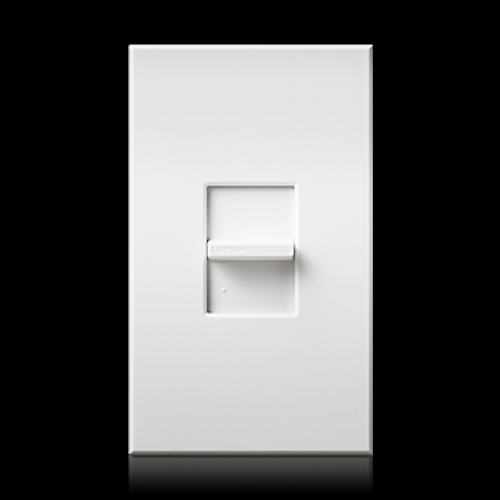 Coopersburg, PA -- Lutron Electronics, the leader in energy-saving, wireless light and shade control, is strengthening its leadership position in the LED controls arena with the addition of four new products designed to simplify the use of LEDs and ensure a high-quality dimming experience.
1. Nova T* 0-10 V Dimmer - a contractor favorite, this dimmer is now available with direct control of 0-10 V ballasts and drivers without a separate power pack, saving time and money on every project. A "no visible heat sink" design offers improved product performance. Available now; $130 suggested listed price.
2. Maestro Wireless® C-L® Dimmer - controls nearly any lamp, including dimmable, screw-in LEDs, dimmable CFLs, incandescents, halogens and MLV lamps. The C.L dimmer also controls mixed loads on the same circuit. Maestro Wireless is a simple and convenient way to wirelessly control lights from anywhere in the room with the touch of a button. Available now; $88 suggested listed price.
3. PowPak® 0-10V Dimming Module for the Energi TriPak® control system - a junction-box mounted option for controlling 0-10V drivers, ballasts, or fixtures. Works seamlessly with the Lutron Radio Powr Savr™ sensor for daylight harvesting and occupancy/vacancy sensor control. Available now; $130 suggested list price.
4. Hi-lume® A-series UL-listed Driver - an ideal solution for 1% dimming of under-cabinet and cove lighting, this driver is provided on a junction box for easy installation and wire termination. It works with 3-wire fluorescent controls, Lutron EcoSystem® digital and forward phase controls (neutral wire required), and features a universal input voltage (120-277 V, 50/60 Hz). Its innovative technology delivers energy-savings and an extended product life of 50,000 hours. Available now; $139 suggested list price.
"Lutron is committed to helping its customers adjust to the quick adoption of LEDs and all of the newest energy-saving light sources," said Gerard Darville, Director of Product Management at Lutron. "These four new products will simplify the control of LEDs and provide the same quality dimming experience you would expect from all Lutron products. As LEDs continue to grow in popularity, Lutron will continue to innovate new products and solutions that offer contractors and building owners the best products and value," said Darville.
To help customer make a smooth transition to LEDs, Lutron has created the LED Control Center of Excellence which provides homeowners, specifiers, building owners, contractors, and the like with the information they need to correctly specify, install, and use LEDs in both residential and commercial spaces. Designed to provide the industry with a positive experience during this fast-moving light bulb transition, the LED Center of Excellence should be the first-stop for all LED-related questions. Specialists are available to answer questions ranging from making the transition from incandescent lights top LEDs in the home, to correctly pairing LEDs with a building's dimming system.
About Lutron Electronics
Founded in 1961, Lutron Electronics is headquartered in Coopersburg, Pennsylvania, in the heart of the Lehigh Valley. From dimmers for the home, to lighting management systems for entire buildings, the company offers more than 17,000 energy-saving products, sold in more than 100 countries around the world. In the US alone, Lutron products save an estimated 10 billion kWh of electricity, or approximately $1 billion in utility costs per year. The company's early inventions -- including the first solid-state dimmer invented by Lutron's founder, Joel Spira -- are now at the Smithsonian's National Museum of American History in Washington, DC.
Contact:

Melissa Andresko, Communications Director-Public Relations - Lutron Electronics Co., Inc.
+1-610-282-6440
E-mail:
Web site: