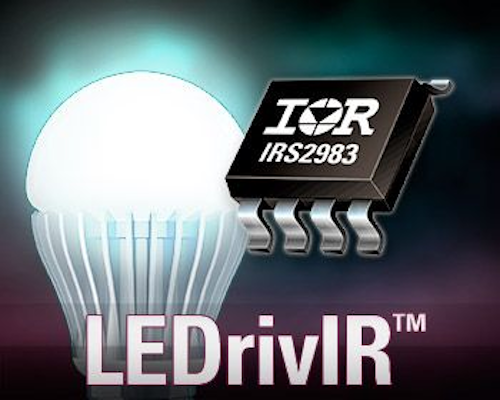 EL SEGUNDO, Calif. --- International Rectifier, IR® (NYSE:IRF), a world leader in power management technology, today introduced the IRS2983 control IC for single stage Flyback and Buck-Boost topologies used in LED drivers and power supplies.
The IRS2983 employs primary side regulation that reduces component count and simplifies design by eliminating the opto-isolator and other components necessary for isolated feedback for fixed loads. The device also features a rapid startup circuit that drastically reduces the turn on time of the system.
The new device also offers high power factor and low THD and operates over a wide input range for many LED lighting applications. Comprehensive protection features including hiccup mode over-voltage protection, cycle-by-cycle over-current protection and open and short circuit protection are also included. The device also supports TRIAC dimming.
"Traditional incandescent, halogen, and CFL light sources are rapidly being replaced by LED bulbs, tubes and fixtures. The Flyback converter is the preferred power supply topology for a large segment of the LED driver market. Flyback LED drivers are simple, cost effective and efficient. IR's IRS2983 helps simplify the design process and reduce part count and can also be configured to work with TRIAC dimmers," said Peter Green, LED Group Manager in IR's Energy Saving Products Business Unit.
Other key features of the IRS2983 include critical-conduction mode operation, with discontinuous and burst modes at light load as well as flexibility allowing easy connection opto-isolated feedback circuitry for more complex designs.
Available in an SO-8 package, the IRS2983 utilizes IR's advanced high-voltage IC process to deliver superior protection from electrical over-stress also offering micro-power startup, low quiescent current, latch immunity and ESD protection and noise immunity.
More information is available on the International Rectifier website at http://www.irf.com/whats-new/nr140130.html
Availability and Pricing
Pricing for the IRS2983 begins at US $0.45 each in quantities of 10,000-units. Production quantities are available immediately. The devices are lead free and RoHS compliant. Prices are subject to change.
About International Rectifier
International Rectifier (NYSE:IRF) is a world leader in power management technology. IR's analog- and mixed-signal ICs, advanced circuit devices, integrated power systems, and components enable high-performance computing and reduce energy waste from motors, the world's single largest consumer of electricity. Leading manufacturers of computers, energy-efficient appliances, lighting, automobiles, satellites, aircraft, and defense systems rely on IR's power-management benchmarks to power their next generation products. For more information, go to www.irf.com.
Trademark Notice
LEDrivIRTM is a trademark of International Rectifier Corporation and IR® is a registered trademark of International Rectifier Corporation. All other product names noted herein may be trademarks of their respective holders.

Contact:
International Rectifier
Sian Cummins, 310-252-7148
E-mail:

Web site: