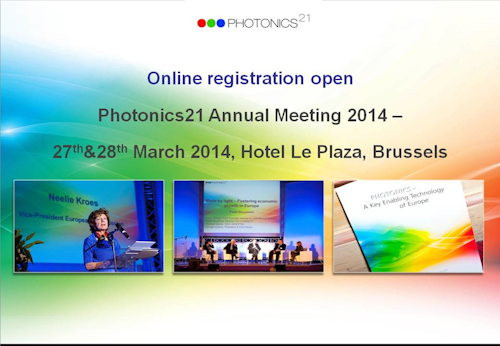 Online registration open & latest draft agenda - Photonics21 Annual Meeting 2014, 27 & 28 March 2014, Brussels -- Focus on the Photonics PPP in Horizon 2020
Take the chance to join the next Photonics21 Annual Meeting which will take place on the 27&28 March 2014 in the hotel Le Plaza in Brussels. The event will focus on the launch of the Photonics Public Private Partnership and the new EU Framework Programme Horizon2020. Neelie Kroes, Vice-President of the European Commission, has accepted to provide the keynote speech. Furthermore, a high level panel will debate on how the photonics industry can contribute to and benefit of re-industrialising Europe.

In the afternoon the Photonics21 Work Groups will start the interactive process to discuss and work on the photonics research and innovation priorities for the Horizon2020 Work Programme 2016/2017.

Besides the event programme you will have plenty of opportunities to meet and network with your colleagues of the European photonics community at the welcome reception as well as during the lunch and coffee breaks.
Online Registration
To register to the event please go to the online registration: http://de.amiando.com/Photonics21.html
Event Programme
You can download the draft programme for any further details: http://www.photonics21.org/download/Annual_Meeting/AnnualMeeting2014/DraftAgendaPhotonics21AnnualMeeting2014_asof6February2014.pdf


Accommodation If you would like to book a hotel room in the Le Plaza Hotel, a contingent of hotel rooms has been reserved for 185 Euros per night. Please mention the reservation code PHO260314. Your reservation at the Le Plaza Hotel is possible via +32 2 278 01 00 or via e-mail to reservations@leplaza.be.

You can download an overview on other hotels nearby the meeting venue: http://www.photonics21.org/download/Annual_Meeting/AnnualMeeting2013/OtherhotelsnearbytheLePlazaHotel.pdf


Furthermore, you can download a travel description how to get to the meeting venue: http://www.photonics21.org/download/Annual_Meeting/AnnualMeeting2013/HowtogettotheHotelLePlaza.pdf


Sponsorship
The Photonics21 Annual Meeting 2014 is kindly supported by following sponsors:
Aixtron
European Commission
Fraunhofer ILT
Hamamatsu
ITMO
Jenoptik
Osram
Philips
SPIE Europe
Thales
Thorlabs
TRUMPF

Contact:
Photonics21 Secretariat c/o VDI Technologiezentrum GmbH
+49-(0)211-6214-668
E-mail:
Web site: