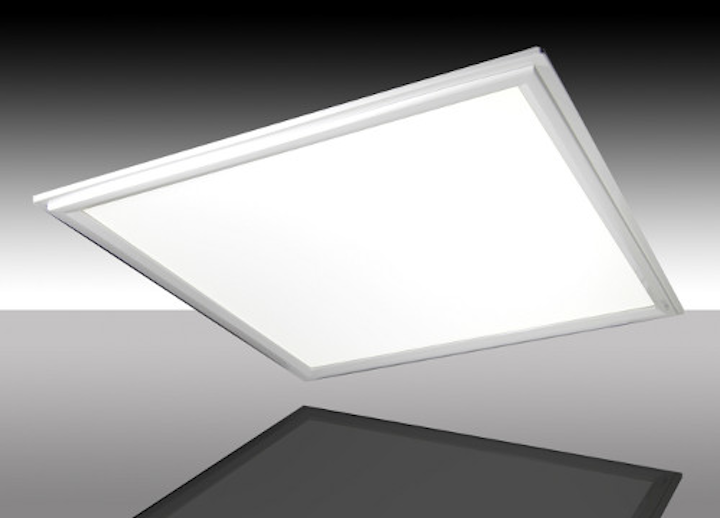 West Caldwell, New Jersey - Upgraded with higher-efficient third generation LED technology, MaxLite® unveils the new DesignLights Consortium®-qualified Direct Lit LED Flat Panel Savers Series™ that replaces fluorescent fixtures in lay-in and narrow grid drop-in ceilings in hospitals and healthcare facilities, school classrooms, conference rooms in office buildings and other commercial spaces. The fixtures can be purchased with rebates of up to $70 available through select utility rebate programs nationwide.

"Our new third generation LED panels provide lower wattages and greater energy savings and efficacy than previous models," said Product Marketing Manager Ken Charton. "The new value-engineered panels offer competitive pricing for the cost-conscious specification community."

Offering efficacies that exceed 100 lumens per watt, the panels are available in re-engineered 40-watt 1'x4' and 2'x2' models and a 42-watt 2'x4' model, in 3500K, 4100K and 5000K correlated color temperatures (CCTs). The fixtures are compatible with building controls, motion sensors, timers, and daylight harvesting systems for additional savings.

The fixtures offer 0-1-10-volt dimming, allowing the fixture to completely shut off when used with a standard 0-10-volt dimmer. The dimming feature eliminates the need for a second on/off control switch typically required for fixtures with a 0-10-volt dimming driver or ballast.

High-efficacy LED boards were redesigned with entirely new LED arrays in strip configurations, to utilize 15 percent less LEDs, resulting in a greater energy savings and efficacy. Modular construction enables easy replacement of integral drivers and LED boards. Up to 20 panels can be linked together for continuous runs.

Designed with inconspicuous four-inch profile housings for flush-fit mounting, the Saver Series panels are constructed with a satin polystyrene face frame, translucent white polystyrene lens and steel housing.

Optional accessories include cable hung and surface mount kits for varying installations. An optional IR remote is also available.

View the data sheets at http://www.maxlite.com/datasheet/1x4-direct-lit-flat-panel-ss, http://www.maxlite.com/datasheet/2x2-direct-lit-flat-panel-ss, and http://www.maxlite.com/datasheet/2x4-direct-lit-flat-panel-ss.
About MaxLite
MaxLite has been committed to providing energy-efficient lighting products for the last 20-plus years, and was one of the first movers into LED technology in the industry. An ENERGY STAR® Partner of the Year, MaxLite established the MaxLED® brand, an extensive line of state-of-the-art indoor and outdoor lighting lamps and luminaires. Through MaxLite's innovative research and development capabilities in its California office and product assembly center in New Jersey, MaxLite continues to be at the forefront of energy-efficient technologies.

Contact:
MaxLite
+1-800-555-5629
E-mail:
Web site: