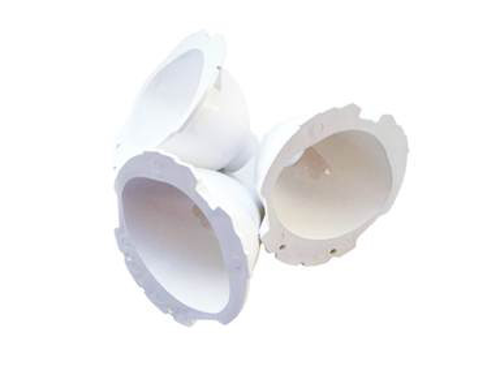 SABIC showcases solutions at Strategies in Light 2014 that are helping the LED industry achieve enhanced efficiency, lifespan and design flexibility

SABIC is highlighting new material technology solutions at the Strategies in Light (SIL) 2014 event (booth #1032) that help its customers in the lighting industry address the industry's shift towards more efficient LED (light-emitting diode) technologies from traditional incandescent systems. Regulations aimed at reducing energy consumption are driving manufacturers to develop LED lamps, fixtures and devices that last longer and are more energy efficient than traditional incandescent bulbs, but also offer design flexibility and enhanced aesthetics. SABIC collaborates with its customers to develop innovative solutions using its diverse and relevant portfolio of LEXAN™ LUX resins and LNP™ KONDUIT™ compounds, which can help manufacturers drive down persistent cost barriers to adoption.
"At SABIC, we're committed to working with our customers to support the move from less efficient traditional lighting systems to energy-efficient, cost-effective LED technologies. Our LEXAN LUX resins and LNP KONDUIT compounds help to create efficient solutions needed within this LED technology environment optimizing cost, efficient designs and performance. This helps address the cost challenges to mass adoption of these technologies," says Venugopal Koka, Director of Electrical Industrial and Lighting Marketing for SABIC's Innovative Plastics business.
SABIC's LEXAN LUX family of polycarbonate (PC) resins was created specifically for the LED market to help OEMs design both LED fixtures and lamps for commercial and residential use. These resins -- which include non-brominated, non-chlorinated flame retardant grades -- offer designers a range of candidate materials to help them with their specific needs. This includes a choice of transparency which enables high optical clarity in spotlights and streetlamps, or customizable diffusion levels that are especially valuable for architectural applications and retrofit in residential settings. Alongside this, the LNP KONDUIT range of thermally-conductive compounds can improve the longevity of LED lamps by efficiently conducting heat away from devices into a heat sink, and also enhance design freedom by offering an alternative to metal components. At its booth, SABIC will showcase examples of its solutions in practice, including an interactive display which compares a fully aluminum heat sink to a 'hybrid' aluminum insert/ KONDUIT compound version. Visitors will be able to test the performance of this solution and see how KONDUIT compounds can offer manufacturers the possibility of eliminating secondary operations and developing lighter weight products when compared to solid aluminum solutions.
Innovative solutions solve design challenges
The move from traditional technologies, such as incandescent or compact fluorescent lamps (CFL), to LED offers potential for exciting new applications with a wide range of design opportunities which were not previously available to manufacturers. SABIC is working with its customers to help them design new and retrofit LED fixtures for both commercial and residential applications. SABIC's LEXAN LUX resins and LNP KONDUIT compounds have multiple processing capabilities, as well as a full range of UL94 flame ratings, thereby offering lighting engineers greater flexibility in meeting industry challenges, such as ensuring lighting uniformity in commercial settings. With support from SABIC, lighting manufacturers are developing linear LED fixtures particularly suited to offices, which use LEXAN LUX resins to achieve superior white reflection. SABIC will showcase an example of this fluorescent replacement technology at its booth during SIL 2014.
Optimizing design and performance
Mass adoption of LED technologies remains a challenge facing lighting manufacturers. To help overcome this, SABIC works closely with its customers to improve design and lifespan of their applications and to help them meet regulatory compliance. SABIC worked with lamp manufacturer Switch Lighting to help develop its innovative SWITCH® infinia™ LED A-lamp bulb, which utilizes a patented liquid thermal management system and features a polycarbonate globe. SABIC's LEXAN LUX resin with MAX Diffusion technology, which was used in the injection blow-molded globe of the lamp, helped to optimize diffusion by eliminating LED hotspots, provided uniform and consistent light output and enhanced omni-directional light quality. The SWITCH infinia, winner of the 2013 Lighting for Tomorrow Award for Best LED Bulb, will be on display in the SABIC booth.
Enabling better heat-aging performance
As LED lighting systems can last much longer than traditional lighting systems – up to 50,000 hours compared to 1000 hours for incandescent, and 8000 hours for CFL systems – they are very heat sensitive. This sensitivity directly correlates to LED performance and life, making heat-aging performance especially important for manufacturers. SABIC's LEXAN LUX resins have excellent heat aging performance, which are properties that can help customers achieve improved lighting efficiency, while also maintaining excellent optics, light transmission and color stability over time. SABIC heat-aging lab performance data reveals that when exposed to high temperatures over a long period of time, LEXAN LUX resins retain their long-term color stability and light transmission properties better than some competitive materials on the market.
Visit SABIC at booth # 1032 to find out more about their innovative solutions for the LED lighting industry during Strategies in Light from February 25-27, 2014, in Santa Clara, California.
Photo Description: SABIC is highlighting new material technology solutions at the Strategies in Light 2014 event that help its customers in the lighting industry address the industry's shift towards more efficient LED (light-emitting diode) technologies from traditional incandescent systems.
infinia is a trademark of Switch Lighting
SABIC and LEXAN, KONDUIT and LNP are trademarks of SABIC or its subsidiaries or affiliates.
About SABIC
Saudi Basic Industries Corporation (SABIC) ranks among the world's top petrochemical companies. The company is among the world's market leaders in the production of polyethylene, polypropylene and other advanced thermoplastics, glycols, methanol and fertilizers.
SABIC has announced its unaudited financial results with a net profit of SR 25.23 (US$ 6.73 billion) in 2013. Sales revenues for 2013 totaled SR 189 billion (US$ 50.4 billion). Total assets stood at SR 339 billion (US$ 90.4 billion) at the end of 2013.
SABIC's businesses are grouped into Chemicals, Polymers, Performance Chemicals, Fertilizers, Metals and Innovative Plastics. SABIC has significant research resources with 18 dedicated Technology & Innovation facilities in Saudi Arabia, the USA, the Netherlands, Spain, Japan, India, China and South Korea. The company operates in more than 40 countries across the world with around 40,000 employees worldwide.
SABIC manufactures on a global scale in Saudi Arabia, the Americas, Europe and Asia Pacific.
Headquartered in Riyadh, SABIC was founded in 1976 when the Saudi Arabian Government decided to use the hydrocarbon gases associated with its oil production as the principal feedstock for production of chemicals, polymers and fertilizers. The Saudi Arabian Government owns 70 percent of SABIC shares with the remaining 30 percent held by private investors in Saudi Arabia and other Gulf Cooperation Council countries.
About Innovative Plastics
SABIC's Innovative Plastics business is a leading, global supplier of engineering thermoplastics with an 80-year history of breakthrough solutions that solve its customers' most pressing challenges. Today, Innovative Plastics is a multi-billion-dollar company with operations in more than 35 countries and approximately 9,000 employees worldwide. The company continues to lead the plastics industry with customer collaboration and continued investments in new polymer technologies, global application development, process technologies, and environmentally responsible solutions that serve diverse markets such as Healthcare, Transportation, Automotive, Electrical, Lighting and Consumer Electronics. The company's extensive product portfolio includes thermoplastic resins, coatings, specialty compounds, film, and sheet. Innovative Plastics (www.sabic-ip.com) is a wholly owned subsidiary of Saudi Basic Industries Corporation (SABIC).
Contact:

SABIC Headquarters
+1-413-448-7110
Web site: