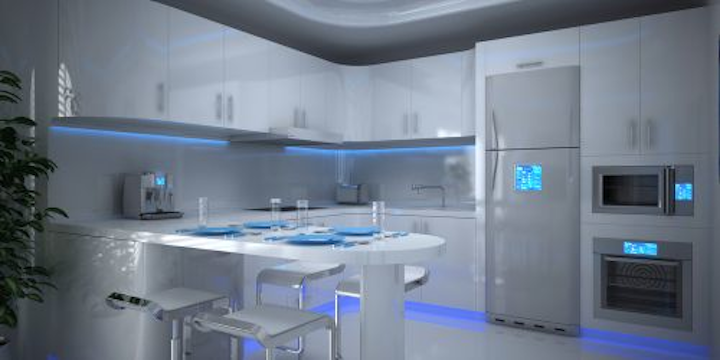 Newly introduced by Greenstock, is a comprehensive range of LED Strip Kits designed for stunning lighting effects for all interiors from commercial to home.
Greenstock supplies a vast range of kit options to suit all lighting needs. The LED kits offer a dimming capability via an easy to install remote control or pushbutton controller and are available in an extensive range of led colours and types. The kits make use of Greenstock's innovative U-connect wiring system making the kits extremely easy to install and enabling the user to keep building onto the existing installation with a wide range of accessories.
All of Greenstock's LED Strips are supplied on a 5m reel and are fitted with self adhesive backing tape enabling lights to be easily installed. Strips can also be cut to length using pre-defined cut points spaced every 25 or 50mm. All the kits are supplied pre-fitted with Greenstock's U-connect system enabling parts to be easily connected together without any electrical knowledge.
The single colour LED Strip Kits come in a choice of a Warm White, Cool White, Daylight White, Red, Blue and Green with other colours available on request. They come in 5m reels with either 60 or 120 LEDs per metre. Greenstock's Colour changing Strip Kits incorporate LED chips containing three different colour cells allowing the colours red, green and blue to be mixed. This allows users to change colours, brightness and strobe effects to suit the mood or ambiance at the push of a button. A colour changing controller is supplied with the kit allowing users to control the different colour effects, dynamic sequences and brightness settings. These colour changing Strip Kits come in 5m reels with 60 LEDs per metre and can be specified as IP65 weather resistant if required.
To create different lighting effects and enable dimming of the LED Strips, Greenstock offers a range of controller units, for remote or manual dimming and control allowing various levels of brightness and dynamic mode. All the controllers are easy to operate, have an ultra-slim design and will automatically memorise the last setting before power off.
Where required, Greenstock offers aluminium profiles with different diffuser options to enclose the LED Strips. There are also a variety of LED drivers to suit different applications, including the requirement for plug-in drivers and IP rated drivers for weather resistance.
The creative possibilities of Greenstock's LED Strip lights are almost limitless with its innovative U-connect system. Accessories such as extension leads, splitters and distribution boxes mean that the kits are easily expandable with multiple lighting components operating from a single power source without the need for complicated and time-consuming wiring.
Further information on Greenstock's LED Strip Kits is available from Greenstock on 0845 2570 444, email enquiries@greenstock.co.uk or by visiting the company's website at www.greenstock.co.uk
For further editorial information contact Alex Brown of The Greenstock Lamp Company on 0845 2570 444, email enquiries@greenstock.co.uk or Nick Brooks of Vantage PR on 01600 715251, email pr@vantage.uk.com or fax 01600 715254.
For colour separation requests please email Brenda Christopher at brenda@vantage.uk.com or fax 01600 715254.
Issued on behalf of The Greenstock Lamp Company Ltd, Unit H, Hillcroft Business Park, Whisby Road, Lincoln, LN6 3QT by Vantage Public Relations, 14 White Swan Court, Monmouth, Monmouthshire, NP25 3NY, www.vantage.uk.com
CAPTION:
Newly introduced by Greenstock, is a comprehensive range of LED Strip Kits designed for stunning lighting effects for all interiors from commercial to home.(image courtesy of Shutterstock)
Contact:
Alex Brown - The Greenstock Lamp Company +44-0845-2570-444
E-mail:
Web site: