EAST CLEVELAND, Ohio -- On San Francisco's northern waterfront lies the world-renowned historic fishing district, Fisherman's Wharf. Home to an abundance of restaurants, hotels and attractions, the city's most popular tourist destination attracts more than 10 million visitors a year who at the gateway can glimpse a nearly 16-foot iconic symbol of the area's rich history and vibrant culture -- the "crab wheel."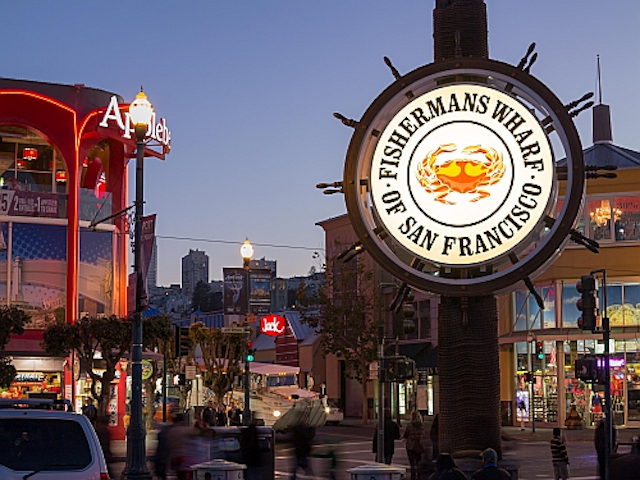 GE Lighting and Arrow Sign restore landmark San Francisco 'crab wheel' with LED sign lighting

With the help of Arrow Sign Company and LED sign lighting systems donated from GE, the Fisherman's Wharf Community Benefit District (CBD) recently restored this cherished landmark while saving an estimated 80 percent in lighting energy usage.

Fishing for Answers
First erected in 1968, the original crab wheel sign was constructed with plywood and sheet metal that became weathered due to saltwater and rust damage. Seeking to extend the life of one of the city's most photographed landmarks, the Fisherman's Wharf CBD -- in collaboration with the Port of San Francisco and the Fisherman's Wharf Merchants Association -- contracted GE Lighting and Oakland, Calif.-based Arrow Sign Company to redesign the wheel with durability and efficiency in mind.

"The crab wheel is an icon that is recognized by people around the world, so preserving its original appearance was very important to us," said Troy Campbell, executive director of Fisherman's Wharf CBD. "GE and Arrow Sign Company helped us modernize the structure without losing a prominent symbol of San Francisco."

The crab wheel was rebuilt using aluminum, polycarbonate and high-density foam materials, while the original wood handles lining its perimeter were kept intact. GE donated its Tetra® PowerStrip LED sign lighting to replace the traditional T12 fluorescent tube lighting previously used in the sign. The new sign will consume 80 percent less energy for Fisherman's Wharf, with the LED lighting system using 676 total watts versus the 4,000 total watts used with the previous fluorescent lamp layout. Additionally, the switch to LED lighting means greater longevity for the sign's lighting system due to a rated fixture lifetime of 50,000 hours.

"We reviewed several contractor bids and one of the main factors to choose Arrow Sign Company was its use of GE products," Campbell said. "We knew LED technology had the right long-lasting, energy-saving benefits for us, and we felt confident in the GE brand."

After two months of project planning and construction, the new crab wheel was completed on July 3, 2013. Installation took place over three nights, where the sign was replaced one side at a time so that there was no downtime or missed photo opportunities for tourists.

When illuminated, Campbell said the sign now has a "bright, even glow" and a "uniform, one-color appearance," which he noted has already received positive tourist feedback.

The move to GE's LED sign lighting will also mean reduced maintenance time and costs compared to previous upkeep needs.

"With its location in the heart of a large tourist area, service calls and permits to the crab wheel are difficult, expensive and inconvenient for visitors," Campbell noted. "We expect the sign's new LED lighting to significantly reduce our annual maintenance spend."

Visit www.gelighting.com to learn more about LED and other efficient lighting technologies from GE. To learn more about GE's commitment to innovative solutions to today's environmental challenges while driving economic growth, visit www.ecomagination.com.

About The Fisherman's Wharf Community Benefit District
The Fisherman's Wharf Community Benefit District was founded in November 2005 by the business and property owners of the San Francisco neighborhood. The district is funded through an annual assessment for 15 years from the property owners.

The purpose of the Fisherman's Wharf Community Benefit District is to preserve and enhance its vast San Francisco waterfront landscape and multi-cultural heritage, while integrating modern efficiencies to enrich the experience of visitors from both near and far through: Market Research; Brand and Destination Marketing; Sidewalk Operations, Beautification and Order; Traffic and Urban Planning; and Emergency Preparedness.

For more information, visit www.visitfishermanswharf.com.

About Arrow Sign Company
For more than 60 years, Arrow Sign Company has manufactured quality electric and architectural signs to help major corporations, retail merchants and local communities achieve and exceed their goals of visibility and image. From initial design concepts to detailed plans, fabrication, installation and maintenance, the full-service sign company has created some of the nation's most exciting displays, including: the W Hotel in Hollywood, Calif., San Francisco Metreon, Union Bank rebranding, Ask.com headquarters and more.

For more information, visit www.arrowsigncompany.com.

GE Lighting invents with the vigor of its founder Thomas Edison to develop energy-efficient solutions that change the way people light their world in commercial, industrial, municipal and residential settings. The business employs about 13,000 people in more than 100 countries, and sells products under the reveal® and Energy Smart® consumer brands, and Evolve™, GTx™, Immersion™, Infusion™, Lumination™, Albeo™ and Tetra® commercial brands, all trademarks of GE. General Electric (NYSE: GE) works on things that matter to build a world that works better. For more information, visit www.gelighting.com.

Photo:The switch to GE Tetra® PowerStrip LED sign lighting means greater longevity and reduced maintenance time and costs for the crab wheel's lighting system due to a rated fixture lifetime of 50,000 hours.

Contact:

Cheryl Seredy - GE Lighting
+1-216-266-2946

E-mail:

Web site: