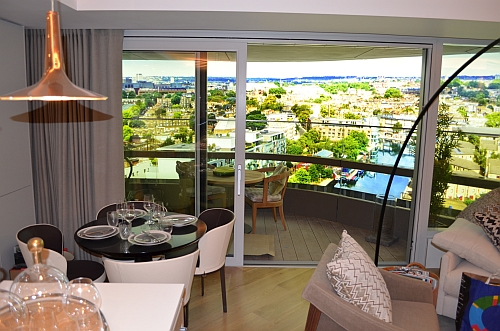 Stunning curved large format tension fabric face LED light boxes were designed, manufactured and installed into the marketing suite of the prestigious Canaletto building in Central London to create an illuminated display showing virtual window views from the upper level apartments.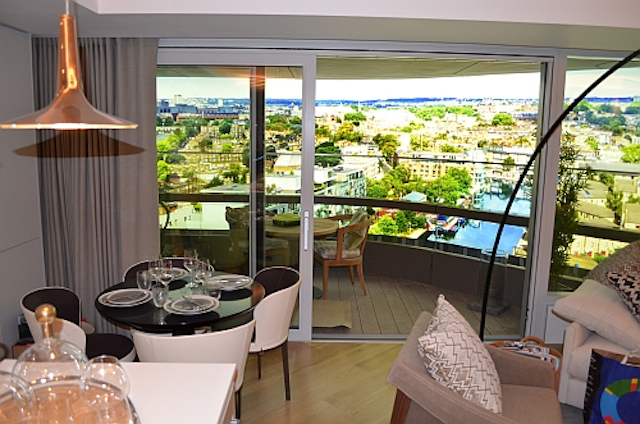 W&Co creates a scenic LED lighbox view for available London apartments

The Canaletto tower project is a brand new set of elegant luxury waterside apartments situated between London districts of Islington, Clerkenwell and Shoreditch. The building's remarkable contemporary look was designed by UNStudio architects.

Working with leading brand identity and visual communications experts Socrates, W&Co was privileged to design, manufacture and install a stunning large format curved fabric face LED light box panorama of the city skyline as would be viewed from the upper level apartments of the luxury waterside apartments in EC1, London.

The 16.5m wide backlit panorama was created with two large format light boxes manufactured in multiple sections which were joined together on site on the ground level showroom apartment.

Socrates Production Manager Bambi Montgomery stated: "These two large light boxes were created for the show apartment in the marketing suite for the new Canaletto apartments currently under construction in City Road, London. They feature the views buyers will get from both the balcony (daylight visual) and the bedroom which features a night time scene."

She continued, "The curved balcony light box was manufactured to extremely exact tolerances and both light boxes on arrival from Germany fitted perfectly. W&Co pulled out all stops to meet the tight deadlines set for both manufacture and installation and we were extremely happy with the finished product."

Canaletto launched with an impressive 3D-mapping spectacular onto the side of the building -- W&Co were very pleased to see our light boxes appearing in the launch video and hope that the illuminated landscape views across the London skies help to sell the luxury apartments to prospective buyers.

Contact:

W&Co
+44-08456-253545

E-mail:

Web site: