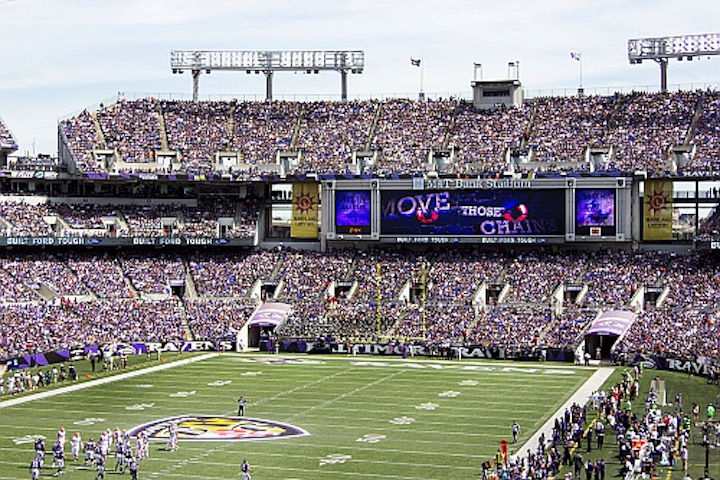 Daktronics latest LED technology, 8 millimeter SMD displays to be installed at M&T Bank Stadium

BROOKINGS, S.D. -- M&T Bank Stadium, home of the Baltimore Ravens, has once again called on Daktronics Inc. (NASDAQ-DAKT) of Brookings, S.D., for new LED video displays. This year, four new displays featuring the latest in Daktronics SMD LED technology will be added to the upper concourse of the stadium, above the Miller Flight Deck, as the facility sets a standard in sports venues of keeping fans up-to-date on the game's excitement while away from their seats.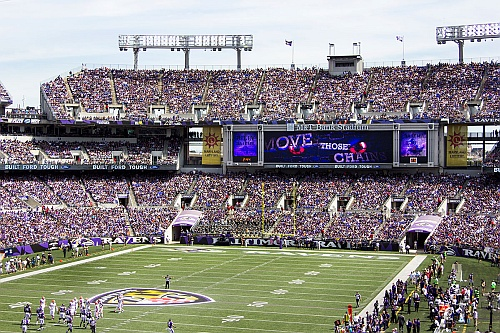 "We remain committed to enhancing the game-day experience at M&T Bank Stadium," Ravens President Dick Cass stated. "This is the second-consecutive year we've made significant upgrades to our digital video displays. The addition of these new screens will be great for our fans. They will provide even more entertainment and football information for people to enjoy."
Each of these new displays will feature 8 millimeter line spacing on SMD (Surface-Mount Device) LED outdoor technology. The displays will each measure 6 feet high by 22 feet wide to show fans the same content as the main video displays while they are in the upper concourse areas heading to and from the restrooms or concessions.
"We're excited to continue our partnership with M&T Bank Stadium and the Baltimore Ravens by installing Daktronics' latest SMD product for their upper concourse areas," said Will Ellerbruch, Daktronics national sales manager for live events. "The Ravens continue to set the standard for venue-wide video display implementation and this installation takes everything a step further by introducing cutting-edge technology outside of the main bowl to cater to fans away from their seats."
Daktronics LED video and messaging display technology offers a long lifetime with minimal maintenance and low power consumption, providing value and excitement for years to come.
About Baltimore Ravens
In their 19th year of existence, the two-time Super Bowl Champion Baltimore Ravens have earned a playoff berth in five of the past six seasons. Since head coach John Harbaugh's arrival in 2008, Baltimore has won an NFL-high nine playoff games, advanced to an impressive three AFC Championship contests, and in 2012, captured the World Championship in Super Bowl XLVII. The Ravens, who also won Super Bowl XXXV during the 2000 campaign, have made the playoffs in six of the past eight seasons – producing three AFC North Division titles during this time (2006, 2011 and 2012).
About Daktronics
Daktronics helps its customers impact audiences throughout the world with large-format LED video displays, message displays, scoreboards, digital billboards and control systems in sport, business and transportation applications. Founded in 1968 as a USA-based manufacturing company, Daktronics has grown into the world leader in audio-visual systems and implementation with offices around the globe. Discover more at www.daktronics.com.
SAFE HARBOR STATEMENT
Cautionary Notice: In addition to statements of historical fact, this news release contains forward-looking statements within the meaning of the Private Securities Litigation Reform Act of 1995 and is intended to enjoy the protection of that Act. These forward-looking statements reflect the Company's expectations or beliefs concerning future events. The Company cautions that these and similar statements involve risk and uncertainties which could cause actual results to differ materially from our expectations, including, but not limited to, changes in economic and market conditions, management of growth, timing and magnitude of future contracts, fluctuations in margins, the introduction of new products and technology, the impact of adverse weather conditions and other risks noted in the Company's SEC filings, including its Annual Report on Form 10-K for its 2013 fiscal year. Forward-looking statements are made in the context of information available as of the date stated. The Company undertakes no obligation to update or revise such statements to reflect new circumstances or unanticipated events as they occur.
Contact:
Justin Ochsner, Public Relations/Marketing - Daktronics
+1-605-692-0200