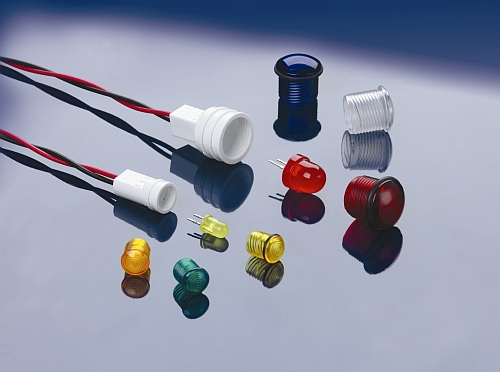 CNX 440 and CNX 460 Series LED holder provides solderless LED connection and multiple of LED options for a quick and easy panel mount indicator solution...

Save assembly time and money with VCC solderless LED interconnect solution

POWAY, CA -- VCC, the global leader in indication and specialty illumination solutions, has developed solderless panel mount LED holders that combine simple and fast assembly with reliability and ruggedness. The CNX 440 and CNX 460 Series receptacles require no tools for assembly, offering quick and easy threaded connections into a broad selection of panel lenses.

The CNX 440 Series 5mm LED holder can be configured to support up to six leaded, RGB, undercover (UC), or infrared (IR) LEDs. While the CNX 460 10mm LED holder can be configured for high flux and standard 10mm LED packages. These receptacles work with all major LED brands and offer a solderless solution for connecting wire leads to an LED.

The CMC 441 and HMC 461 lens style with Fresnel ring for increased brightness is recommended for standard applications, while the CMS 442 and HMS 462 lens style is used for NEMA 4 applications requiring moisture-proof performance.

The HMC 460 and HMS 462 lens Series indicators fit a 0.5625 inch (14.29mm) diameter mounting hole, while the CMC 441 and CMS 442 fit a 0.300 inch (7.62mm) diameter mounting hole. Assembly is quick and simple; slip lens through panel opening, slide lock washer over lens barrel, connector secures to lens with a half of a turn.

Further simplifying assembly, the CNX 440 and CNX 460 Series LED holders features unique interconnectors that provide additional stability for LED leads and offer various options, standard lead lengths and headers for quickly and securely connecting LEDs to power sources. The receptacle can be easily configured for integration into a custom cable assembly or standalone assembly with stripped wire ends or header connector for PCB connection.

VCC modular panel mount indicator assemblies resolve LED push back issues, eliminate the need for soldering or crimping wires to fragile LED leads and deliver superior stability when subjected to forces of 2Gs, 4Gs, and 6Gs from 0 to 2000Hz.

For more information about VCC holders and indicator products, please visit http://vcclite.com/panel_mount_indicators.php

About VCC
Based in Poway, California, Visual Communications Company, LLC, is the recognized leader in the development and manufacturing of innovative LED, incandescent, neon and specialty indicator light solutions for global markets including aerospace, medical, automotive, transportation, safety and industrial. VCC's design services group helps OEMs solve challenging applications involving the delivery of light with high-performance, innovative LED panel indication and illumination solutions. With nearly 40 years of experience, VCC and its distributors serve customers all over the world.

Contact:

Andrew Zanelli - VCC
+1-858-386-5675

E-mail:

Web site: