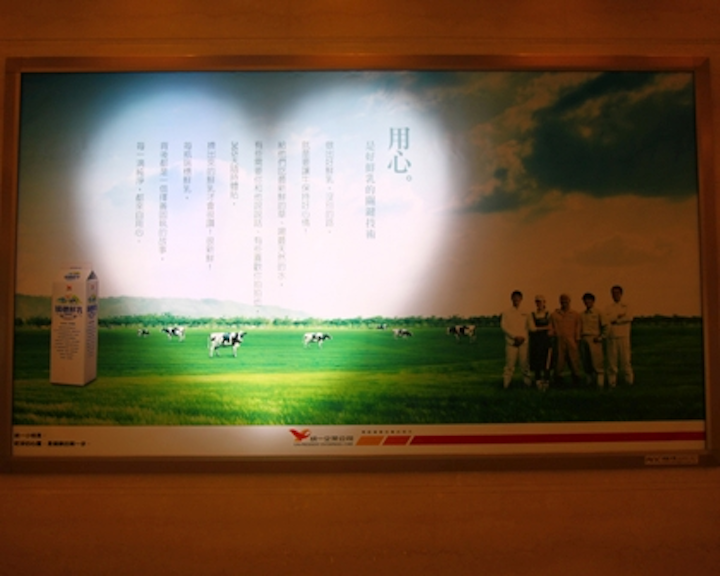 In the Taipei City Hall Station's passageway, there is one LED dynamic light box particularly created by ARC for the UNI-President Corp. Following the tea advertisement on April, 2013, ARC SSL. customized the milk advertisement for Union President Corp. to attract attention of passengers and shows dynamic effects to break the stereotype of traditional advertising light boxes, and significantly enhance advertising effectiveness to achieve the environmental benefits and energy saving.

Built-in LED light source to replace the traditional fluorescent tubes, not only in the illuminance on further improvement, but also in accordance with the new trend of energy saving of up to 70%, will greatly reduce maintenance costs and cost-effective countermeasures.

LED Lighting Design
Unlike the display of the traditional advertising light boxes, the dynamic lighting effects of the milk advertisement created by ARC SSL. based on the customer's requirements and the advertising content, which utilizes the characteristics of the dynamic lighting effects not only to emphasizes the advertising appeal, but also makes it more vivid to enhance the advertising effectiveness significantly.

Customized Advertising Light Boxes
ARC SSL. dynamic light box applies high quality LED sources with brightness and uniformity to avoid zebra striped shadows. As it is clear, long life and stable to reduce maintenance and installation costs.

Product Used:

1. DMX Controller ARC5001-B1
2. DMX Multi0 Channel Converter ARC3730
3. LED Flexible Strip(White/ Customized)

Showcase
http://www.youtube.com/watch?v=dq4Q96chqss

ARC Lighting Corp. designs customized intelligent lighting system solutions for each client. If you need further information, you are welcome to contact us at info@arclight.com.tw.

Contact:

ARC Solid-State Lighting Corporation
+886-2-8227-8217

E-mail:

Web site: