pecialist lighting solutions provider Weblight Ltd has won the Electronic Contractors' Association (ECA) Medium Sized Contractor of the Year award, sponsored by Hager UK, the market-leading distributor in the electrical industry, at The Electric Event.

Taking place in May at the prestigious International Conference Centre in Birmingham, The Electric Event is the ECA's UK conference. With over 900 visitors in attendance, this year's event continued the ECA's objectives to deliver fresh thinking, valuable insights and new opportunities.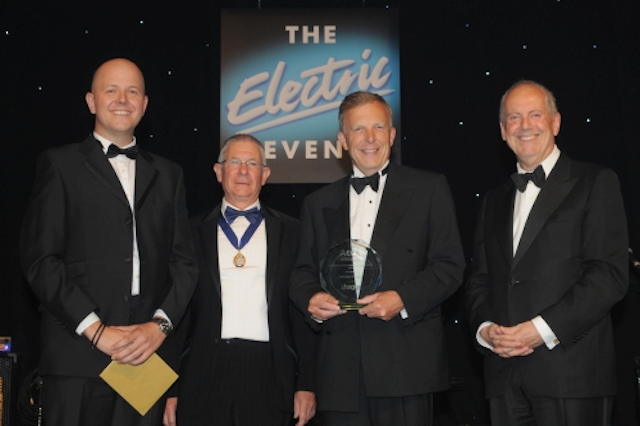 Specialist lighting supplier Weblight presented Electronic Contractors' Association award

The ECA Medium Sized Contractor of the Year Award category was presented for an electrical or electronic building services contractor, with a turnover of between GBP 5 million and GBP 25 million that has demonstrated professionalism, consistency of service and responsibility to both customers and staff.

Ian Smith, marketing manager at Hager UK, said: "Contractors are an important part of Hager UK and the positive feedback we receive about our products, which are designed around the easy installation and time-saving on site, from our contractors is vital to Hager UK's continued excellent service.

"Sponsoring the award is a fantastic chance for Hager UK to show its appreciation and support to its contractors. The Electric Event continues to grow and the category Hager UK sponsors is a great way to reward outstanding businesses and we would like to congratulate Weblight for being a fantastic winner."

Providing lighting design, installation and maintenance solutions to a variety of sectors, including retail, commercial and education, Weblight followed up from its success at last year's ECA Gala Awards dinner, where it was awarded a highly commended certificate in the Medium Sized Contractor of the Year category.

Managing Director at Weblight, Mike Thompson said: "These awards are a great way to showcase the best in electrical business and it's a fantastic achievement for Weblight to win the award. Weblight would like to thank the ECA for the award and to Hager UK for its continued support to electrical contractors shown through its endorsement."

The ECA Annual Awards are open to ECA registered members, with the judges selecting the winners for demonstrating the highest standards to which others should aspire. Founded in 1901, the ECA and its registered members have lead the best practice, innovation and excellence in the electrical and electronic building services engineering sector.

Photo, L-R: Ian Smith of Hager UK, ECA President Andy Basham, winner Weblight's managing director Mike Thompson and speaker Gyles Brandreth.

For more information of the 2014 awards, please visit http://www.electricevent.co.uk/galadinner.

Hager Group is a leading supplier of solutions and services for electrical installations in residential, commercial and industrial buildings.

The Hager brand, with products ranging from energy distribution through wiring accessories to building automation and security systems, represents the core business of the company. Other members of Hager Group are Berker, Daitem and Diagral, as well as Efen and Elcom. Hager is working on future topics such as electro-mobility, Ambient Assisted Living, where building automation facilitates the everyday life of the elderly and individuals who require care, and on the networking of energy-efficient housing, which will provide greater comfort while requiring less energy consumption.

Hager Group was founded in 1955 by Hermann Hager and Dr. Oswald Hager together with their father Peter and today remains an independent business, owned and run by members of the Hager family, with its head office in Blieskastel, Germany. The organisation of the company as a European Company (Societas Europaea, SE) Hager Group is, nevertheless, a worldwide business venture: its 11,400 employees generated a turnover of around 1.6 billion euros in 2012. Hager produces its components and solutions in 22 production sites around the globe and customers in more than 80 countries all over the world trust in them.

Contact:

Hager Ltd.
+44-01952-677899

E-mail:

Web site:

www.hager.co.uk

Submit new products, case studies/projects, and other press releases at http://www.ledsmagazine.com/content/leds/en/addcontent.html and http://www.ledsmagazine.com/content/leds/en/iif/add.html.