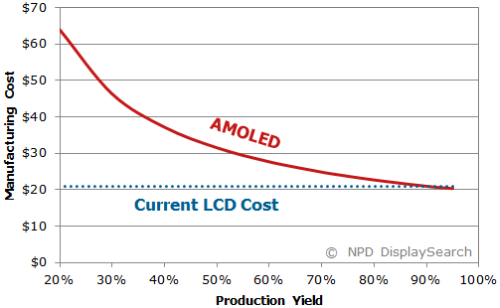 Santa Clara, Calif.-- Improvements in production yields of AMOLED mobile phone panels is helping to close the manufacturing cost gap between AMOLED and TFT-LCD smartphone displays. According to the NPD DisplaySearch OLED Technology Report, manufacturing costs for AMOLED panels are currently 10 to 20 percent higher than for TFT-LCD displays; however, considering the rapid improvement in AMOLED panel production yields, the manufacturing costs for AMOLED mobile phone panels are expected fall below costs for LCD mobile phone panels within the next two years.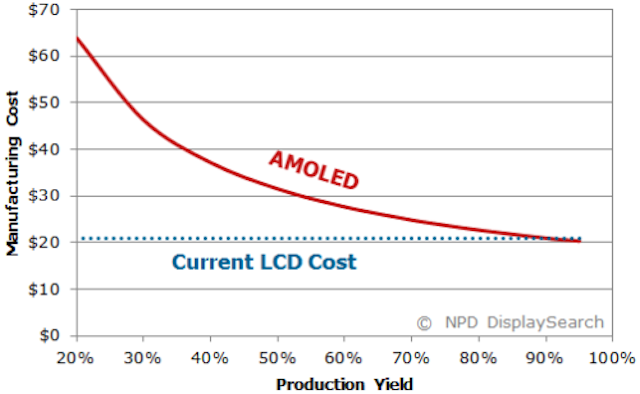 Report finds AMOLED mobile phone panel costs expected to fall below LCD

Early on, AMOLED panels were expected to cost less than LCD panels, because they do not require backlighting. Instead, production challenges kept AMOLED yields low, and thus costs remained higher than for equivalent LCDs. AMOLED became a high-end product, due to its high color gamut, good contrast, and slimness. Recent production yield improvements are expected to help AMOLED penetrate more broadly into smartphone panels.

"Until recently there have been few breakthroughs in the production of AMOLED displays, and the OLED industry seemed to be facing hard times," said Jimmy Kim, senior analyst of display materials and LED at NPD DisplaySearch. "If AMOLED costs fall below LCDs, as expected, it would lead to more opportunities for the OLED display industry, greater competition with LCD, and more choices for consumers."

For example, currently there is a 16 percent cost gap between 5-inch AMOLED and LCD (1920 × 1080) mobile phone panels, but AMOLED panel costs are expected to fall below LCD panel costs when AMOLED production yields reach 90 percent, which is within sight. If further cost reductions for OLED materials are achieved, then the yield required for AMOLED to be cheaper than LCD will be lower.

Figure: Changes in AMOLED Cost by Yield

Source: NPD DisplaySearch OLED Technology Report

The OLED Technology Report is a comprehensive guide to manufacturing, market opportunities, and technology for OLED displays and lighting. For more information about the report, please contact Charles Camaroto at 888-436-7673 or 516-625-2452, e-mail contact@displaysearch.com, or contact your regional NPD DisplaySearch office in China, Japan, Korea or Taiwan.

About NPD DisplaySearch
NPD DisplaySearch, part of The NPD Group, provides global market research and consulting specializing in the display supply chain, including trend information, forecasts and analyses developed by a global team of experienced analysts with extensive industry knowledge. NPD DisplaySearch supply chain expertise complements sell-through information from The NPD Group, thereby providing a true end-to-end view of the display supply chain from materials and components to shipments of electronic devices with displays to sales of major consumer and commercial channels. For more information, visit us at www.displaysearch.com. Read our blog at www.displaysearchblog.com and follow us on Twitter at @DisplaySearch.
About The NPD Group, Inc.

The NPD Group provides global information and advisory services to drive better business decisions. By combining unique data assets with unmatched industry expertise, we help our clients track their markets, understand consumers, and drive profitable growth. Practice areas include automotive, beauty, consumer electronics, entertainment, fashion, food/foodservice, home, luxury, mobile, office supplies, sports, technology, toys, and video games. For more information, visit npd.com and npdgroupblog.com. Follow us on Twitter at @npdtech and @npdgroup.

Contact:

NPD DisplaySearch
+1-888-436-7673

E-mail:

Web site:

Submit new products, case studies/projects, and other press releases at http://www.ledsmagazine.com/content/leds/en/addcontent.html and http://www.ledsmagazine.com/content/leds/en/iif/add.html.