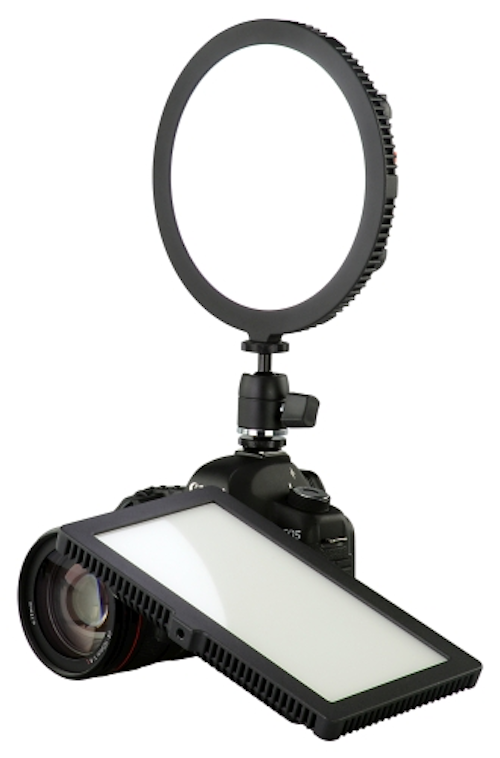 Waukegan, IL -- Fotodiox Pro, a leading manufacturer and distributor of high-quality photography and videography accessories, has announced their newest concept in LED lighting: the FlapJack LED Edgelight series. Designed to be lightweight, portable and easy to set up, the FlapJacks produce soft, even light that is ideal for almost any shooting scenario, like impromptu interviews, capturing beautiful portraits or even shooting tabletop food or product photography. Their interior diffusion materials eliminate the need for additional softboxes, and each of the four models can easily fit into a messenger or camera bag, making them a truly complete lighting solution – right out of the box.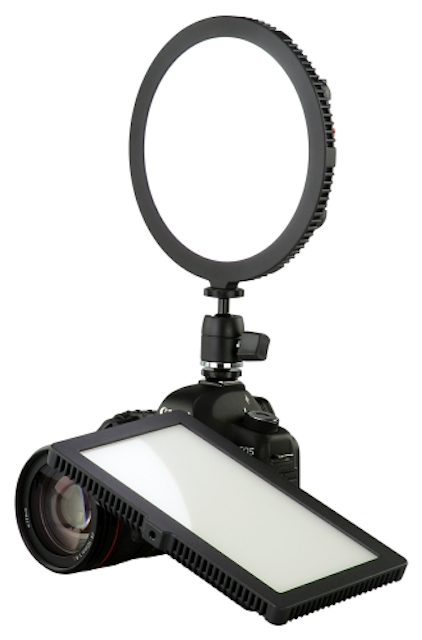 Fotodiox FlapJack LED edgelights produce diffuse light for photography and broadcast applications

Rather than using forward-facing LEDs common in conventional panels, the FlapJacks' LEDs are mounted around their outer edge, aimed inward at layers of diffusion material. Instead of producing a direct beam, they produce bounced light that creates a soft, even glow with no hotspots. They are the perfect solution for filling in shadows, shooting glamour portraits or expertly lighting small spaces, like car interiors or office cubicles.

Furthermore, the FlapJacks feature an elegant form factor – each measuring less than 1/2" at its thinnest point – and can be placed almost anywhere. Their compact design makes it easy to mount them to light stands, tabletop tripods, light clamps or even a camera's accessory shoe. The FlapJacks are so lightweight that they can even be mounted with Velcro, cord or tape, making it easier than ever before to get creative with light placement.

Quick Facts About the Flapjack LED Edgelight Series:
Two circular models: the C-200R (7" diameter) and the C-300R (10" diameter)
Two rectangular models: the C-200S (8" x 5") and the C-200L (11" x 4 1/4")
Feature edge-mounted LEDs and layers of built-in diffusion to produce soft, even lighting with no hotspots
Fully dimmable, with no change in color temperature, from 10-100%
Thin, portable design makes each model only 1/2" deep at thinnest point
Run on either AC power or a NP-F style rechargeable battery (both are included in each kit)
Contain a backlit LCD indicator that displays both light level and battery life status
C-200 lights come with ballhead mounting bracket for light stand or accessory shoe mounting
C-300 lights come with mounting yoke for light stand
Each light comes with a custom fitted hard case and is backed by Fotodiox's 2-year warranty

Fotodiox's new video about the FlapJack LED Edgelight series can be seen via Fotodiox's YouTube channel at http://www.youtube.com/user/FotodioxInc. To learn more about this and other specialty lighting systems, please visit http://www.FotodioxPro.com.

About Fotodiox
Serving the photo and video markets since 2004, Fotodiox Pro is a leading manufacturer and distributor of high-quality, professional and affordable photography and videography accessories. Fotodiox Pro is known for its WonderPana mounts and accessories, Vizelex line of high-end camera systems and adapters, and ever-expanding line of award-winning GoTough accessories for GoPro cameras. The company also markets a full line of specialty lighting equipment, including flash strobes and wedding photography kits, daylight fluorescent lighting, tungsten lighting and video lighting kits, and the award-winning LED 100WA. For more information about Fotodiox Pro visit http://www.fotodiox.com, http://www.youtube.com/user/FotodioxInc and http://www.facebook.com/fotodiox.
Contact:

Fotodiox
E-mail:

Web site:

www.fotodioxpro.com

Submit new products, case studies/projects, and other press releases at http://www.ledsmagazine.com/content/leds/en/addcontent.html and http://www.ledsmagazine.com/content/leds/en/iif/add.html.