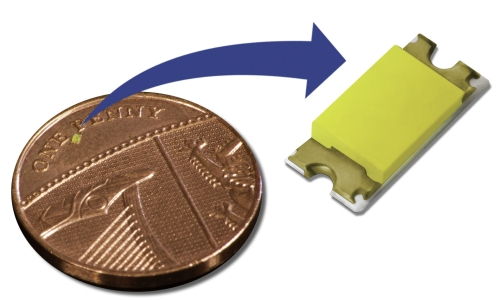 Redditch, UK: Solid State Supplies is now stocking Plessey dotLED™ 01005 chip-size surface-mount LEDs, which combine ultra-small dimensions with high optical output for use in mobile and wearable electronics.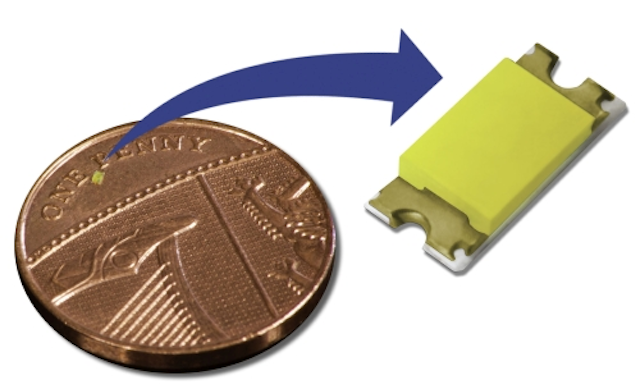 Solid State Supplies stocks Plessey dotLED LEDs for mobile and wearable electronics

The Plessey dotLED family, in blue and white colour options, joins the Solid State Supplies portfolio as part of the new distribution agreement between the two companies announced in August 2014. The LEDs have a 1.0mm x 0.5mm outline, an extremely low profile of 0.2mm, and minimal weight of just 0.2mg. These are Plessey's smallest packaged LEDs, and are compatible with automated surface-mount assembly.

The white dotLED, PLW138003, and blue dotLED, PLB138003, can be driven at up to 10mA and generate luminous intensity of up to 190mcd in the white version and 70mcd in the blue version. The devices produce highly collimated light, and have a 130° viewing angle.


dotLED LEDs are the latest devices to be produced using Plessey's proprietary MaGIC™ (Manufactured on GaN-on-Si I/C) technology. MaGIC leverages the cost benefits of standard silicon semiconductor fabrication techniques, to produce high-quality, high-performing LEDs that meet the exacting demands of consumer markets.

The PLW138003 and PLB138003 are available to order now from Solid State Supplies.

Plessey's range of products for lighting applications will be showcased at LuxLive, ExCel London, 19-20 November, Stand D31. Solid State Supplies will also highlight its full lighting portfolio on Stand C30 at LuxLive.

About Solid State Supplies
Solid State Supplies supports UK electronic equipment designers and manufacturers with best-in-class technologies from some of the world's most innovative component makers.
Our products are focused on two main areas: embedded processing and connectivity (wired and wireless), and power semiconductors and modules. We represent a limited number of suppliers in order to provide outstanding technical and commercial support. These suppliers include leading global brands and smaller niche companies that offer products with exceptional performance in specific applications.

We serve customers in military and aerospace, industrial and medical electronic equipment markets. Our inventory is UK-based for fast, reliable delivery.

For more information on Solid State Supplies, please visit: www.sssplc.com

About Plessey
Plessey is a leading expert in the development and manufacture of semiconductor products used in sensing, measurement and control applications. Plessey's products are found in a wide range of markets including communications, manufacturing, medical, defence and aerospace. Plessey designs products for high performance applications and its range of integrated products includes CMOS image sensors, low and mid-power LEDs, Hall Effect devices and its award-winning EPIC electric potential sensors. Using its understanding of electronics and expertise in micro-electronic product design and manufacture, Plessey is radically enhancing the human experience with micro-electronics solutions such that people achieve more than they thought possible. Plessey is a UK based manufacturer with offices around the US, Europe and Asia.
Contact:

John Macmichael - Solid State Supplies Ltd.
+44-(0)-1527-830800
E-mail:

Web site:

Submit new products, case studies/projects, and other press releases at http://www.ledsmagazine.com/content/leds/en/addcontent.html and http://www.ledsmagazine.com/content/leds/en/iif/add.html.