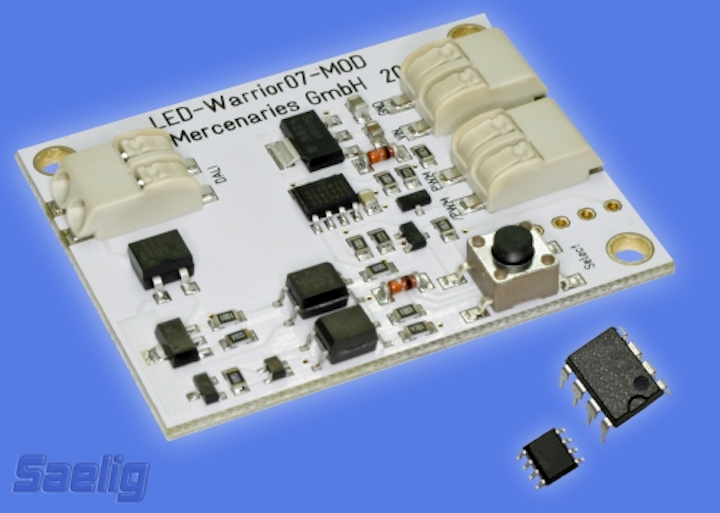 Fairport, NY: Saelig Company Inc. has announced the LED-Warrior07 DALI to PWM controller. LED-Warrior07 is an SOIC8- or DIL8-packaged IC that contains the complete Digital Addressable Lighting Interface (DALI) protocol for LED control products. It is also available in two variants of ready-to-use modules to allow integration into LED drivers, or to use as an add-on board to existing LED-drivers. The LED-Warrior07-01MOD module generates a PWM signal to control an LED driver, while the LED-Warrior07-02MOD directly drives constant voltage LED modules, strips, and lamps at up to 4 A.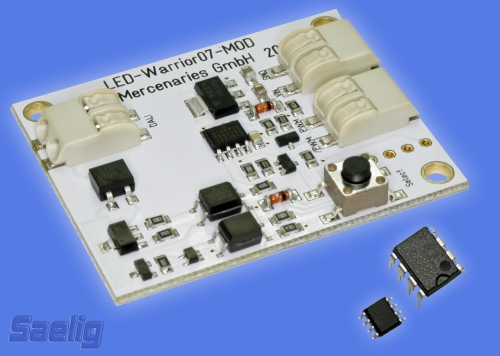 Saelig controllers contain DALI protocol to control LED lamps via PWM

The LED-Warrior07-01MOD can be operated with DC voltage between 5.5V and 45V (AC line voltages or "electronic transformers" may not be used). The PWM or /PWM output is used to control an LED driver. Each of the outputs can drive up to 25 mA to ground and has a 4.7kohm pull-up resistor to 5V which is protected against higher voltages (up to 45V) by a diode. A button on the board is used to assign a DALI address in the "physical select" mode.

The LED-Warrior07-02MOD can directly drive LED modules, strips, or lamps that are designed to be used with a constant voltage. It is simply added between the power supply and the LED and can drive up to 4A at 5.5V to 45V.

DALI is an International Standard (IEC 62386) for the control of electronic ballasts, transformers, LED's, emergency lights and exit signs in an easy to manage digital lighting control system. A DALI network consists of one or more controllers and one or more lighting devices (e.g. electrical ballasts and dimmers) that have DALI interfaces. The controller can monitor and control each light by means of a bi-directional data exchange. The DALI protocol permits devices to be individually addressed and it also incorporates Group and Scene broadcast messages to simultaneously address multiple devices (e.g. "Group 1 go to 100%" or "Recall Scene 1"). Each lighting device is assigned a unique static address in the numeric range 0 to 63, making possible up to 64 devices in a standalone system. Alternatively, DALI can be used as a subsystem via DALI gateways to address more than 64 devices. Data is transferred between controller and devices by means of an asynchronous, half-duplex, serial protocol over a two-wire bus, with a fixed data transfer rate of 1200bit/s. DALI provides benefits for: lighting designers and installers, building occupants, facility managers, and building owners.

Made in Europe by Code Mercenaries, LED-Warrior07 ICs and modules are available now from their USA distributor Saelig Company, Inc.

About Saelig Company Inc.
Founded in 1988 in Rochester, New York, Saelig is a North American distributor with a growing reputation for finding and sourcing remarkable, unique test and measurement and control products and components for use in a wide variety of industries. Products lines are continuously added from sources across the globe, and are offered at competitive prices, accompanied by full in-house technical support, exceptional customer service, and fast delivery.
Contact:

Saelig Company, Inc.
+1-585-385-1750
E-mail:

Web site:
Submit new products, case studies/projects, and other press releases at http://www.ledsmagazine.com/content/leds/en/addcontent.html and http://www.ledsmagazine.com/content/leds/en/iif/add.html.