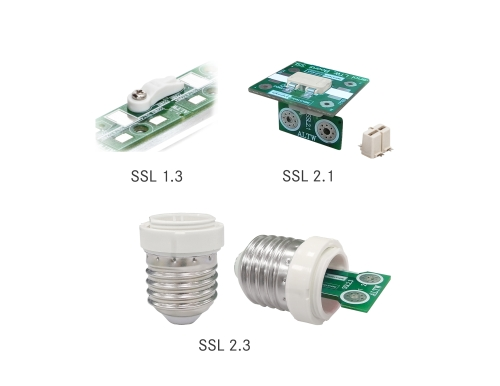 Amphenol LTW (ALTW) Smart Solution in Lighting (SSL) aims to support the LED lighting product development with the board-based technology. Our new range of SSL, including SSL 1.3 The Bridge, SSL 2.1 Inverted Thru Board and SSL 2.3 EZ-B is the perfect solution for your LED lighting applications.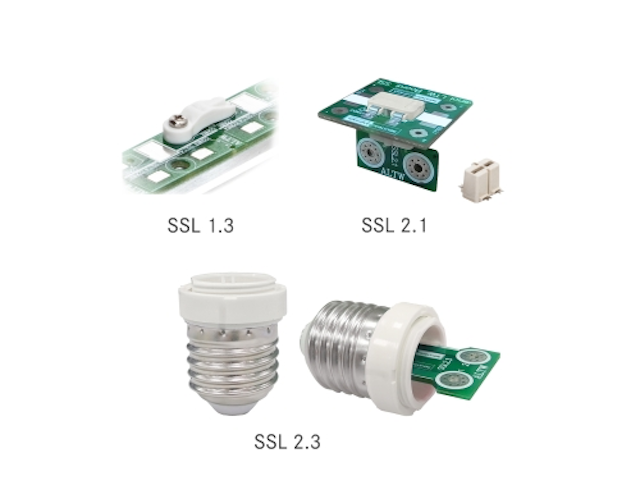 Amphenol LTW Smart Solution in Lighting launches interconnect options for SSL product design

SSL 1.3 The Bridge is used to electrical connection between two in-line PCBs. Featuring the lowest profile jumper connector on the market, SSL 1.3 is ideal for your compact products where the space is a concern. Its solderless PCB mounting design with a M2.5 screw (customer-supplied) is a simple mechanism and easy to assemble the SSL 1.3 on PCBs.

Meanwhile, SSL 2.1 Inverted Thru Board is designed for your perpendicular PCB mating. It provides a power connection between driver/converter boards and LED modules. Equipped with SMT solder pegs, SSL 2.1 saves your time through SMT assembly process. This one piece solution is suited for retrofit lamps, luminaires, and lighting controls.

In comparison with conventional LED E26/27 screw base, ALTW's SSL 2.3 EZ-B is adopted the non-wire connectivity. It equips with a nut for screw thread mating instead of the conventional hand soldering type. Additionally, the driver/converter board can be inserted to SSL2.3 through automation process. The whole assembly process of E26/27 bulb not only becomes simpler, but also eliminates labor-intensive task of soldering.

With the wide range of SSL solution, we are confident to satisfy your needs of LED lighting applications and safety performance. SSL 1.3 The Bridge and 2.1 Inverted Thru Board are certified with UL1977. As for SSL 2.3 EZ-B, it is made from UL recognized materials. For more information about ALTW, please come to visit www.amphenolltw.com.

Contact:

Jolin Huang, Marketing Manager - Amphenol LTW Technology Co., Ltd
+886-2-2908-5626 ext. 2660
E-mail:
Web site:

Submit new products, case studies/projects, and other press releases at http://www.ledsmagazine.com/content/leds/en/addcontent.html and http://www.ledsmagazine.com/content/leds/en/iif/add.html.