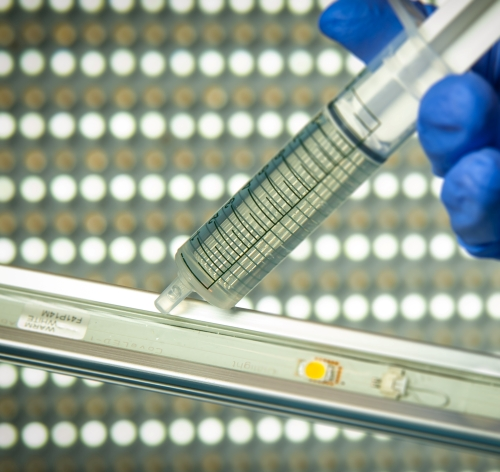 Modern commercial lighting systems have to meet a variety of standards and specifications. Robust construction and adequate environmental protection are essential for most commercial applications, but frequently the designer may wish to combine these properties with an aesthetically pleasing appearance. The lighting must be tough, functional but also look good.
Electrolube's silicone resin protects LED lighting and preserves its aesthetics

Recently, Electrolube was approached by one of its customers – a manufacturer of LED lighting systems – for advice on a new project it was undertaking to supply luminaires for use in a range of commercial buildings and hotel lobbies.

The location and design of these buildings presented certain challenges for Electrolube's customer. In terms of environmental protection, the lighting units needed to be resistant to UV light and outside weather conditions; but as the units were likely to be visible even when the lights were switched off, cosmetically, they needed to be of a very high standard.

The key requirement was to protect the LED units from corrosion without compromising their appearance. The customer needed a protective material for the LEDs that would provide the required environmental protection while preserving the units' high quality finish. As this particular customer had limited experience of using protective material, Electrolube set about to determine the best approaches to the problem.

Following an appraisal of its customer's needs, Electrolube recommended its silicone resin SC3001 for the application as it offered excellent clarity as well as good protection against harsh weather conditions.

SC3001 is an optically clear, RoHS-2 compliant (2011/65/EU), flexible, two-part encapsulation compound that is particularly suited for use in the LED lighting industry, where optical clarity is vital. It is very easily applied in thin films due to its low viscosity and moisture cure nature.

As well as supplying the appropriate encapsulation material, Electrolube also offered advice about potting methods and the selection of appropriate production equipment. When mixing the SC3001 components, care must be taken to avoid the introduction of excessive amounts of air. Electrolube was able to refer its customer to suppliers of specialist automatic mixing equipment, which not only mixes both resin and hardener accurately in the correct ratio but also achieve this without introducing air.
Contact:

Karen L. Harrison, Group Marketing Manager - Electrolube
+44 (0)-1530-419600
E-mail:

Web site:

Submit new products, case studies/projects, and other press releases at http://www.ledsmagazine.com/content/leds/en/addcontent.html and http://www.ledsmagazine.com/content/leds/en/iif/add.html.