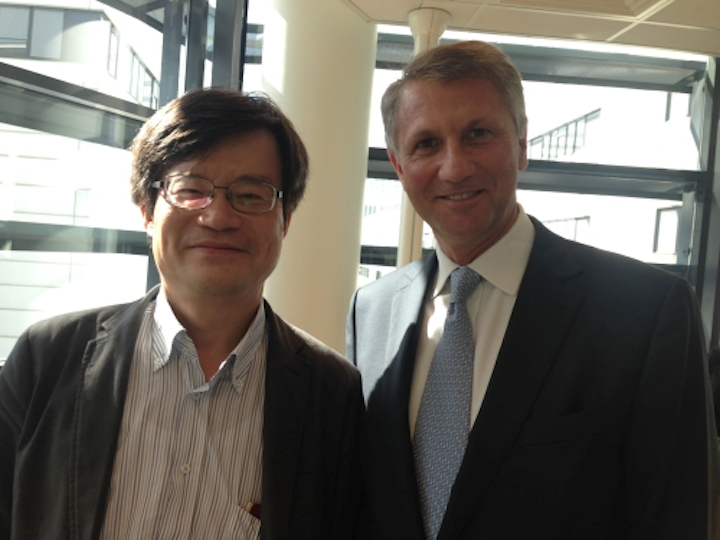 GRENOBLE, France – Prof. Hiroshi Amano, a member of Aledia's Scientific Advisory Board, was awarded the Nobel Prize in Physics, alongside Shuji Nakamura and Isamu Akasaki for their roles in inventing the blue light emitting diode (LED), that has revolutionized the lighting and display worlds.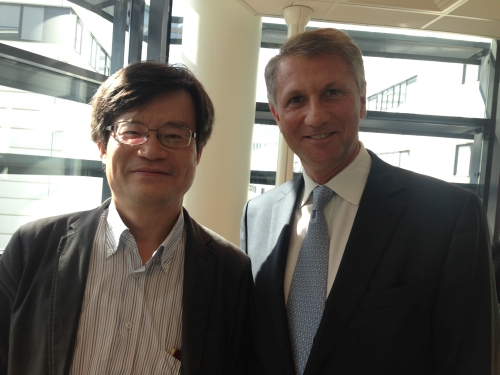 Aledia's nanowire LED technology endorsed by Nobel Prize winner and company board member Hiroshi Amano

Prof. Amano received the news while working with Aledia's technical team in Grenoble, where Aledia is based.

In a speech to a large gathering of scientists after the winners were announced, Prof. Amano pointed out the huge impact on energy savings that will be made possible by LEDs, as well as the bright future of LED technology.

"Nanowire LEDs can be a big step forward, they are the best structures for the next generation of LEDs," Prof. Amano said. "In particular, Aledia's nanowire technology has a very big potential to make a step-change improvement in LED technology."

Giorgio Anania, CEO of Aledia, said: "We are thrilled about the recognition given by the Nobel committee to Prof. Amano and his colleagues. This prize recognizes a man with immense technology expertise and a technology that is having a huge impact on all people in the world, a revolution that is just beginning. At Aledia, Prof. Amano is helping us develop the next generation of LEDs, a new 3D technology able to reduce substantially the overall cost, making them affordable to everyone, and facilitating their integration with electronics to give smart lighting and new concepts for microdisplays."

Aledia is a spinout of the CEA in Grenoble, one of Europe's leading microelectronics research laboratories. Founded in 2011, the company has received funding from leading European and U.S. venture capital firms.

About Aledia
Aledia is a pioneering developer of next-generation LEDs based on its disruptive WireLED® nanowire technology, which allows manufacturing of 3D LEDs for solid-state lighting applications on 8-inch (200mm) or larger wafers in existing CMOS foundries, and their straightforward integration in electronics. The 3D microwire GaN-on-silicon technology was originally developed by CEA-Leti. It allows significant cost reductions compared to conventional planar (2D) LEDs, which should accelerate the penetration of LED applications in new markets, such as general lighting. Aledia is based in Grenoble, France.
Contact:

Giorgio Anania - Aledia
+33-(0)-4-38-78-31-77
E-mail:

Web site:

www.aledia.com

Submit new products, case studies/projects, and other press releases at http://www.ledsmagazine.com/content/leds/en/addcontent.html and http://www.ledsmagazine.com/content/leds/en/iif/add.html.