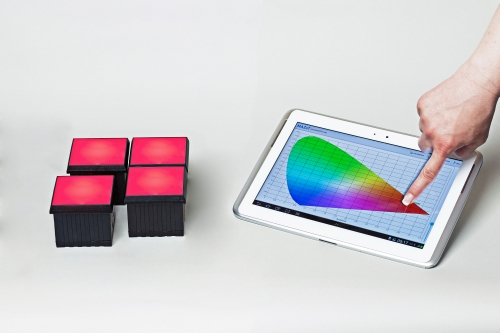 Jena, Germany. MAZeT GmbH, developer and manufacturing services provider for embedded systems and optoelectronics, is exhibiting at the electronica trade show in Munich from November 11th to 14th, 2014 (Booth 419 in Hall B1). Showing their latest products, innovative solutions and sensor electronic designs. The main focus for the show is demonstrating applications related to intelligent light control and customized medical electronics.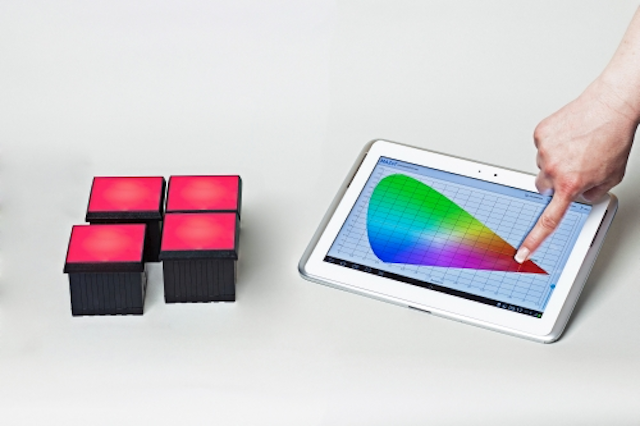 MAZeT to exhibit RBGW Cube for intelligent LED lighting control at Electronica

Achieving homogenous light output values using LEDs and electronics of different manufacturers can be a challenging task, especially for dynamic control options. Traditionally, purchasing very narrow and limited LED binnings have been a costly solution to this problem. In projects these restrictions tend to be very expensive as and limitations in availability and storage options make this solution hard to reproduce in the future projects. Achieving future savings by changing the selected LEDs or manufacturer then can be a hard task to perform - since LEDs alter in color and brightness due to process technology, phosphor, aging process or even temperature shifts during operation. The subsequent replacement of defective fixtures in larger LED light installations may also lead to unforeseeable problems, regarding quality and conformity of the light output, even when using high quality LEDs.

With the RBGW Cube MAZeT shows a Spotlight demonstrator, which uses LEDs from different manufacturers generating equal light output values. Via actively observing the light output with JENCOLOR® sensors and dynamically controlling the drivers, the system can be monitored regarding lifetime, light output and color conformity. Allowing an unparalleled flexibility even when using dynamic color cycling, daylight control or CCT dimming. The sensors are based on inorganic material and are stable over time and temperature allowing to compensate the varied problems of LED technology and allowing long-term stable applications.

The RGBW Cubes are connected via Dust SmartMesh technology from Linear Technologies and are equipped with LEDs from different LED manufacturers. MAZeT shows how easily the JENCOLOR® sensors enable a homogenous synchronization of all RGBW Cubes regarding brightness, CCT and color values.

Image: RGBW Cube as Spotlight Demonstrator
Bildquelle: MAZeT GmbH

About MAZeT

MAZeT GmbH is a leading European development and production service provider. Founded in 1992 and headquartered in Jena, Germany, the company develops, manufactures and delivers customized electronics modules, software and ASICs and sells its own products worldwide under the JENCOLOR brand. Thanks to the broad technology offer and application expertise, MAZeT GmbH is a proven and reliable service partner in the areas of industrial electronics and optical sensor technology for custom-tailored, customer-specific solutions. Their development expertise and components for special applications are used in sectors as diverse as industrial metrology, control, automation and medical technology.

Videos on MAZeT YouTube Channel: http://www.youtube.com/user/mazetgmbhjena
Further Images: http://www.mazet.de/en/press/logos-and-images#.T_FUQo6yxrQ
Contact:

Diane Damer - MAZeT GmbH
+49-3641-2809-039
E-mail:

Web site:

www.mazet.de

Submit new products, case studies/projects, and other press releases at http://www.ledsmagazine.com/content/leds/en/addcontent.html and http://www.ledsmagazine.com/content/leds/en/iif/add.html.