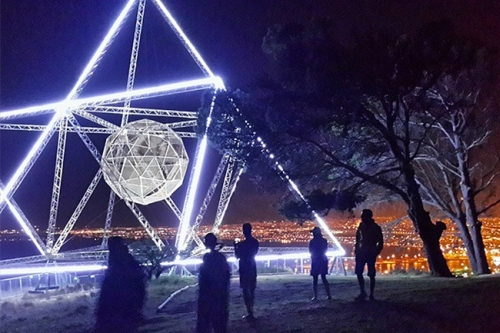 NTL Lemnis's Pharox LED striplights used to illuminate 'Sunstar' in Cape Town
Part of the Cape Town's World Capital Design 2014 initiative, the structure uses weatherproof Pharox LED Strip lights with approx 22,600 individual LED light sources.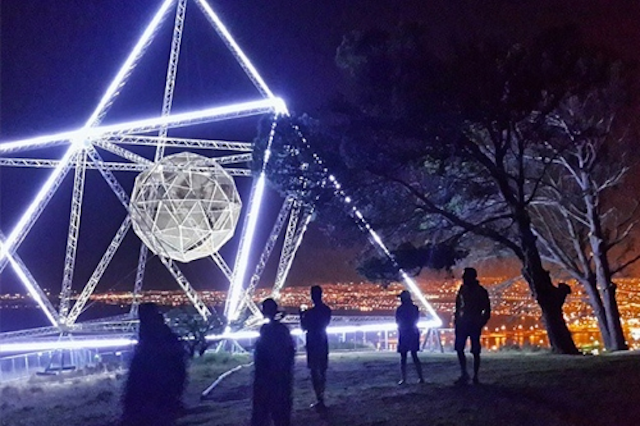 Photography: Qaasiemh

NTL Lemnis Africa, a wholly owned subsidiary of NTL Lemnis BV, helped illuminate an artwork on top of Cape Town famous Signal Hill that symbolises the transition from past to future and that will act as a beacon of hope for all to see.

The artwork on top of Signal Hill by Sun International called the "Sunstar" is designed by Cape Town based artist Christopher(Chris) Swift and forms part of a project themed "the PharoX". It is a five storey high tetrahedron star shape that incorporates old fencing reclaimed from the Robben Island prison. The structure is lit by NTL Lemnis's Pharox LED strip, which uses approximately 22,600 individual light sources. This result is a spectacular cohesion of structure and light in the form of an "X" shape viewed from different angles, thereby serving as new beacon for the whole of Cape Town to see. At night the Illuminated structure is seen clearly by incoming aircraft, as well as citizen and visitors to Cape Town as far as 25km's away.

It is a major achievemnet from a sustainable energy and technology use perspective – the combination of using the low energy consumption, high performance and weatherproof Pharox LED strip lights with a completely off-grid PV generation platform engineered and provided by well-known Eldo Energy, enables the artwork to shine during night without consuming any grid supplied electricity, and with minimal impact on the surreal surrounding of Signal Hill.

Francois van Tonder, CEO of NTL Lemnis Africa, says, "We have been a part of the sustainable social investment initiatives across Africa and we are happy to partner the "Sunstar" project in Cape Town. The project showcases our commitment to provide the most environmentally friendly lighting source and how it has the capability to transform lighting options seamlessly".

NTL Lemnis Africa, is a leading LED solutions company with its headquarters in Centurion Gauteng Provence, and a distribution network covering Southern Africa & SADEC, Ghana, Kenya and Mauritius.
About NTL Lemnis:
Set up in April 2012, NTL Lemnis is a joint venture company between NTL Electronics India and Lemnis Lighting, the Netherlands. The company designs, manufactures and sells energy efficient LED lighting solutions for Indian as well as the global audience.

NTL Lemnis exploits the global design, production and distribution strengths of both the parent companies to deliver innovative solutions for Home & Commercial lighting globally. NTL Lemnis primarily focuses on the geographical markets of India, Europe and Africa with company offices in India, Netherlands and South Africa. Both companies have been working closely together for several years already. Together the two companies have made bulk sales of LED bulbs by supplying over 7 Million LED bulbs till now

NTL Lemnis produces a complete range of energy efficient LED lighting products under the umbrella of the acclaimed Lemnis brand, Pharox, globally. The company's USP is its ability to develop and manufacture products, which are direct replacements of traditional lighting solutions, at market acceptable prices, without compromising on the quality of light

Contact:
NTL Lemnis
E-mail:
Web site:
Submit new products, case studies/projects, and other press releases at http://www.ledsmagazine.com/content/leds/en/addcontent.html and http://www.ledsmagazine.com/content/leds/en/iif/add.html.