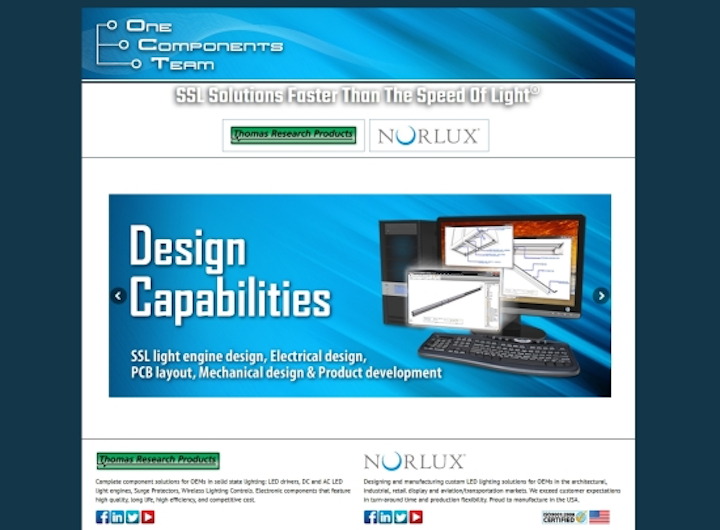 Elgin, Illinois -- Thomas Research Products and Norlux have jointly launched a new website that includes both brands. Thomas Research Products is a leading manufacturer of SSL power solutions. Norlux is a leading North American designer and manufacturer of custom LED light engines.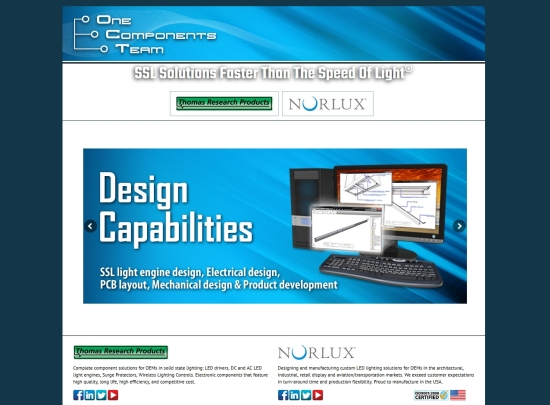 Thomas Research Products and Norlux launch joint website to offer lighting OEMs standard and custom SSL components

The goal was to create one place for lighting OEMs to find both "standard" and "custom" SSL component products and services. The website includes the complete TRP website and the complete Norlux website, pulled together with an exciting new design.

The site becomes a primary portal for the broadest line of LED drivers available in North America, standard LED light engines and modules plus Norlux's custom LED light engine and driver design and manufacturing services. Also shown are TRP's lighting controls and the most popular range of luminaire surge protectors on the market.

The site includes a new search tool and a variety of ways to help engineers and designers to find the right the SSL components for their needs. Product pages also include links for ordering from Digi-Key.

The new combined website is available at both addresses: www.trpssl.com and www.norluxcorp.com.

About Thomas Research Products and Norlux
Thomas Research Products provides component solutions for solid state lighting OEMs. Offerings include LED light engines, AC LED, the broadest range of high-performing LED drivers in North America, surge protectors and energy-saving electronic lighting controls, including occupancy/vacancy sensors and daylight harvesting controls.

Norlux designs and manufactures custom LED lighting solutions for OEMs in the architectural, industrial and aviation/transportation markets. The company focuses on exceeding customer expectations in turn-around time and production flexibility. Norlux manufactures in the USA.
Founded in 1997.

"SSL Solutions Faster Than The Speed Of Light" is a registered trademark.

Thomas Research Products and Norlux are located at 1215-1225 Bowes Rd., IL 60123 USA.
Contact:

Thomas Research Products
+1-847-515-3057
E-mail:

Web site:

Submit new products, case studies/projects, and other press releases at http://www.ledsmagazine.com/content/leds/en/addcontent.html and http://www.ledsmagazine.com/content/leds/en/iif/add.html.