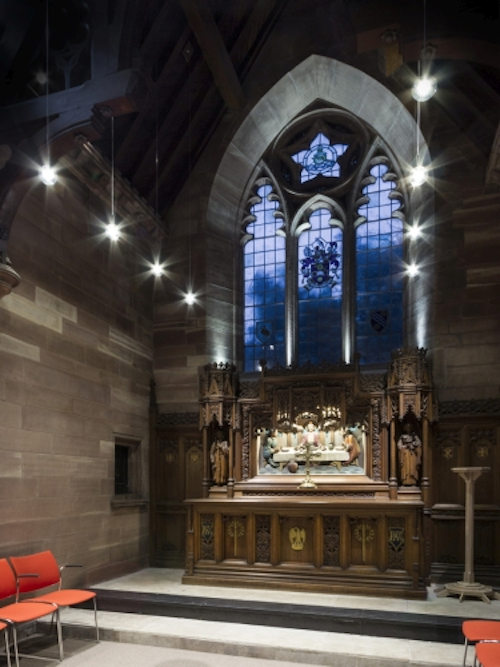 The memorial chapel at Mossley Hill Church in Liverpool is benefitting from a new lighting scheme and control system designed by Cundall Light4. The scheme, which features the award-winning Concord Beacon Muse LED, offers energy-saving and aesthetic benefits which highlight the interior architecture of the historic building.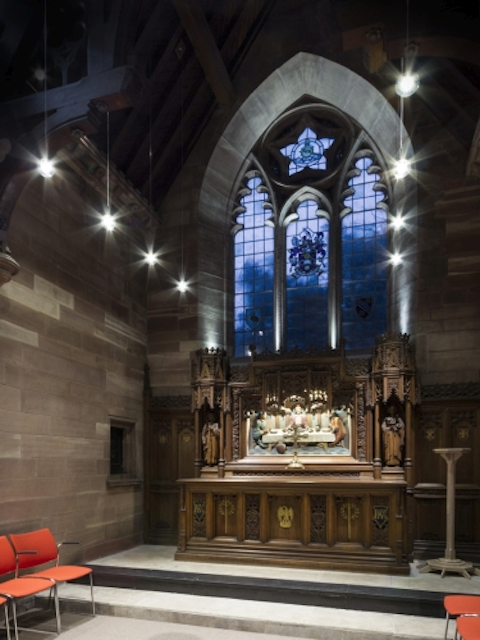 Havells Sylvania's Concord Beacon Muse LED floodlights illuminate Liverpool church

The Mossley Hill Church redevelopment has architectural elements that combine to make this chapel an exceptional space within one of Liverpool's finest Victorian Churches. The Liverpool-based architectural practice studio:plan A designed the interior with Cundall Light4 creating a new lighting installation. The brief was to design an energy-efficient scheme that could deliver a variety of lighting scenes to suit the wide varieties church services including prayer meetings, group discussions and readings.

"Mossley Hill Church is such a poignant landmark in Liverpool, it was imperative that we perfected the lighting design in every detail," Explains Andrew Bissell, Lighting Director at Manchester based Cundall Light4. "Concord's Beacon Muse LED was an obvious selection of luminaire for us, not only as an energy saving solution but due to the flexibility of the luminaire. Due to the buildings delicate architecture, we were not able to specify where the lighting would be placed before the installation. With the flexibility of Concord, this was not a problem as we could turn and adjust the fitting to guide the lighting. Other features which drew us to specifying this product included the discrete on board dimmer and 50,000 hours life at 70% luminous flux."

Concord Beacon Muse LED is creating layers of symmetrical light to rebalance the space, highlighting key architectural elements and historic features. Narrow beams from the Beacon Muse were used to direct the light towards the altar, with additional fittings directing light into the centre of the space. Beacon Muse LED uses an adjustable optic system to provide a wide flood 65˚ beam angle which can be adjusted to a 10˚ spot, without the need for additional lenses or reflectors. The spotlight offers an energy efficient lighting solution, with a considerable reduction in energy consumption over traditional light sources such as halogen.

The new lighting design uses only 319W when all the lights are on and with the selection of lighting scenes available this can fall to 220W, a saving of 54% in energy, combined with a considerable saving in maintenance due to the use of LED.

For more information on the products available from Concord, visit www.concord-lighting.com.

About Concord from Havells Sylvania
The Concord brand is part of the Havells Sylvania Group and is one of Europe's most respected Architectural lighting brands for Retail & Museum Lighting. With a strong manufacturing base in the UK, Concord is renowned for its strong design ethos, high technical performance and aesthetic form. Concord focuses on bringing lighting solutions to meet the needs of architects and lighting designers.

Concord's innovative portfolio is one of the most comprehensive on the market, encompassing track and spot, downlights, ambient lighting, recessed and linear solutions for a variety of application segments. The company provides segment specific lighting application advice; and the entire product range is underpinned by in-house technical expertise, from optical system design through to photometric measurement and testing.
Concord's best in class range of LED luminaires have won many prestigious design awards and industry accolades in recent years. During 2013, Concord Glace has won the Best Interior Luminaire at the Lighting Design Awards and been a finalist at the Lux Awards and the FX Awards. Concord Lytelab received a five-star review in Lux magazine's tests, Concord Beacon Minor was a finalist at the FX Awards and Concord Officelyte incorporating Organic Response has won the 2014 Lighting Design Awards.

Formed in April 2007, Havells Sylvania is owned by Havells India Ltd, a US$ Billion plus company. With 94 branches and representative offices worldwide, and over 8000 employees working in more than 50 countries; Havells has grown rapidly since its humble beginnings in Delhi in 1958. Havells has eighteen manufacturing plants in India, Europe, Latin America and Africa; producing globally acclaimed products, including: switchgear, cables, wires, luminaires and lamps.

Havells Sylvania is a leading, full-spectrum provider of professional and architectural lighting solutions. Built on over a century of expertise in lamps and luminaires, Havells Sylvania supplies state-of-the art products and systems to the public, commercial and private sectors, worldwide. Havells Sylvania strives to deliver the finest products, service and consulting possible. All over the world, people rely on group companies: Concord, Lumiance and Sylvania, for top quality, energy-efficient solutions to suit their individual lighting needs.
Contact:

Havells Sylvania Europe Ltd
+44-0207-011-9700
Web site:

Submit new products, case studies/projects, and other press releases at http://www.ledsmagazine.com/content/leds/en/addcontent.html and http://www.ledsmagazine.com/content/leds/en/iif/add.html.