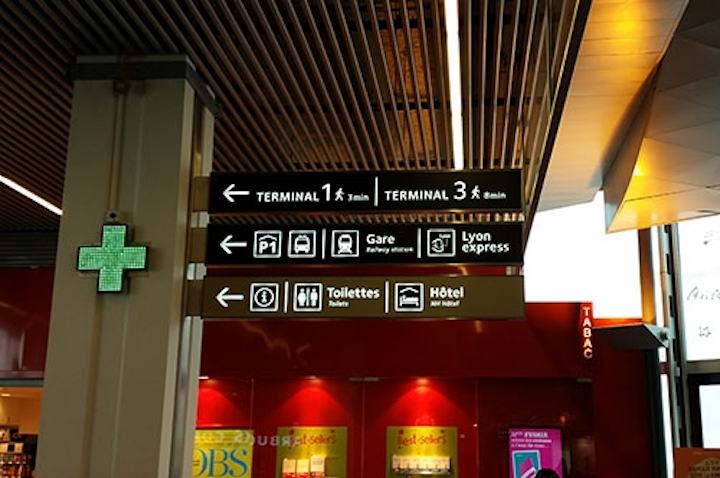 Dornbirn/Lyon. New signs and display panels improve navigation through Lyon St. Exupéry airport. LED modules and LNU dimmers from Tridonic ensure optimum readability of the signage in all areas of the buildings at all times of day and night. The brightness of the light sources is adjusted according to the amount of ambient light, reducing energy consumption by around 40 percent compared with a standard LED solution.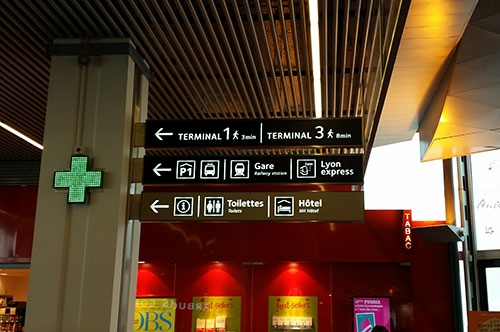 Tridonic LED modules and LNU dimmers optmize legibility and energy efficiency of Lyon airport LED signage

The upgrade to the signage at Lyon airport, the fourth largest airport in France, has taken it up to international standards. Up to 34,000 passengers a day now find it easier to find their way around the airport because the information panels are instantly identifiable and easy to read. The passenger sections of the airport presented a particular challenge as the architecture features a large number of glass elements, resulting in a very high proportion of natural daylight. Around 1,000 new flight information display panels and direction signs from the French manufacturer SEV Enseignes have been installed throughout the building complex – backlit by 62,000 Tridonic LED modules controlled by LNU dimmers.

Low energy consumption and optimum readability in all lighting conditions
The lighting solution operates perfectly even in areas with large amounts of sunlight and was developed by Tridonic together with the airport's own engineering department. Compared with a standard LED solution, electricity costs are around 40 percent lower. The TALEXXcontrol LNU dimmers with integrated light sensors (twilightCONTROL) fade the connected LEDs up or down automatically to the necessary level according to ambient brightness. The signage therefore always remains perfectly readable. Dimming can either be set to operate fully automatically or can be programmed to suit specific customer requirements.

Uniform LED light
CLASSIC and SELECT versions of TALEXXchain CRYSTAL LED modules were selected as the light sources for this application. The SELECT version offers excellent contrast in areas flooded by light with high luminous fluxes. The LED modules from Tridonic provide uniform illumination and a homogeneous appearance for the display panels and signs. White light with small colour tolerances (MacAdam 5) translates into high quality of light.

An impressive all-in solution with technical support
In preparing their feasibility study, the decision makers in Lyon took a number of other factors into consideration. "For us, a good price/performance ratio also includes technical support which guarantees rapid installation and then zero maintenance", said Christophe Langlet, Technical Director of Lyon St. Exupéry airport. Railway stations have similar requirements to airports. "In both cases Tridonic can offer impressive all-in solutions", added Dominique Betou, Sales Manager for Signage Projects at Tridonic in France.

About Tridonic
For more than 60 years Tridonic has been a successful innovation driver on the lighting market. This pioneer of digital lighting control is now focusing its attention increasingly on LEDs as the technology of the future. The broad offering for creating semiconductor-based and conventional lighting solutions ranges from individual components to complete systems. The focus is on LED systems comprising light sources and converters. An extensive portfolio of conventional control gear for different lamp types and light management systems rounds off the programme.

This global company is shaping the technological changes on the lighting market together with its strategic partners and places great emphasis on intensive and personal contact with its customers. The innovative product portfolio, in-depth application know-how and excellent service are aspects that luminaire manufacturers, architects, electrical and lighting planners, electrical installers and wholesalers all find impressive. Solutions based on components and systems from Tridonic meet the highest quality requirements for indoor and outdoor lighting in reference installations throughout the world.

Tridonic GmbH & Co. KG has its headquarters in Dornbirn in Austria. It is a subsidiary of the Zumtobel Group and has own offices in 27 countries on 5 continents. In the 2014/15 fiscal year 1,970 employees generated sales totalling 384.5 million euros. 9.6 % of sales were invested in research and development.
Contact:

Markus Rademacher - Tridonic GmbH & Co KG
+43-5572-395-45236
E-mail:

markus.rademacher@tridonic.com
Web site:
Submit new products, case studies/projects, and other press releases at http://www.ledsmagazine.com/content/leds/en/addcontent.html and http://www.ledsmagazine.com/content/leds/en/iif/add.html.