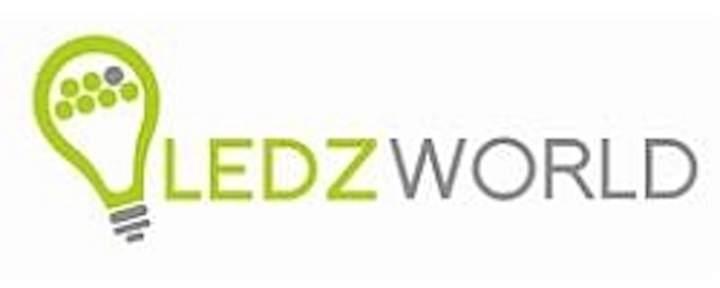 Amsterdam, The Netherlands -- Ledzworld, the innovator behind the top brands in commercial LED lighting, will showcase its full line of high performance LED lamps as well as unique dimming, driver and optical technologies at LIGHTFAIR International in Las Vegas booth #8430 from June 3-5.

Ledzworld targets LED lamps, dimming, driver, and optical technologies in LightFair exhibit

In addition to showing the world's highest color rendering (CRI-98), ultra-dimmable MR16 LED lamp, Ledzworld will be displaying a highly compatible leading-edge, trailing edge and digital dimming GU10 LED lamp; the first true retrofit sized premium 850 lumen, single light source AR-111 LED lamp; and the industry's first 2000 lumen, single point source PAR38 lamp without active cooling. All of the company's lamps are available in a variety of beam angles (10°, 25°, 40° and 60°) and customizations are available upon request.

On the technology side, Ledzworld will be demonstrating its CTA 2.0 technology, Chameleon driver technology, and Reduced Glare Optical Technology (RGOT). Ledzworld's CTA 2.0 technology perfectly emulates the color tones of halogens when dimmed -- gradually transforming from a bright soft tone color temperature at the highest level, to a warm flame color at the lowest level (2700K to 1600K CCT). The company's Chameleon driver technology adjusts itself to its environment by first detecting the transformer type, then analyzing its waveform and finally adjusting itself to make a perfect electrical fit with that particular transformer. And Ledzworld's RGOT uses diamond cut lenses that disperse light into a broader spread; reduce glare, stray light and hotspots; provide better control on beam angles; and improve beam collimation and uniformity.

"At Ledzworld, we are dedicated to developing truly innovative products and technologies that exceed our customers' expectations -- that means high performance LED lamps that present no surprises, no disappointments, no compromises," said Jan Kemeling, Founder and Chief Sales and Marketing Officer of Ledzworld. "This pursuit of perfection -- elegant design, high performance, exceptional compatibility -- has earned the company a reputation as one of the few LED lamp manufacturers that other brands trust to deliver outstanding energy efficient light -- every lamp, every time. This year's LIGHTFAIR International booth is something that should not be missed."

To learn more about Ledzworld's LED lamps and technologies, visit www.ledzworld.com, or see them for yourself at LIGHTFAIR International in Las Vegas booth #8430 from June 3-5.

About Ledzworld
Headquartered in the Netherlands -- but with a global reputation for excellence -- Ledzworld is a leading developer, designer, and manufacturer of the highest-quality LED lighting solutions for the world's most discerning brands. We're set apart by a belief that our customers, and their customers, deserve best-in-class bulbs they can depend on.

Ledzworld is committed to providing LED lighting that meets -- and exceeds -- all your LED technology expectations.

Our product portfolio spans LED lamps and LED modules that raise the standard in the marketplace today. Researched and refined by a world-class team of 50 SSL engineers, each Ledzworld offering is trial tested for compatibility against hundreds of popular dimmer, transformer, and fixture combinations. The technology behind our products ensures easy, worry-free maintenance, every bulb, every installation, every time.

Ledzworld manages, controls, and oversees our own supply chain, from material sourcing to and manufacturing from our operational headquarters in Penang, Malaysia. We have additional sales offices across Europe and the United States to accommodate customers worldwide.

Contact:

Jan Kemeling, Chief Marketing Officer - Ledzworld Technology
+(60)-4-6300-800

E-mail:

Web site:

www.ledzworld.com

Submit new products, case studies/projects, and other press releases at http://www.ledsmagazine.com/content/leds/en/addcontent.html and http://www.ledsmagazine.com/content/leds/en/iif/add.html.