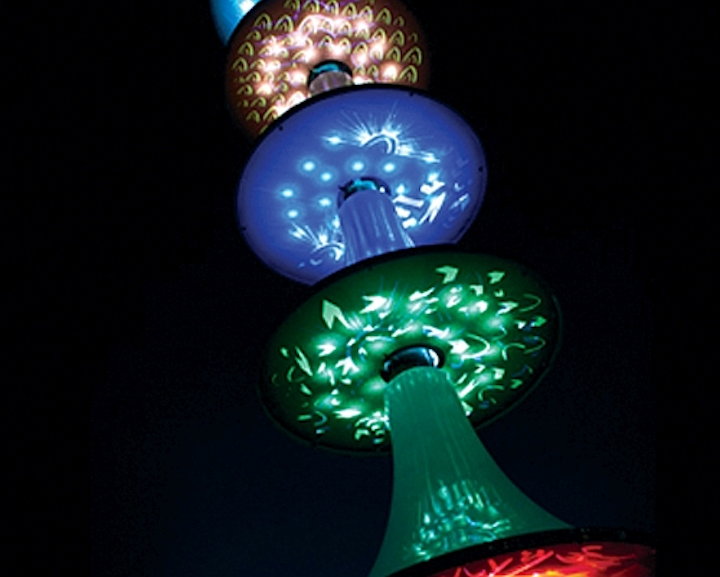 LAS VEGAS, NV -- Lucite International, owner of the LuciteLux(R) acrylic brand, is showcasing its entire Illuminations Series during LIGHTFAIR International 2014 at the Las Vegas Convention Center in booth #7851. Among the LuciteLux(R) materials engineered to work with light and color is the latest addition Spectrum Block, which offers a new aesthetic for three-dimensional letters, numbers and characters illuminated with LEDs.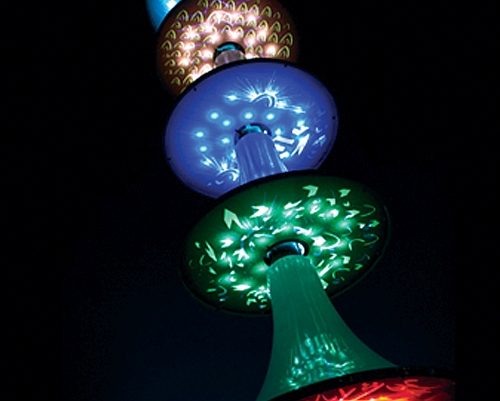 LuciteLux exhibits acrylic illumination products for signs and displays at LightFair

Whether piping or diffusing light, products from the LuciteLux(R) Illuminations Series offer options to meet a variety of indoor and outdoor lighting needs and allow designers to develop stunning signs, architectural features and light fixtures using high quality continuous or cell cast acrylic. Illuminating particles are literally suspended in the LuciteLux(R) Light Guide Panel (LGP) sheet during manufacture to optimize the way light behaves when it interacts with the material.

LuciteLux(R) Spectrum Block for 3D Lettering LuciteLux(R) Spectrum Block offers a European style of chunky block letter design with exceptionally clean and bright light. The acrylic sheet's optimized transmission qualities maximize the economic and environmental benefits of LED technology when compared to traditionally constructed letters. Spectrum Block is high-gloss, lightweight, easy to fabricate and compatible with white or colored LEDs.

Constant Color + Even Brightness = LuciteLux(R) Spectrum

LuciteLux(R) Spectrum is designed for back-lit applications that are slimmer, brighter and more efficient, such as signage, corporate imaging, retail point of purchase and illuminated architectural features. Available in a variety of bright, vibrant colors and thicknesses, LuciteLux(R) Spectrum conceals light sources and resists banding and hot spots. It is also durable and will withstand impacts from weather and other outside factors.

Lighting on the Edge: LuciteLux(R) Light Guide Panel Developed specifically for edge-lit applications in visual communication, retail, signage, lighting and displays, LuciteLux(R) LGP features exclusive technology that provides brighter, more even illumination. LGP is suitable for use indoors and outdoors using a variety of light sources, such as energy-efficient LEDs, fluorescent and cold cathode. With technology built into the acrylic sheet during manufacture, there is no requirement for laser etching or dot matrix printing, which allows greater design flexibility, lifts cutting restrictions and results in less waste during fabrication. The use of LuciteLux(R) LGP with LEDs and other light sources results in excellent Color Rendering Index (CRI), performance, meaning the light color stays true.

"We are delighted to introduce our next generation lighting solutions, which enable today's design community to maximize the benefits of LED technology and deliver concepts that reflect the latest aesthetic trends," said Jane Nash, LuciteLux(R) sales development manager. "Designers from all walks of life know us as a superior clear material and any of our transparent products can work with light, but our LuciteLux(R) Illuminations Series takes the potential of continuous and cell cast acrylic to a new level."

Also on display in the LuciteLux(R) booth is a miniature replica of the Radiance Dome by Light At Play, which won the 2013 LuciteLux(R) JUST IMAGINE Awards for its immersive LED design. Created with nearly 200 two-foot LuciteLux(R) LGP panels that literally glow and change color with music and movement, the Radiance Dome housed a 1,200 square-foot dance floor at the 2013 Burning Man Festival.

About LuciteLux(R) Manufactured by Lucite International, LuciteLux(R) continuous and cell cast acrylic is as tough as it is beautiful. It resists scratching and has built-in UV protection, which keeps colors true over time. The material is easy to cut, join, form and fabricate and is available in an array of colors, textures and thicknesses. These features, coupled with excellent optical clarity and light transmission qualities, make LuciteLux(R) ideal for use in point-of-sale, display, signage, furnishings, fashion accessories, interior design and more. For more information, visit http://www.lucitelux.com, http://www.facebook.com/lucitelux or http://www.pinterest.com/lucite .

Contact:

Rosemary Ostmann - for Lucite International
+1-201-656-7178, ext. 201

E-mail:

Web site:

Submit new products, case studies/projects, and other press releases at http://www.ledsmagazine.com/content/leds/en/addcontent.html and http://www.ledsmagazine.com/content/leds/en/iif/add.html.