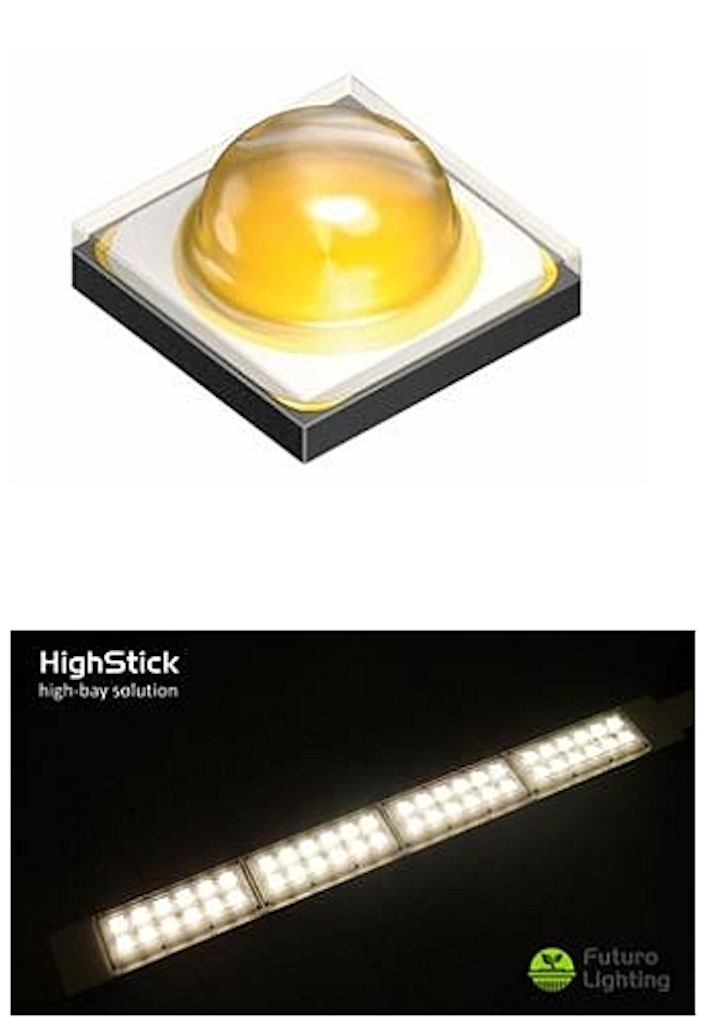 Oslon Square offers impressive luminous flux and efficiency at moderate cost

FuturoLighting's new luminaire "HighStick" is the result of a successful partnership between the Slovakian supplier of LED lighting solutions and Osram Opto Semiconductors. The Oslon Square LED from the German manufacturer was chosen as the light source for this application because of its exceptional luminous efficacy as well as long life, even at high temperatures. The essential properties include a high illuminance level of 1000 lux, the option to vary the intensity of the light and glare free lighting solutions.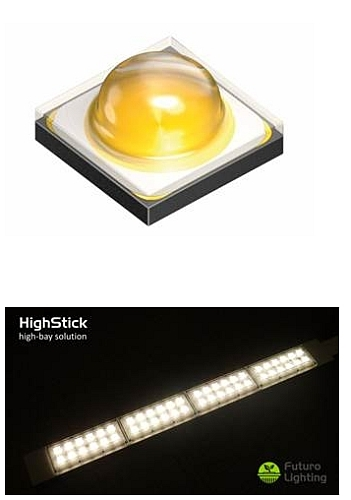 Osram's Oslon Square LED chosen as light source for FuturoLighting luminaire

"We decided to install the Oslon Square LED in our HighStick after conducting a number of studies that showed it achieved the best results in terms of luminous flux and efficiency", said Valentin Kulikov, CEO, FuturoLighting. "The decision was easy thanks to the good price to performance ratio, extensive and reliable support, and our long-term relationship with Osram Opto Semiconductors."

The Oslon Square offers excellent heat dissipation, stable color homogeneity and long life. Depending on the color temperature, it provides warm white or cold white lighting between 2400 and 5000 K. Its color rendering index is more than 80 and its impressive luminous flux consists of 200 lumens per single LED.

"HighStick" for industry tasks or high-bay lighting solutions
The "HighStick" luminaire has a color temperature of 4000 K, a rectangular distribution of light and uniform light output, making it the preferred choice for workplaces and industrial facilities. It features DALI and Smart Grid interfaces and, thanks to its high brightness, can be installed in rooms with ceiling heights in excess of 8 feet without compromising on adequate luminous intensity on desk surfaces. With its exceptionally long life of more than 60,000 hours and robust aluminum housing, the compact "HighStick" (800 mm x 80 mm x 40 mm) is ideal as a light source for high-bay storage facilities, factories and outdoor lighting installations, such as those used in the architectural sector.

Cooperation between LLFY partners
In addition to using LEDs from Osram Opto Semiconductors when designing its luminaire, FuturoLighting took advantage of the know-how of one of the partners in the "LED Light for You" network. The lenses in the "HighStick" were produced by the Finnish company Ledil Oy. All three partners brought their relevant strengths in terms of lighting solutions to this project.

ABOUT OSRAM OPTO SEMICONDUCTORS
OSRAM, Munich, Germany is one of the two leading light manufacturers in the world. Its subsidiary, OSRAM Opto Semiconductors GmbH in Regensburg (Germany), offers its customers solutions based on semiconductor technology for lighting, sensor and visualization applications. Osram Opto Semiconductors has production sites in Regensburg (Germany), Penang (Malaysia) and Wuxi (China). Its headquarters for North America is in Sunnyvale (USA), and for Asia in Hong Kong. Osram Opto Semiconductors also has sales offices throughout the world.

Contact:

Jenni Omness - for Osram Opto Semiconductors

Web site:

Submit new products, case studies/projects, and other press releases at http://www.ledsmagazine.com/content/leds/en/addcontent.html and http://www.ledsmagazine.com/content/leds/en/iif/add.html.