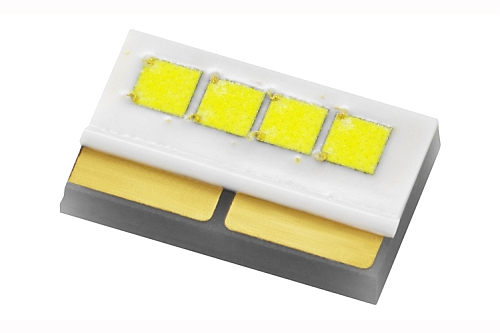 Shulin, New Taipei City -- EVERLIGHT ELECTRONICS CO., LTD. [TSE:2393], a leading player in the global LED industry with three decades of experience in optoelectronics, announces the high-performance Argus Series for automotive headlight applications. Argus meets the demands and technical criteria of the highest quality in the market particularly for the high temperature and harsh environment in the headlight assemblies and will be presented at the 2014 Guangzhou International Lighting Exhibition.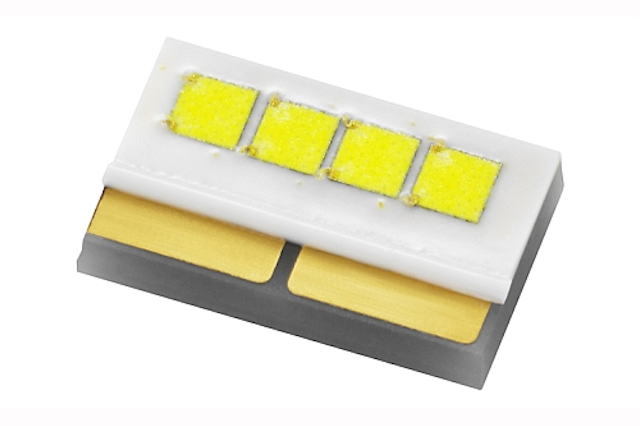 Everlight Electronics announces Argus LED for automotive headlights

Low thermal resistance and high heat dissipation rate with outstanding cost/performance ratio

EVERLIGHT's high-power Argus series of LED headlight modules feature low thermal resistance and a high heat dissipation rate. The overall package size is reduced to allow flexible space for the component manufacturers to design their headlight products. During the car LED design stage, EVERLIGHT works with several leading car lighting manufacturers for the demands and concepts of car LED products in the product design. From heat dissipation to optical design, EVERLIGHT has developed double-chip, 4-chip, 5-chip and 6-chip designs based on top-notch cooperation of optical and heat dissipating technologies.

The Argus, launched just now, is a line of high-performance headlight LED modules based on ceramic substrates featuring high heat dissipation rate up to 170W/mK, far better than those provided by conventional ceramic substrates. A single chip running at 1A provides up to 1200lm. With a properly designed heat dissipating mechanism, a single chip provides highly stable performance even at 1.2A. The single-chip Tj design that has passed the 150°C high-temperature test is perfect for the harsh, extremely hot environment in a headlight assembly. For the optical element technology, EVERLIGHT was able to control the multi-chip intervals within 0.08mm thanks to meticulous manufacturing process and innovated technology, allowing much simpler optical design and highly refined cut-off lines. All of these improve clients' flexibility in style and space design and added values, bring out the strength of EVERLIGHT's products in lighting efficiency and flexible applications of products, and meet clients' demands for high standard and complete service.

The quality of EVERLIGHT's car LED components is certified for TS16949, and the LEDs themselves are AEC_Q101 certified. They are at the top of rank in stability, efficiency and cost/performance ratio, which makes EVERLIGHT an indispensible link in the supply chain of major international car manufacturers. The practical experience in the OE market has been highly recognized among major international firms.

More information or data sheet for this product upon request: Please contact your local EVERLIGHT sales office. Local sales information:
www.everlight.com.

The Right LED for the Right Application
A dedicated application-based marketing approach supports the idea that every application is to be paired with "The Right LED" to provide the best performance and quality. Every package design presents its own advantages in certain applications.

EVERLIGHT is fostering close relationships between their R&D, Sales and Marketing teams to meet and exceed their customers' expectations in both product offering and technology. EVERLIGHT has a great variety of customers with total solutions for their different applications and is incessantly committed to satisfy the strongly growing global market for LED solutions.

About EVERLIGHT Electronics Co. Ltd.
EVERLIGHT Electronics Co., Ltd. was founded in 1983 in Taipei, Taiwan.
Playing a critical role in the formation of the global LED industry, the company has rapidly become a leading worldwide supplier due to its dedication to certification, R&D, production, quality, marketing and global customer service. EVERLIGHT provides a comprehensive optoelectronics product portfolio consisting of high power LEDs, lamps, SMD LEDs, LED lighting modules, digital displays, optocouplers and infrared components for various applications. Today, EVERLIGHT is a global company with over 5,600 employees based in China, Hong Kong, Japan, Korea, Singapore, Malaysia, Germany, Sweden, U.S., and Canada.

Company contact Europe: Everlight Electronics Europe GmbH / Phone: +49(0721)-824-473 / info@Everlight-eu.de

Contact:

Everlight Americas, Inc.
+1-972-490-4008

E-mail:

salesmarketing@everlightamericas.com

Web site:

Submit new products, case studies/projects, and other press releases at http://www.ledsmagazine.com/content/leds/en/addcontent.html and http://www.ledsmagazine.com/content/leds/en/iif/add.html.