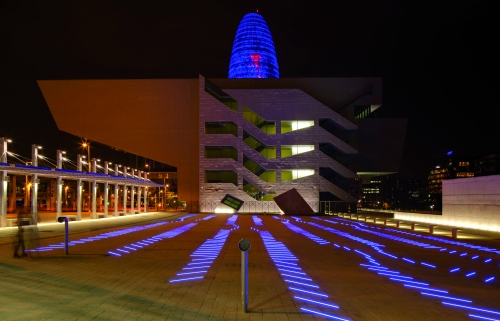 Sixteen award winners representing architectural lighting design projects from ten countries - representing an increasingly diverse group of award-winning projects for the IALD awards—comprise the winners of the 31st Annual International Association of LightingDesigners (IALD) International Lighting Design Awards, recognized at a presentation held 4 June at the Renaissance Las Vegas Hotel in Las Vegas, Nevada, USA.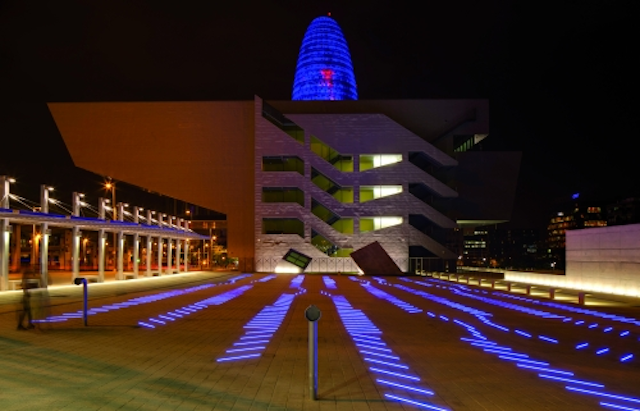 BruumRuum interactive outdoor lighting project in Spain gains Insta's LED technology an IALD award

In addition to five Awards of Merit, seven Awards of Excellence and the prestigious Radiance Award, the IALD distributed Special Citations to four notable projects at the awards dinner, which also served as a fundraiser for the IALD Education Trust.

BruumRuum! is a permanent interactive installation in the Plaça de les Glories. The installation combines color and sound through 550 in-ground linear luminaires embedded in a 3,300-square-meter area. The LEDs react to the intensity of voices and the ambient sound that the city generates using sensors that have been installed around the plaza. "A great example of social light and sound interaction," one judge commented about the project.

SPECIAL CITATION FOR AN INTUITIVE, INTERACTIVE LIGHTING
EXPERIENCE
BruumRuum! Barcelona, Spanien
Lighting Design: Maurici Ginés, IALD, Artec3 Studio
LED Technology: Insta Elektro GmbH, Lightment, Lüdenscheid, Germany in Zusammenarbeit mit Insta Lighting Ibérica S.L., Stefanie Schmitz
Artist: David Torrents
Architects: MBM Arquitectes
DMX Control: Rebeca Sanchéz, LEDSCONTROL
Photography: © Xavi Padrós, © David Torrents, © Ramón Ferreira, Artec3 Studio

Contact:

Insta Elektro GmbH
+49-2351-936-0
E-mail:

Web site:

Submit new products, case studies/projects, and other press releases at http://www.ledsmagazine.com/content/leds/en/addcontent.html and http://www.ledsmagazine.com/content/leds/en/iif/add.html.