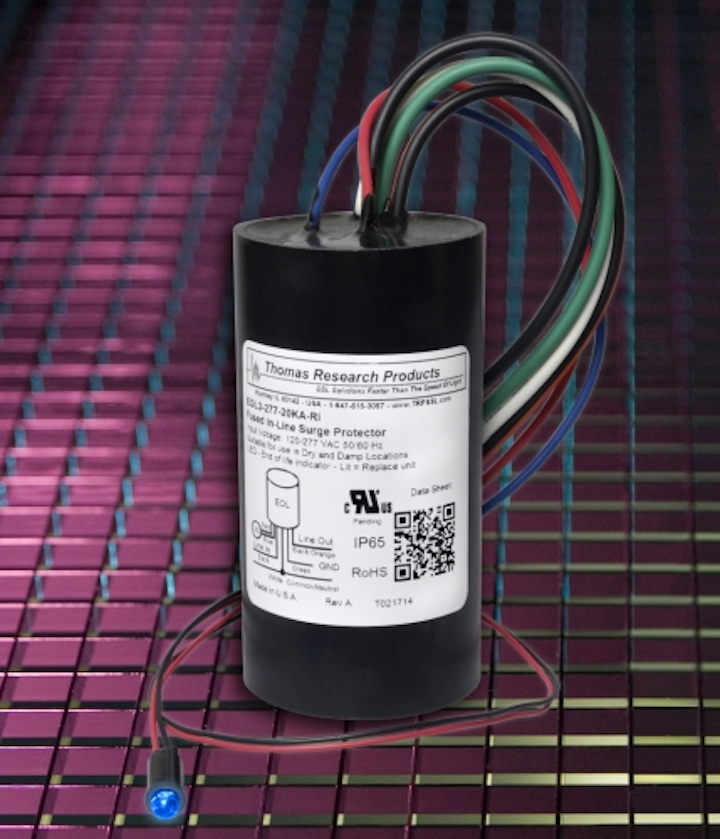 Elgin, Illinois -- Thomas Research Products is excited to announce two of their new product lines have been accepted for inclusion in the 2014 IES Progress Report. Thomas Research Products is a leading manufacturer of SSL power solutions.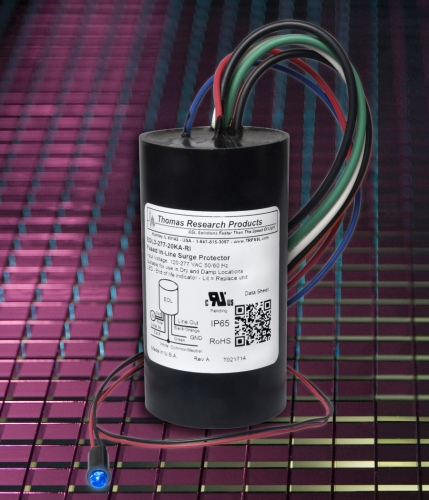 Thomas Research Products' surge protectors and LED drivers included in IES Progress Report

TRP's EOL3 series Surge Protectors include an LED indicator (local on the unit, or remotely-mounted) which lights up when the unit reaches end-of-life--when the capabilities of the surge protector have been exceeded. In-line fusing also shuts down the LED luminaire for extra protection until the Surge Protector is replaced. These UL1449 Recognized and CE certified devices protect from surges up to 20,000 amps, on electrical mains up to 277V.

The LED-HL series LED drivers from TRP, in 25W and 40W models, are the first drivers to receive Type HL rating from UL. These units include upgraded case materials and internal thermal protection. The new drivers are IP66, and also offer the option of leads that exit through the bottom or the side. TRP's new drivers provide all the same features as their standard LED drivers, and carry the company's standard 5 year warranty.

The Progress Report of the Illuminating Engineering Society (IES) is an annual review recognizing significant developments in the art and science of lighting. The 2014 Report will be presented at the IES Annual Conference in Pittsburgh, PA on November 3rd.

About Thomas Research Products
Founded in 1997, Thomas Research Products designs and manufactures complete OEM and retrofit solutions for solid state lighting in indoor and outdoor applications. TRP offers DC and AC LED light engines, high-performing LED drivers and power accessories, including surge protectors and step-dimming modules. The company also offers energy-saving electronic lighting controls, including occupancy/vacancy sensors and daylight harvesting controls.

"SSL Solutions Faster Than The Speed Of Light" is a registered trademark.

Thomas Research Products is located at 1215 Bowes Rd., IL 60123 USA.

Contact:

Thomas Research Products
+1-847-515-3057
E-mail:

Web site:

Submit new products, case studies/projects, and other press releases at http://www.ledsmagazine.com/content/leds/en/addcontent.html and http://www.ledsmagazine.com/content/leds/en/iif/add.html.