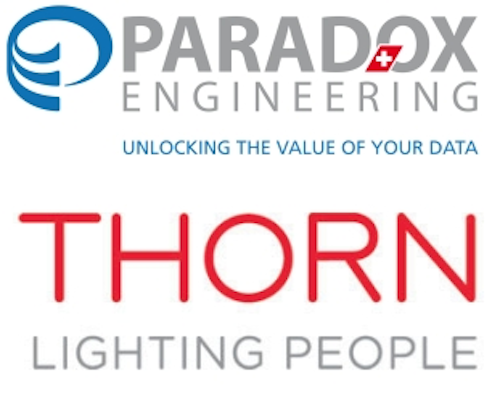 Novazzano -- The Swiss technology company Paradox Engineering SA has been selected by the global lighting company Thorn as trusted smart lighting partner for the Danish Outdoor Lighting Lab (DOLL) in Copenhagen. Thorn entered an agreement with DOLL to exhibit and install its technology at the Living Lab, where it is displaying an innovative streetlight platform based on its LED luminaires and Paradox Engineering's PE.AMI network solution.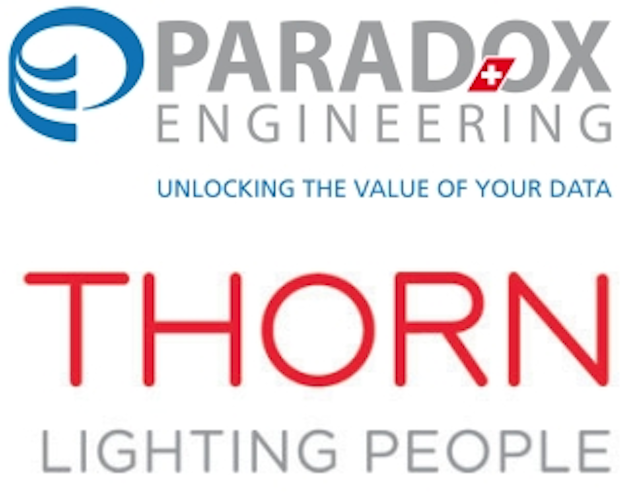 Thorn and Paradox Engineering contribute to Danish Outdoor Lighting Lab smart lighting experiment

With the main aims of saving money and cutting carbon emissions, the city of Copenhagen launched a large-scale pilot project featuring smart LED lights, stretching for about 9 km along the roads in an industrial area of the Copenhagen suburb Albertslund and covering about 1.5 square kilometers in total. Manufacturers and suppliers were invited to set up and test outdoor lighting solutions at DOLL's Living Lab on a 1:1 scale on 9.2 kilometers of road and pathways in Hersted Industrial Park in the city of Albertslund. Hundreds of lights have been installed in Albertslund and citizens will be taking part in a major experiment to examine how future cities should use street lighting, learning more about intelligent solutions from a number of suppliers, including Thorn and Paradox Engineering. DOLL's Living Lab will be unveiled in Copenhagen on September 4th, 2014.

At DOLL's Living Lab, Paradox Engineering and Thorn will showcase the combination of their respective smart technologies. Thorn's LED lighting infrastructure will be integrated with Paradox Engineering's PE.AMI smart lighting management platform. This IPv6/6LoWPAN Internet of Things ready PE.AMI solution will further increase Thorn's LED luminaires energy efficiency by allowing each luminaire to become a network object to be monitored, managed and controlled through on/off, dimming and alarm management functions. Moreover, thanks to PE.AMI, functions such as status monitoring and temperature control, as well as managing external input units such as motion or other sensors, will be enabled in full security.

Paradox Engineering's PE.AMI and Thorn's LEDs solutions are designed to provide an answer for open and comprehensive Smart City initiatives immediately addressing energy saving concerns and improving liveability, sustainability and the city's economy. Acknowledging Paradox Engineering's technology vision and innovative approach, for the DOLL exhibition Thorn selected Paradox Engineering's urban wireless sensor network technology PE.AMI, which accommodates Smart Lighting but also additional smart urban services in the same integrated network, such as Smart Parking, Smart Metering, public Wi-Fi as the one DOLL is equipped with, and many more, allowing cities to evolve in the Smart City perspective. PE.AMI was preferred for its superior levels of flexibility and security, the full compliance to open standard protocols and its ability to seamlessly integrate multiple applications in one integrated network infrastructure, thus offering the exhibition in Copenhagen a future proof street lighting pattern.

"The combination of Thorn lighting technologies with PE.AMI will show citizens in Copenhagen how an integrated, truly Smart City platform can seamlessly improve their everyday experience by granting greater quality of living and sustainability, tasting the Internet of Things paradigm through easy and robust urban services", said Gianni Minetti, President and CEO of Paradox Engineering. "After sharing our Smart City vision with a number of municipalities and partners, the collaboration with Thorn is a significant milestone for Paradox Engineering as it further endorses our approach".

"The full interoperability granted by Paradox Engineering's solutions is nowadays a key feature for most cities, since they are looking for smarter ways to manage multiple services across a single integrated platform. Paradox Engineering is a partner to complement Thorn's lighting solutions", adds Michael Ferm, Marketing & Business Director Nordic at Thorn Lighting. "Together, we are ready to offer a truly future proof lighting and multi-application infrastructure, which enables a smart and connected urban experience for citizens and businesses".

With years of experience in luminaire development, Thorn is a globally trusted supplier of indoor and outdoor luminaires with integrated controls. One of the Thorn LED street lighting that is showcased in the DOLL exhibition is Oxane L, a powerful major road lantern offering excellent lighting and through-life performance. Highly efficient, it is available in two light distributions and ratings from 43W (3700lm) to 173W (13300lm), covering lighting classes up to ME1. Oxane L has a luminaire efficacy up to 86 Llm/W (optical efficacy up to 111 Lm/W), with a neutral white 4000K colour temperature and CRI of 70. As well as employing the latest LED technology, Oxane L provides standalone dimming, minicell and remote monitoring capabilities to facilitate comprehensive control and optimise energy consumption.

PE.AMI by Paradox Engineering is a natively multipurpose ultra-low power IPv6/6LoWPAN full mesh hybrid wireless and PLC network platform, ready for the Internet of Things, specifically conceived and designed to support multiple Smart City applications such as lighting management, parking management, advanced meter reading, traffic signal management, solid waste management and many more. These services might be deployed at once or in the time, so to support Cities' needs today and in the future. Offering superior scalability and flexibility, PE.AMI is based on open standards and grants full interoperability and independence of any proprietary protocol and technology. It is also fully agnostic to field devices (luminaires, meters, sensors, etc.) and applications. Offering unlimited network extension in the time, it ensures a future proof choice to Smart Cities, and no kind of lock in. PE.AMI is the first of its kind integrated narrowband and broadband network solution also supporting data hungry applications such as video surveillance, public WiFi, etc. As such, besides enabling smart lighting, it will connect to DOLL's WiFi infrastructure, operated by Cisco, providing a fully integrated and multi-application platform.

About Paradox Engineering SA

Paradox Engineering SA is a technology company that designs and markets solutions and services to unlock the value of data for industrial remote and condition monitoring, Smart Grid/Smart City, M2M, HUMS and HAN projects in the Internet of Things era. The unique competences in radio design, network design and management, low power consumption and energy harvesting, and data collection are at the heart of Paradox Engineering's DNA. The Company conceives and provides open standard urban and industrial wireless sensor network solutions, global virtual networks and OEM versions of its core network technologies, to companies and developers.

Established in 2005 and headquartered in Switzerland, in 2013 the Company welcomed the Japanese corporation Minebea Co. Ltd. as shareholder and acquired the Italian electronic design center Syllogism System S.r.l. Paradox Engineering acts on a truly global scale, supported by branch offices in San Francisco (USA), Singapore, Kuala Lumpur (Malaysia) and Catania (Italy) with business and projects spanning over five continents and a consolidated network of global strategic partners. For more information, please visit www.pdxeng.ch and www.pe-stone.com

About Thorn

As a globally trusted supplier of indoor and outdoor luminaires with integrated controls, Thorn has years of experience in luminaire development. Leveraging our research and development facilities, we actively work to raise lighting standards and are uniquely placed to combine the latest light source technology with our specialist expertise in optical and luminaire design. Through delivering high performance and sustainable lighting we are able to meet international demands while exceeding the requirements of customers to become the preferred partner for cost-effective lighting solutions.
Spanning a wide range of industries and sectors, our integrated solutions can be found in many different applications such as sport, road, tunnel, office, education or industry lighting, offering energy savings without compromising performance, efficiency and comfort. When lighting with our products a solution where aesthetics, optical performance, energy consumption and maintenance are all in perfect balance can be achieved.

Thorn is part of the Zumtobel Group. With our participation in DOLL we help to secure a future proof transition to new technology in lighting.
Contact:

Julia Arneri Borghese, Marketing & Communication - Paradox Engineering SA
+41-91-233-0100
E-mail:

Web site:

www.pdxeng.ch

Submit new products, case studies/projects, and other press releases at http://www.ledsmagazine.com/content/leds/en/addcontent.html and http://www.ledsmagazine.com/content/leds/en/iif/add.html.