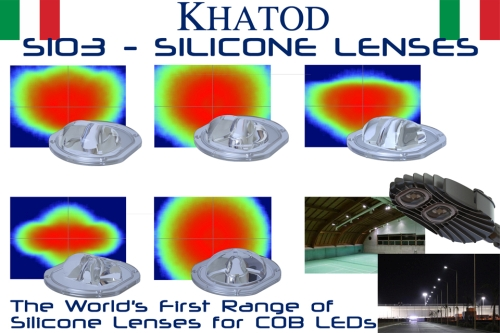 SIO3 Silicone Lenses, The World's First Range of SILICONE LENSES FOR COB LEDs.
Design and Fabrication 100% Made in Khatod, Italy.
Khatod develops SIO3 silicone lenses for COB LEDs

SIO3 Silicone Lenses: a major breakthrough in the world of Solid State Lighting

Come see our innovative lenses at the incoming events where Khatod will be exhibiting:
- The LED Show - Booth # 208 - Los Angeles Convention Center, L.A., US - September 16 to 18, 2014
- Strategies In Light Japan - Booth # L100, Pacifico Yokohama, Yokohama, Japan - October 15 to 17, 2014

Khatod makes an encore!
Two years ago, first in the industry, Khatod introduced PL50SIL, the first TIR LENS made of SILICONE for SSL applications. Today, Khatod was FIRST to launch on the market SIO3 Silicone Lenses, The World's First Range of SILICONE LENSES FOR COB LEDs.

Research, Analysis, Know-how: NOT conventional technologies, BUT ADVANCED TECHNOLOGY.
New optical techniques, elaborate geometries and totally new manufacturing processes customized by Khatod have been developed and implemented in order to make these innovative lenses able to achieve a superior optical refractive index, while delivering an optical performance perfectly complying with the optical efficiency requirements posed by the HB and COB LEDs of latest generation.

Optic type:
FREE FORM LENSES, optimized for most popular HB and COB LEDs.
Designed for Street Light applications, comply with IESNA Standards: Type I - Type II - Type III - Type IV - Type V, Short or Medium light distribution depending on the LED used; comply with European ME3a requirements. The typical properties of SIO3 Silicone Lenses make them excellent for any applications in Wide Area Lighting, Outdoor and Indoor.

Optic Features:
Excellent transparency; high optical efficiency; no birefringence; high temperature resistant and flexible at low temperatures with no effect on insulating properties; UV-resistant; no yellowing effect; easy fit to the final application; micro-crack resistant under harsh environmental conditions.

Excellent IP Protection Degree. No Need for extra protection such as glass cover or insulating gasket in final applications. Ensure protection against powder and water penetration.
Immersion-proof; explosion-proof; shock-proof.

Beam Angles:
1 rotosymmetrical, 3 asymmetric, 1 axially symmetrical in x, y (rectangular spot).

Coming soon: 3 NEW EXCLUSIVE MODELS for the most demanding applications and available from stock

Size:
111mm (w) x 110mm (l) x 32/35mm (h).
The design concept of SIO3 Silicone Lenses allow for the interchangeability of the different models on the same LED source.

Designed for Street Lighting, SIO3 SILICONE LENSES are excellent in any applications in Wide Area Lighting, Outdoor and Indoor: Parking Areas, Petrol & Service Stations, Sport Lighting, Sport Yards, Square Lighting, Parks, Gardens, Pathways, Canopies, Outlets & Shop Centers, Offices, Elevators, Shop Windows, etc.

SIO3 SILICONE LENSES preserve and enhance the typical characteristics of silicone. SIO3 hydrophobic property (immersion-proof) makes these lenses particularly fitting for damp and wet environments. Indoor pools are a typical application.

Also, their explosion-proof and shock-proof properties make SIO3 safe and reliable in hazardous environments such as mines for instance.

SIO3 SILICONE LENSES do not shatter in the event of accidental impact, flashover or vandalism.

They substantially improve safety in the places and sites where people live and work.
Source: Momentive Performance Materials

Feature high temperatures resistance, strong heat aging resistance and high chemical resistance, ultraviolet (UV) stability, purity, clarity, stable mechanical properties at a temperature range from –40°C to 150 C; withstand temperature peaks up to 200°C. Preserve their insulating properties intact in extreme thermal variations.

Considerably reduce the yellowing effect.
Source: Momentive Performance Materials

Khatod imagined, designed and engineered this project by realizing the optical and mechanical design and the mould fabrication. Careful analysis and numerous laboratory tests carried out unstintingly; the capability to work out totally new manufacturing processes; the synergy developed with Momentive Performance Materials, global leader in silicones; all these elements blended with Khatod's mastery of project development, from concept to implementation, have been key elements to the success of SIO3 SILICONE LENSES.

Khatod, always one step ahead.

About Khatod Optoelectronic:
Khatod lenses have made their mark in the LED Industry for over 25 years.
Unique on the international scene, Khatod holds all of its operations 100% in house (Milano, Italy), from initial design to time to market: Optical Systems, optics for SSL, HB, COB LEDs applications, custom optics, components.
Follow us on Twitter @ http://twitter.com/#!/KHATODOPTO and
Facebook @ http://www.facebook.com/pages/Khatod-Optoelectronic-srl/263694230338604
View company video @ http://www.youtube.com/watch?v=G1Opls1D0NU

SiO3 Silicone Lenses are protected by Italian Patent Application and scheduled patent extensions. For further information please refer to the IP quote at the bottom of Khatod homepage.
Contact:

Khatod Optoelectronic S.r.l.
+39-02-660-136-95
E-mail:

Web site:


Submit new products, case studies/projects, and other press releases at http://www.ledsmagazine.com/content/leds/en/addcontent.html and http://www.ledsmagazine.com/content/leds/en/iif/add.html.