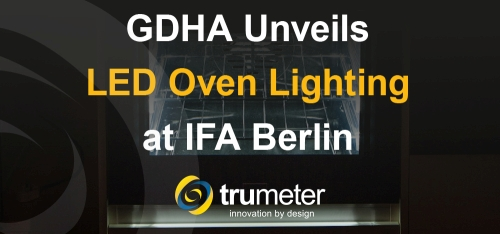 The privately owned UK manufacturer of cooking and refrigeration brands 'Stoves', 'Lec', 'New World' and 'Belling', used the recent IFA Berlin event to unveil a revolutionary LED lighting product for ovens.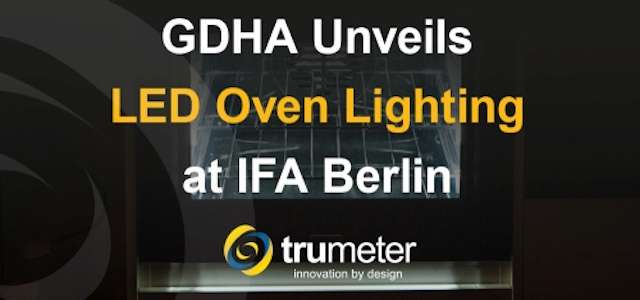 UK manufacturer GDHA and LED lighting designer Trumeter develop LED oven lighting

GDHA unveiled the innovations - developed in conjunction with Bury-based Trumeter - to an appreciative audience at the global industry tradeshow for consumer electronics and home appliances.

A leading international designer and manufacturer of LED lighting products, Trumeter's expertise, combined with GDHA's appliance knowhow, resulted in a ground-breaking product that completely re-thinks oven lighting.

Replacing traditional rear bulbs with LED lighting positioned at the front of the oven the product enables food to be viewed more easily during cooking, removing the need to open the door and lose heat.

As the LED technology is cheaper to run than a traditional bulb, reduced energy costs are a major benefit, alongside vastly superior illumination quality, resulting in cleaner, crisper and more contemporary light.
GDHA's Managing Director, Jonathan Casley, commented:'The reaction from our customers to the new LED lighting has been very positive.

'We're still in the development phase of this project with Trumeter and with their support and focus, we're looking forward to getting this new technology to market as soon as possible.'

These views were echoed by Alf Jones, Trumeter Group Sales & Marketing Director, who said: 'We're very excited by this major home appliance innovation and proud to be associated with GDHA in its development, incorporating our proven truliteTM technology.

'Having employed the skills and experience Trumeter has gained working in other industries, notably the automotive sector, we've created a revolutionary LED lighting product.'

Trumeter are a global designer, manufacturer and distributor of sophisticated measurement products, as well as touch-sense and LED lighting products for a variety of markets, with sales in over 30 countries.

Find out more about LED lighting for home appliances at trumeter.com/custom-products

Trumeter have offices based in Bury (UK), Florida (USA) and representation in Penang (Malaysia). Contact details below.

Trumeter (The Americas)
702 S. Military Trail
Deerfield Beach
Florida
FL 33442
USA
Tel: +1 954 725 6699
Email: sales.usa@trumeter.com

Innovative Design Technologies Sdn. Bhd. (Asia Pacific)
Lot 2835, Lorong Perusahaan 8B,
Prai Industrial Estate, 13600
Prai, Palau Pinang, 14000,
Malaysia
Tel: +604-5015700
Email: sales.my@idtworld.com

Contact:

Trumeter (Europe)
+44-161-705-4317
E-mail:

Web site:

Submit new products, case studies/projects, and other press releases at http://www.ledsmagazine.com/content/leds/en/addcontent.html and http://www.ledsmagazine.com/content/leds/en/iif/add.html.