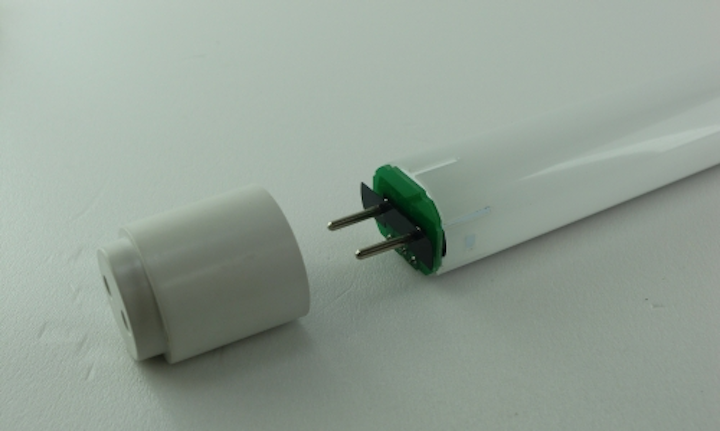 It's our pleasure to present our new LED T8 modular tube. This is a new design concept, the idea for which came as a result of extremely high import taxes - and the impact they have on replacing defective lighting.

This new LED T8 tube breaks through the shortcomings of traditional T8 tubes that require the entire lamp to be changed out when it does not perform properly. Unlike traditional tubes, our LED T8 tube is designed as a modular assembly, so importers no longer need to worry about paying high taxes for customs. It's very easy and very fast for the buyer, wholesaler, or distributor to assemble the tubes in their country before shipping to customers. The tube is composed of PC (polycarbonate) with reduced weight, making it easier to maintain.

The defective parts can be easily removed from the tube; you can exchange only one or two parts for new ones without having to change the entire tube, so it can generate a lot of savings. And it doesn't require any extra work on the existing ballast; it can replace your old tube directly. Just remove your old tube, replace it with our LED T8 tube, and leave the ballast. It is a lighting product that really brings more convenience to lighting replacement and maintenance.

It's time to say goodbye to your cenventional LED T8 tubes and switch to our LED T8 modular tube. Reduce your expenses now. Light source lifespan: 50,000 hrs. Warranty: 3 years.

Product Advantages:
1. Lower processing charge compared to traditional LED tubes
2. Modularized tube is easily assembled; no need to re-wire
3. Saves about 7-25% on customs taxes for importer
4. Parts can be assembled in importer's country; tubes come to be made in imported country
5. Free to maintain; once the tube warranty has expired and if parts break down, the user can easily chage the bad parts directly
6. Warranty: 2 years
7. Light is instant on, no flicker or bussing. Lifespan is longer
8. Fits the existing fixture without having to remove the ballast. Can replace the old/traditional 28W tube directly

Assembly parts:
1. LED aluminum board
2. Tube housing (tube body)
3. End cap

Contact:

Color Vision Int'l Co., Ltd. - Jerry Hsu, General Manager
+886-2-2221 3729 #888
E-mail:

Web site:

Submit new products, case studies/projects, and other press releases at http://www.ledsmagazine.com/content/leds/en/addcontent.html and http://www.ledsmagazine.com/content/leds/en/iif/add.html.